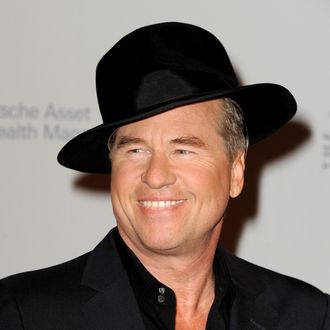 Val Kilmer.
Photo: Kevin Winter/Getty Images
Val Kilmer is promoting his Cinema Twain feature, and he recently did so by taking part in the sacred art form that is the Reddit AMA. In it, Kilmer had a shockingly nonexistent number of things to say about the luminous being that is Cate Blanchett, but he was still very game to get candid about pretty much everything else. In topics ranging from Johnny Depp's acting muscle to Kilmer's beloved former buffalo, the man was insightful, blunt, and frequently shady as hell. Read on for the most enlightening moments.
His sensible response as to whether he thinks he "dodged a bullet" by not signing on for 1997's Batman & Robin:
Duh.
Amid talking about not developing a clear career image, therein lies an incredibly brutal summation of Johnny Depp's career:
I didn't develop a persona like all my contemporaries. When you think of Sean Penn or Tom Hanks or Johnny Depp, you think immediately of the same character and image I do. Tom Hanks usually has an American flag behind his head for example. Johnny has a hat.
Kilmer is less subtle when it comes to longtime friend Kevin Spacey. His advice on breaking into the business:
work till you cry yourself to sleep every night for months on end. work so hard you pass out and wake up crying. become a world class athlete. Read Shakespeare every day to learn about human nature. EVERY DAY. FOR DECADES. never ever ever ever ever take a day off. And never complain. Its the best job on earth and worth it when you break thru. Dustin Hoffman they say couldn't act his way out of a paper bag, and I knew Kevin Spacey since he was like 15 and he was sooooooooooo bad it used to hurt my eyes. But boy did he work hard and deserves all his awards.

A Redditor asked Kilmer, "I hear you own and love buffalo? I have loved them ever since Dances With Wolves. How many do you own and do you name them?" The answer is a heartbreaker:
Alas i had to sell them in 2008 as I suffered in the crash like so many other honest Americans because of the perverse greed of Wall street.

His answer that kiiiind of clears up that whole Michael Douglas insinuating he was dying of cancer thing:
He was probably trying to help me cause press probably asked where I was these days, and I did have a healing of cancer, but my tongue is still swollen altho healing all the time. Because I don't sound my normal self yet people think I may still be under the weather.

Read the rest of the ever-vital Kilmer's responses, none of which are boring, here.