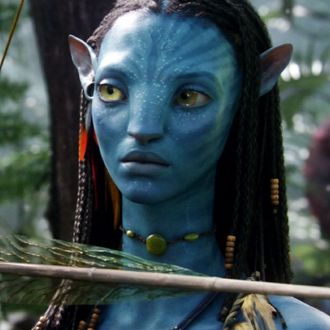 Avatar.
Photo: 20th Century Fox
James Cameron continues his campaign to reassemble your trust in him from the tattered shards in which it currently lies. In other words, the man has a new set of release dates for the upcoming (praise be) Avatar sequels. We know, you've been here before. And the time before that. And the time before that. So it'd probably benefit your emotional well-being to remain in utter ignorance of these movies' developments until they finally fall into your lap — sure, but what fun is that? Pushing back from the most-recent anticipated release of Christmas 2018, Avatar 2 is now expected to make its arrival December 18, 2020, as was announced on Avatar's official Facebook page Saturday morning. Avatar 3 will then follow on December 17, 2021, with Avatar 3 and Avatar 4 debuting on December 20, 2024, and December 19, 2025, respectively.
The post also announces that production on the movies, which are being filmed concurrently, has actually begun, giving us reason to take these new release dates with a slightly more moderate mountain of salt than usual. And, hey, more upside: James Cameron is confident we're all making it to 2025! Nice.