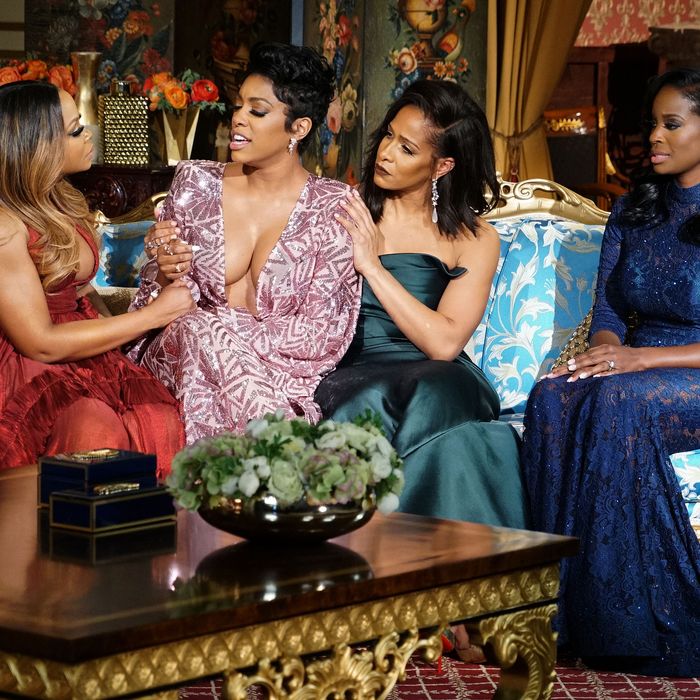 Phaedra Parks, Porsha Williams, Sheree Whitfield, Shamea Morton.
Photo: Annette Brown/Bravo
Somewhere deep in the halls of a Georgia mansion, makeup artists and hairstylists quietly and deliberately lay out their tools. Every sudden noise, no matter how quiet or distant, causes them to flinch. A hairstylist has to close her eyes and go through a breathing exercise at every closing door. It could be them, she thinks to herself. A makeup artist finds herself staring into the middle distance clutching a lip liner … waiting … waiting because once they arrive, it can't be stopped. At first slowly, then all at once, they are upon us, she thinks. And just as that thought leaves her mind, she hears them. Cackling, scheming, screaming. The Housewives. It is time to transform them into their final forms. To perform one final night of magic. To transform them into their Reunion Selves.
Once the Housewives teeter off to be arranged on two couches facing their overlord, the makeup artists and hairdressers collapse, their life forces drained and spent to make the Housewives seem human and relatable, but also glamorous. A task so monumental that the artists expire, having given their all. For this. The Four Part Reunion Special.
Oh, boy, y'all. There is a whole bunch of mess here and it is all covered in a layer of Remy hair and an even thicker layer of psychosexual obsessions. It all starts out so fun and frivolous and suddenly Porsha and Kandi are talking over each other but also to Andy about if they were ever friends. The reunion makes me exhausted, I don't like any of them right now, and we've got three more hours of this to go.
First, Andy runs downs everyone's looks and new hair choices. Andy slips up and calls Porsha's short unit "a little Kandi Burress season two," and Porsha says, "or Halle Berry." Okay, fam. Cynthia has a big fro she's named her freak ho. Cynthia is finally 50, you guys. I'm 22 years younger than her, but I would drink her blood to gain her essence. Kandi is wearing a gold-sequined jumpsuit and I want it for a upcoming wedding I will be going to and will be the only person of color in attendance.
The first topic is how often everyone is showing each other their vaginas and titties. Every time they bring up the word "titties," Kenya screams "TITTAYS" to the sky like it's the secret word on PeeWee's Playhouse. Phaedra also turns into some sort of goblin whenever someone's titties or camel toe is flourishing. She might be more ready to jump into the lady pond then she'd admit. This season, the women have inserted the following things in their bodies: yoni eggs, vaginal rejuvenation wands, and new breast implants. Phaedra also declared it the year of the camel toe. There is a huge fascination with their erogenous zones, but none of them seem to be having a lot of fun with their sexuality. Everyone is worried about things sagging or puffing up or stretching out. Y'all. Your bodies are fine. More than fine — amazing. No need to insert a rose-quartz egg (which is porous by the way) into your vagina. Just do some kegels waiting for your coffeemaker to percolate in the morning and you'll be fine.
Andy also tries to find out if any of the women have had work done on their faces, claiming they are the most intact of all the franchises. A few Housewives meekly raise their hands that they've tried Botox or fillers. Porsha says she has to stop because her Dish Nation job means she has to emote. I'm gonna leave that there.
The first "controversial topic" is the battle of the buildings. Chateau Sheree vs. Moore Manor with Lake Bailey sitting in the corner minding its own business. Kenya drew a gun on some intruders and Andy asks if anyone else has a gun. YEAH, THEY GOT GUNS, ANDY. Anyone could have told you that. Kenya has been going around spreading rumors that Sheree isn't living in her house because she drives by all the time and she never sees the lights on. How are we supposed to prove this? Sheree says she is, so she is. Kenya, why do you care so much if Sheree is living there? She was rude about your house? Because you want to be shady. Move on, get a hobby, pick up needlepoint. Sheree and Kenya argue about who is more self-made and who is more able to pay for their house. You're both on Real Housewives with otherwise dubious sources of income. Neither hair care nor "Who Gon' Check Me, Boo?" shirts are making them mortgage payments. The only truly despicable moment in this exchange is when it's revealed that Kenya didn't provide a toilet for her contractors. Girl. It's more shocking than Sheree accusing Kenya of having a rich African pay for her house.
Attention gets turned on Phaedra and attention needs to be turned on Phaedra. This episode doesn't get into all the strange happenings around Phaedra, but focuses on her charity work, both with national issues and trying to have a reconciliation service for the Housewives. When the topic of the divorce party gone wrong comes up, Phaedra decides to drag up Kenya texting Apollo years ago and tries to make a long reach between that and the divorce party. I've said it before and I'll say it again — Kenya tends to deal with issues in a childlike way. Her solution to her friends getting divorced is to play an adult version of Pin the Tail on the Donkey. We're not operating at the highest level here.
I believe that Kenya was trying to have some stupid fun and was probably egged on by producers. Phaedra going back on "forgiving" Kenya by claiming she never really forgave her and "well, she did do it" is exhausting. Your husband is in jail. You're seeking a divorce from him. He's got a new girlfriend. In the grand scheme of the bullshit he's pulled, him texting Kenya is like a three. And why aren't you more mad at Apollo for texting Kenya?! Phaedra also throws out that Kenya drinks like a fish and might be an alcoholic. Phaedra definitely wants to come across like a saint, but she sure has a funny way of doing it.
Kenya says there's a Southern Belle side of Phaedra and a Freak side. Phaedra then goes, "You can talk about seeing yourself in the Dubai datebook all you want …" Okay? Give me something you can back up with dates and times! Name Dubai names!
Now it's time to deal with Porsha's anger management. Oh, boy. I almost broke my fingers trying to take notes of all the cross talk and shouting. As we all remember, Phaedra told Kenya that Porsha wanted to talk to everyone about Porsha's anger management but when Kenya brought it up, Porsha was stunned and it all unraveled from there. For some bizarre reason, Porsha keeps excusing the fact that Phaedra lied to her about telling Kenya. Porsha kept insisting that her anger management was her private business, her good squirrel friend shouldn't be telling everybody! But Porsha is quick to accept any answer Phaedra gives her. Hmmmm, I say. Hmmm.
Kandi also points out that Porsha is quick to excuse Phaedra's wrongdoings but holds grudges against everyone else. There has to be something more there for Porsha to keep forgiving Phaedra over and over. Kandi accepts that she has a "strong personality" and says if everyone left her alone, she wouldn't be fighting with folks, but Porsha and Phaedra love to drag up old slights and pop off. Kandi says that she always stood up for Porsha and gave money for her charity causes because of their friendship. Porsha says that she can't be bought and Kandi thinks she can buy people and then belittle them.
TO BE CONTINUED. (Three more times.)