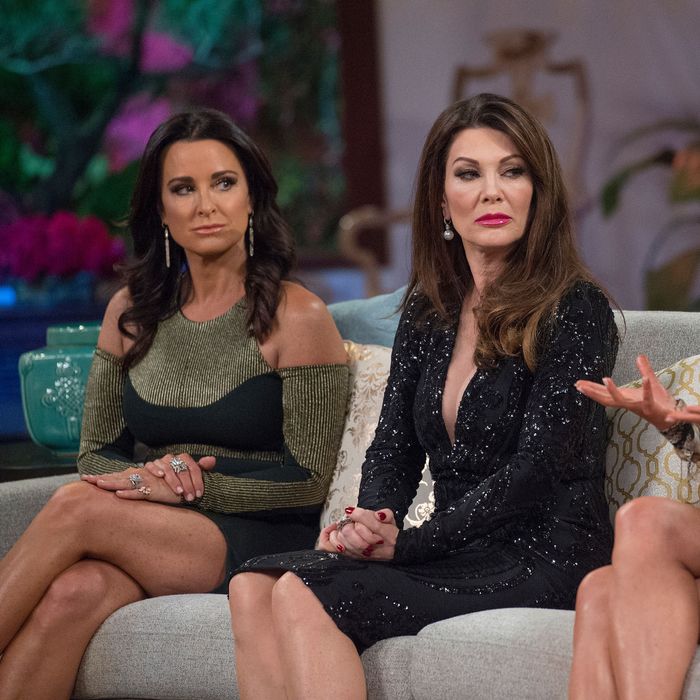 Photo: Nicole Weingart/Bravo
Grumble, grumble, here I am for the multipronged reunion attack. As you all know, I don't really like writing about them. But, but, but! — I'm really into the changes they've made to the reunion this time around, which gives me hope for reunions future. After showing us a bit of behind-the-scenes action in past reunions, this time there was a whole package showing the women getting ready at home before they show up at whatever event space Andy Cohen rents to spend eight hours grilling these caged hyenas.
Dorit shows up at Kyle's house and neither of them is wearing a stitch of makeup, which was refreshing, but it also shows you how different Dorit looks when she hasn't painted all those contours onto her face and put her hair up in a tight bun. Kyle looks fine, but I almost feel like someone was laughing at Dorit, being like, "Oh, girl, she gonna hate this." Eileen didn't look made-up, but she probably had a base or something on. I don't know. What I do know is that I would have rather seen her rocking that '80s Flashdance one-shoulder sweater at the reunion than whatever it was she had on (more on that later).
Lisa Rinna went with the "I woke up like this" look, where her hair was perfect but her face underdone. At this point is it just like Lego hair that she pops on and off before she goes to bed? Is it a wig? Or has it just been shellacked into that shape so many times that each follicle remembers where it belongs? The best pre-reunion look, though, goes to Erika Jaynerardi, who was like, "You want me to let you into my house without my makeup on and my hair done? Fuck you." She was playing with her dog in the kitchen (Erika has a dog?), hiding under a hat like her face wasn't beat for the gods, as the queens on RuPaul's Drag Race say. Please, Mikey would rather give up his collection of highlighter-colored briefs with the butt cut out before he'd let Erika show up on camera totally bare.
I also loved that they are showing unseen footage either to prove the points being made on the couches or to just give us a better glimpse of what exactly was going on. I think a lot of people were upset Erika didn't apologize to Eileen earlier after blowing up at her, but now that we know she extended the olive branch of letting her use her glam squad, I felt a bit better. (Still, she should have apologized sooner.)
Yeah, I could not care one lick about revisiting the arguments about Pantygate, or Lisa and Lisar not liking each other. God, I don't want to have to examine that bullshit all over again, though I'm sure we're going to next week. What I did like was the conversation about what the women do with their clothes after the reunion and how no one would wear those outfits again because they were associated with bad memories. I love the idea that Kyle has a corner of her closet devoted entirely to what she was wearing when traumatic things happened on the show. (Andy said there should be a Real Housewives Costume Institute; I want him to know that the Real Housewives Institute is happy to take donations and would gladly make them available to the viewing public.)
Those are the sort of fun details we're finally getting. Oh, speaking of which, can you believe that Erika flies her glam squad with her in business class? My boyfriend doesn't even fly me business class. He's sitting up there in front of the iron curtain eating his warmed nuts and reading free newspapers and I'm back in coach with Dorit's stylist fighting over leg room and having to pay for my own wrap sandwiches. Erika's right, I would never do anything bad to her if she was flying me on trips in business class. I'd make up every single one of her friends if that were the case.
Speaking of how they look, let's go around the horn and discuss everyone's outfits. We'll start with Eileen because, wow, there's a lot to say. At first it just looked like a nice, simple sleeveless black dress. Then I realized it has like half sleeves, which is weird. Then it has one strap that is sort of akimbo across her neck. Then I noticed some weird metal detail on the collar. My god, it's just way too much. It is like a Henry James sentence of a dress, just rambling on with so many flourishes you can't figure out how to parse it.
Erika looked very on-brand, with good hair and a sparkly gold dress. Lisa Rinna was apparently wearing Victoria Beckham (and no underwear), but it looked way too cheap and simple for a reunion dress. I thought it was something from her QVC line and she was going for synergy. Well, it was not show time, Synergy, it was something else entirely.
Kyle was wearing a peak Kyle Richards dress, which is exactly what was wrong with it. It was like a khaki green with a sparkly gold knit and the shoulders cut out. What is this Frankencostume of a dress? Meanwhile Lisa Vanderpump was at peak Lisa and looked stunning in a simple black sequin cocktail dress with a plunging neckline. Both she and Erika did it right, holding true to their personal style but also keeping it simple and sparkly.
Dorit had a drastic transformation from when we saw her without makeup and her glam squad certainly earned their coach tickets, but that dress. Ugh. That dress. It looked like a tattered mummy costume that was dyed camouflage and then attacked by a Bedazzler.
As for the substance of the reunion itself, it was just dumb. I did like that Lisa and Lisar admitted that they kind of like each other but they also drive each other crazy, which is sort of how I feel about both of them (Lisar certainly drives me way more crazy). But I love them for it. Do we want them to make up? Not really. If they did we wouldn't have a show.
But Dorit. Oh god, Dorit. I have a feeling we're going to have to get used to her, but I really wish she would go away forever. They showed her making fun of Erika's T-shirt dress and saying she never gave her a compliment before, and Dorit said, "Well, I was joking!" First of all, jokes need to be funny. Second of all, she isn't delivering those lines like they're meant to be funny. She didn't even do the Housewife thing of insulting someone and then laughing after she said it to pretend it was a joke. Maybe she just needs to be daffier when she says these things, because no one thinks she's joking.
And then we had to deal with PK, a helicopter with an eject button. Ugh, I cannot. I physically and mentally cannot. He'll have to wait until next week.