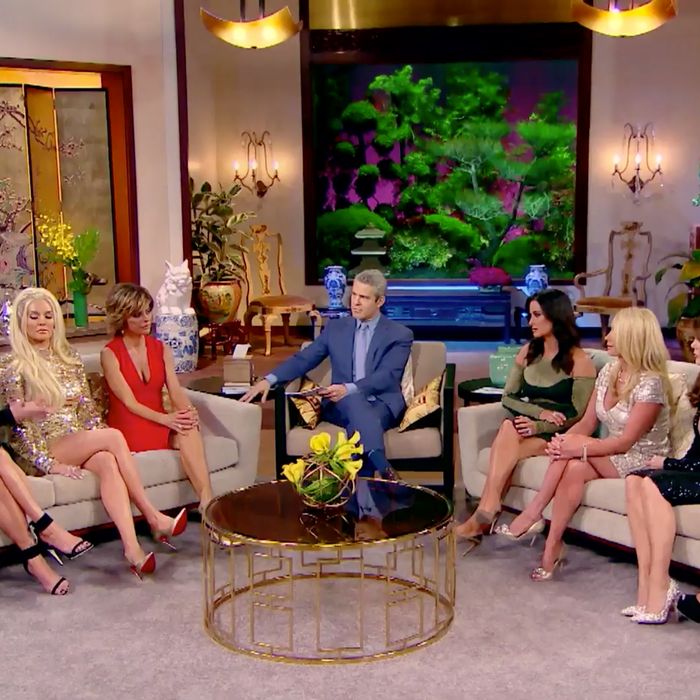 Andy Cohen and the Housewives.
Photo: Bravo
You have to give it up for Andy Cohen because that man surely knows what he's doing. The moment that Kim walks off to confront Lisa Rinna carrying that stupid Ty-D-Bol blue bunny, he knows this is the moment that we'll all be talking about forever. He says, quietly, "I want that bunny for the Club House." Lo and behold, by the end of the hour he is clutching a Xanax smoothie in one hand and that gross stuffed animal in the other, ready to tote it back to New York and give it a place of honor alongside Tamra Barney's breast implants, the Jimmy Fallon Shotski, and a giant collection of flyaways that Cynthia Bailey left behind the last time she was on Watch What Happens Live.
Yes, now that we moved past the bunny there is hardly anything else to talk about, really. Lisa's son Max found his birth mother through a private investigator, but has yet to talk to her. That was a nice update. We also got to see what his condo looked like after she decorated the whole thing. I would have been pissed if I were Max. Now, I'm not one to turn down a fully furnished condo, but maybe she could have let her son have a little bit of input on the decoration? Now he's going to bring back 24-year-old girls who stumbled into SUR looking to hook up with Tom Sandoval and settled for him and they're going to be like, "What middle-aged woman's condo have you brought me back to?" I mean, the condo looks nice, but I can't imagine those tastefully appointed rooms scattered with dirty boxer briefs, two-day-old Taco Bell wrappers, and liters upon liters of spilled bong water. The embroidered pillow of Lisa and Ken at the center of his bed is a nice touch though. Good troll, Lisa.
At this point, I'm really, really stretching for interesting or insightful things to say about these women that I haven't said a million times before. I guess we could go back to talking about Kim and Kyle, because that is what the cast of the show seems to do when they don't have anything interesting to say. Kim is not a nice person and I'm glad that Eileen finally called her out on it. I loved when Eileen asked Kim why she calls her a soap actress like it's an insult. God bless Eileen for standing up for herself because, yes, being a soap-opera actress is just as credible as any other gig in the entertainment industry. (It's certainly better than being a reality-television-program recapper.) It's more of a job than Kim has had in the past 20 years. I love how Kim sort of looks down on Eileen because she was in movies and Eileen is on a soap. Whatever. Millions of soap fans will remember Eileen for her work and all we'll ever remember Kim for is mixing chicken salad with her bare hands and squealing that she likes turtles.
However, I didn't see the "Have you ever seen the faces you make?" part that has been teased in the trailers. Maybe I did and I don't remember it? That would be a fitting thing for this season of The Real Panty Givers of the Target Across the Street From the Beverly Center. Still, Eileen finally went toe-to-toe with Kim Richards and seems to be the only one that could effectively defeat her because she wouldn't be taken in by Kim's ridiculousness. I loved when Eileen was like, "Just because you're the most obnoxious doesn't mean you're right." Eileen is not fighting fair, and it is working.
The best part of their whole exchange is when Eileen accuses Kim of "glomping" her and Lisar together. Is that a real word? Is that an expression? It's like Eileen combined "glom" and "clump" and added a suffix and somehow we ended up with "glomping." I thought "glomping" was how you would describe Gigi Hadid's walk down the runway. ZING!
The dynamic between Kim and Kyle and the rest of the group still continues to be quite odd. Kyle had her best season yet this year, mostly because she was able to divorce herself from having to be around Kim on camera. When she has to stick up for her inexcusable sister, the evil Kyle shows us who she really is. I agree with her that we shouldn't judge her based on the behavior of her sister. However, she is in a unique position to condemn Kim's actions and she never quite seems to. Maybe a bit more censuring and Kim would knock it off? I doubt it.
But then, right after trying to distance herself from Kim, she says that she retaliated against Lisar for the way that she wronged her sister. Kyle can't have it both ways. She can't be Switzerland in this argument one moment and then be part of the Axis of Evil or the Legion of Doom or the Brotherhood of Evil Mutants in the next. In the immortal words of Kyle Renee Richards, "Pick a lane!" (I made that middle name up.)
What else can we make fun of? At this point, I am totally tapped out. I don't have any jokes left about the modeling careers of Lisar's daughters Delilah and the Other One. I have no more funny ways to describe PK, a grayish lube stain you will never get off your sheets. I have no more effusive praise for my lover Erika Jayne or mean jokes about how this season of The Real Red Soles of ABC Studios somehow managed to outlast her brief stint on Dancing With the Stars. I have nothing else to compare Eden to except maybe a set of wind chimes outside the window of an Airbnb with an uncomfortable mattress or a stone toad in your great aunt's suburban "fairy garden." I'm done. I'm done.
And so, strangely enough, is Erika. She makes a point of saying how all of these allegations — whether it's Pantygate, Dorit and her crew doing cocaine, Lisar's Xanax addiction, Kyle enabling Kim, whatever — have a way of growing and being warped the more they get around and the more the women talk about them. She says she wants to put an end to it, given that they've all suffered thanks to talking shit about each other. But how? What would we watch then, all of them laughing about things while they shop for new clothes and wear the Agency T-shirts while they go work at QVC and then protest the Yulin Dog Festival at a taping of The Young and the Restless? No one wants to see that. Hurting people by talking about them maliciously is the show. That is exactly the show. Without it, we are nowhere, boats beating on against the current, borne back ceaselessly into boredom and irrelevance. Nobody really wants that, just like nobody wants that bunny — except Andy Cohen.