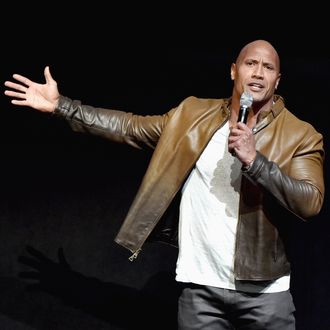 He does have the reach.
Photo: Alberto E. Rodriguez/Getty Images for CinemaCon
On film, the multitalented military hero Jack Reacher is played by Tom Cruise. In Lee Child's book series, Reacher is a hulking six-foot-five. Tom Cruise is only five-seven, which severely limits the number of Jacks he can reach in any given situation. To a certain extent, Cruise's casting makes sense: He's a gigantic movie star, and you can make him look however tall you want, thanks to some movie magic. But it turns out an even taller star was once in play. On Twitter, the Rock said that he went after the role of Jack Reacher ten years ago. Somehow, he didn't get it:
After Cruise got the part and Jack Reacher purists complained about his relatively diminished reaching possibilities, Child said there were "no 6ft 5in giants out there" to reach for Jacks. The Rock is listed as six-five on his WWE page, which could be charitable, but is believable. Maybe reach wasn't really the deciding factor here?