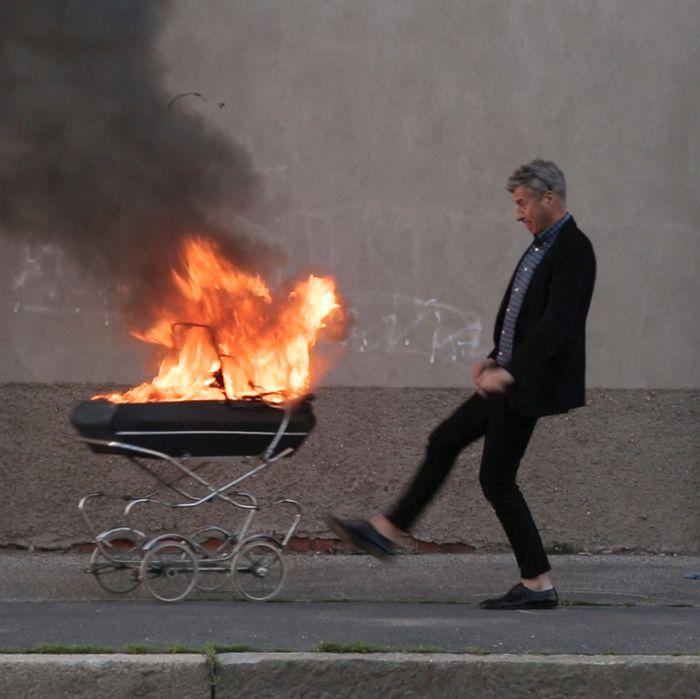 Maurizio Cattelan: Be Right Back opens this month.
Photo: Maurizio Cattelan Archive
Last April, Maura Axelrod's years-in-the-making documentary Maurizio Cattelan: Be Right Back (in which the artist more or less refused to appear) premiered as part of the Tribeca Film Festival at the Guggenheim — the museum where, appropriately enough, Cattelan had what was supposed to be his retirement show in 2011. The screening was introduced by Nancy Spector, who had curated the retrospective and had recently left to be the curator of the Brooklyn Museum. As it turns out, that film screening turned out to be the start of Cattelan's comeback: The Guggenheim announced that it was installing a sculpture of his, America, which is a functioning 18-carat-gold toilet. Which, at the time, to tell you the truth, seemed like a slightly tin-eared metaphor for this country at that moment.
Fast forward a year: America, under Trump, seems brilliantly, depressingly on-point, Spector is back at the Guggenheim, and you can finally see Axelrod's film, which opens at Quad Cinema here in New York and on VOD.
And here's the other big news in this item: Cattelan had refused to say how much America weighs, but a well-connected source tells Vulture that it weighs 110 kilos, or about 243 pounds. Which, for one thing, is about what Trump claimed to weigh on Dr. Oz last fall.
Here are some choice quotes from the doc:
1. Victoria Cabello, Italian TV personality
"When we were together, he used to say that art was his other woman … his other girlfriend. Ultimately, she was the most important one out of the two of us. And that's the companion with which he's going to die, for sure."
2. Dodie Kazanjian, Vogue magazine art critic
"He once told me he cooked a cat, with a priest, in Milan. I asked him if he ate it and he said he did. But I don't know if it's true."
3. Victoria Yee Howe, former girlfriend
"The older man always ends up with the younger woman. In a way, it's kind of fucked up. But the older man, he gets a pretty good deal out of it."
4. Francesco Bonami, curator
"There are very, very few great artists around, because it is like a sport. It's like being a boxer. You have to smash the face of the other person. There's not a thing of, "Oh, he's a very kind boxer. " You are born a good artist and maybe you will become a decent artist, but a great artist, I think they have something that sets them aside … You have to destroy the face of the other guy … You can't be sentimental."
5. Victoria Armutt, director of Cattelan Archive
"He hit on some kind of weird formula. The more he abuses people, the more popular he becomes."