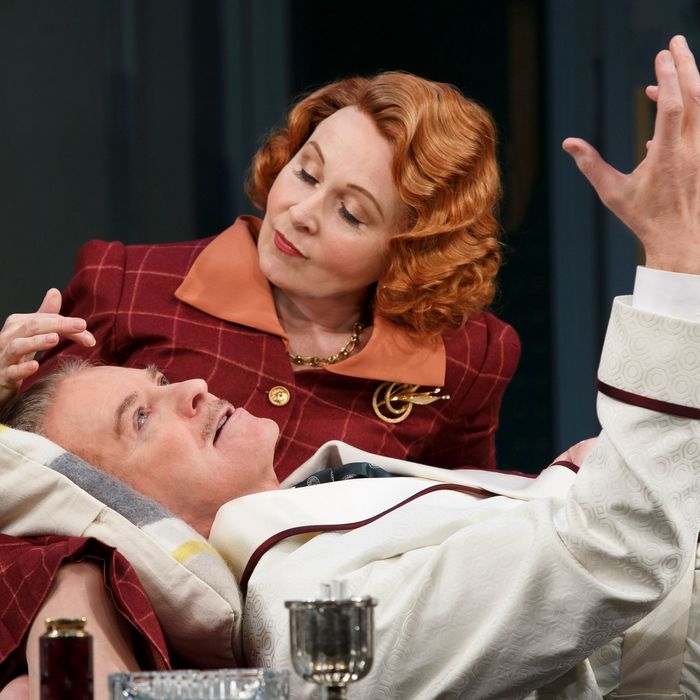 Kevin Kline and Kate Burton in Present Laughter.
Photo: Joan Marcus
Noël Coward described his 1939 romp Present Laughter as "a series of semiautobiographical pyrotechnics" — merely "semi," presumably, because the main character, Garry Essendine, though like Coward an internationally famous star of light comedy, is heterosexual. Not surprisingly, then, the play is a takedown of specifically heterosexual hypocrisy, and more broadly a call for humanity, on the eve of World War II, to straighten itself out, starting with its intimate affairs. "You're responsible for us and we're responsible for you," says Garry's wife, who left him ages ago but still serves as his conscience. More than the previous two Broadway revivals, one with Victor Garber in 2010 and one with Frank Langella in 1996, the production that opens tonight at the St. James, starring Kevin Kline, takes seriously the mess that radiates from Garry's narcissism, and with that seriousness refuels the hilarity of the farce that overlays it. In the hands of Kline and a vividly intelligent supporting cast, it's a great and frank and still modern comedy.
Paradoxically, the orientation obfuscation is part of what gives the frankness its frisson: It's like the gun that doesn't go off. Everything else does, though. Garry is the histrionic rainmaker at the unstill center of what we would now call a family of choice, a pod that includes not only Liz, the supercompetent not-quite-ex he never bothered to divorce, but also his suave producer, Henry; his mopey manager, Morris; his longtime secretary, his spiritualist housekeeper, and his down-to-earth valet. Over the course of ten days or so, these six minders try to keep him safe from himself (he has a tendency to overcharm people and then regret it) and also from others who seem unable to master their obsessions with him. One of these Garry freaks is Daphne Stillington, "a pretty girl of about 24" he's picked up at a party and stashed in the spare room; another is Roland Maule, a mad young playwright fixated on his charisma. The third — and most dangerous to the happy functioning of the pod — is Joanna, Henry's slinky wife; she's been having an affair with Morris but only, she craftily explains, as a stepping-stone to Garry. That spare room gets quite a workout.
The play's three-act structure (in this production reduced without damage to two) is pretty much faultless. Even the jokes are structural: Coward gets huge laughs near the end from premises set up near the beginning. (One of the biggest is so abstract it is meaningless out of context: "Oh, I'm so terribly, terribly, terribly sorry, it's the wrong number!") In fact, the dialogue written to be funny, or at least what is traditionally called sparkling, sometimes seems like filler. Nor are the characters so very far from caricature; Garry especially is an extreme creation, a horse's ass of a showboat who is nevertheless the object of everyone's most intense feelings. But Kline stalks that thin line confidently, giving full due to the vanity and childishness that propel such a character without reducing him to a ninny. And if, at 69, he is older than the man Coward wrote — the original script pegs Garry at 40, this revision at 56 — just have a look at Coward himself, who was 42 when he finally originated the role after returning from the war. He reads as 70, while Kline remains believable as a swashbuckler onstage and off. His physical comedy — the three-quarter posing, the hairline inspections, the pleading postures that leave him nearly parallel to the floor — are no less skillful than they were in 1980, when he played a Pirate of Penzance rather than of Belgravia.
More important, his moral comedy is undiminished. The scene in which he finally calls out the sexual subterfuges of his comrades — and definitively rids himself of his own extraneous women — successfully counterweights the play's many trivialities. Most of the rest of the cast, under the direction of Moritz von Stuelpnagel, seems to have got the same memo: Play the problems, not the jokes. I was especially impressed with the women. Cobie Smulders, a star of How I Met Your Mother making her Broadway debut as Joanna, not only looks sensational in gowns by Susan Hilferty but finds a core of valor in a typically odious character. Kate Burton — who played the ingénue Daphne opposite George C. Scott in 1982 — brings exceptional clarity and warmth to Liz, who can sometimes come off as a scold. And Kristine Nielsen is hilarious as the trusty secretary Kristine Nielsen.
If there are still some extravagances to prune and shaggy moments to comb out, they're minor, and may even correct themselves with a few weeks of performance. (But why does Kline get such a nothingburger entrance?) Still, that leaves the problem of Roland, the mad playwright character who all but professes his love for Garry. And what of Garry's ambiguous hints of male lovers past? Some previous productions have tried to pull those threads: In the Langella revival, directed by Scott Elliott, Tim Hopper as Roland showed up naked but for boots and socks and kissed Garry full on the lips. Elliott defended the choice in the Times, saying it's "very apparent" what Coward had in mind "but in 1939 he couldn't say it the way he wanted to say it." Surely that's incomplete. If Coward couldn't tell his truth he could make it the engine of another truth. There's no undoing that, and this handsome production successfully argues that the trade-off was worth it.
* * *
However good it has been for gay people, liberation has been a mixed bag for gay drama. The freedom to put anything onstage has sometimes resulted in, well, anything onstage, while the restrictions, both social and emotional, that kept Coward and his ilk in the theatrical closet helped them master their tools and sharpen their sympathies. Half of that argument is made explicit by Beau, the cocktail pianist and shameless gay-icon name-dropper played by Harvey Fierstein in Gently Down the Stream, a new play by Martin Sherman that also opens tonight. "Self-hatred made for great literature," he says, referring to Williams, Baldwin, Capote, and Vidal. The other half of the argument, sadly, is made by the fusty play itself.
Perhaps I was expecting too much from the author of The Boy From Oz (and, okay, Bent). The premise sounded intriguing, though: Beau, 61 as the play begins in 2001, meets a 28-year-old lawyer named Rufus on a website called Gaydar, itself in its infancy, and an October–April romance ensues. Beau, a New Orleans native in self-exile in London, is skittish about the relationship: "You're so young you make me feel like a priest," he tells Rufus. Rufus, having come of age in a different era, doesn't see why two adults who fancy each other shouldn't just be happy. He moves into Beau's (rather overgrand) Shepherd's Bush flat.
The scenes in which this liaison progresses and then hits the shoals over the course of 13 years are sadly unconvincing. Even aside from his bizarre NOLA accent, the effervescent, compulsively ingratiating Fierstein is hardly credible as a dour downer; a waspish type like Nathan Lane (or a button-down daddy like Tim Gunn) was needed. Meanwhile, the director Sean Mathias has pushed the usually excellent Gabriel Ebert so hard into mortifying significations of youth that his Rufus seems more like a toddler than a 20-something. Hampering both performances further is Sherman's dialogue, so stilted it lurches. Unlike proper theatrical speech, let alone real speech, it is always doing just one obvious thing at a time, whether jabbing a finger at the calendar ("We've been together five years, Beau") or heralding an upcoming plot development ("You should ask a doctor for some medicine"). The play seems to have been written from bullet points.
But at least the bits with Beau and Rufus — and eventually an even younger man named Harry — bear some resemblance to drama, albeit a highly attenuated and bald form of it. What these bits alternate with is worse. Under the pretext of participating in an oral-history video Rufus is making, Beau basically pulls up a bar stool between scenes and narrates a Zelig-like installment-plan tale of gay liberation, from the 1930s "pansy entertainer" Jean Malin to the cruisy Astor Bar during World War II to the re-repressed 1950s (when "McCarthyism ruled the waves") to self-hating Baldwin (Beau's sometime lover), AIDS, Larry Kramer, crystal meth, and Judy Peabody. Spoiler alert: Beau was also at the UpStairs Lounge in New Orleans in 1973 when it was torched, killing 32 patrons — or rather, he was buying aspirin at a nearby Walgreens. (The mass murder is also the subject of the musical The View UpStairs, playing through May 21 at the Lynn Redgrave Theater.) I hate to be glib about all this, but the play is glibber, and even at 100 minutes seems to take longer to rehash the history than it took to live it in the first place.
The ticktock predictability of the structure, which also makes room at regular intervals for several songs associated with Mabel Mercer — yes, Beau was her accompanist — mimics the predictability of the conflict and in many ways its predictable resolution. Where, after all, can a play like this go by 2014 but to gay marriage and parenting? Naturally, Beau disdains these developments: "We're supposed to be outlaws," he huffs, perhaps forgetting that he makes a living playing standards in a Covent Garden club called Ralph's. But Gently Down the Stream — the title comes from a sweet anecdote about soldiers having sex at a YMCA — doesn't seem to know which side of anything it's on. It wants to convince us that, on balance, liberation was a good idea (gee, thanks) but is nearly proof of the opposite.
Present Laughter is at the St. James Theatre through July 2.
Gently Down the Stream is at the Public Theater through May 14.