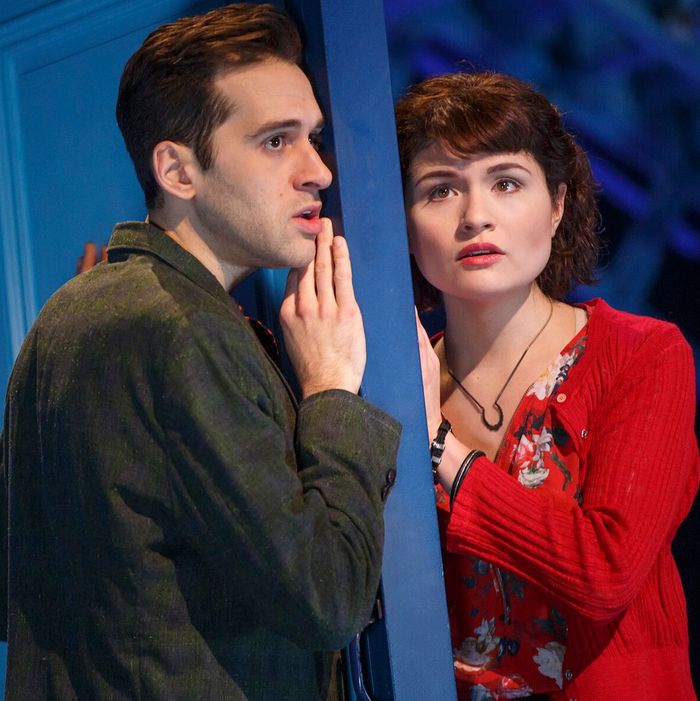 Adam Chanler-Berat and Phillipa Soo in Amélie, at the Walter Kerr.
Photo: Joan Marcus
To my knowledge, Zeno's paradox has never been recruited as a plot point and thematic touchstone in a Broadway musical before Amélie, the wistful new show starring Phillipa Soo that opens tonight at the Walter Kerr. That paradox — more specifically, Zeno's dichotomy paradox — says that since you have to get halfway toward something before you can get all the way, and since there is always an infinite amount of halving possible, you can never arrive. If that sounds ridiculous, that's why it's a paradox; it's meant to prove its own absurdity. In Amélie it is introduced, and then banged on repeatedly, in a corollary form: that no two objects, especially people, can ever really touch. However much they approach one another there will always be a gap in between. Unfortunately, despite a great deal of charm and intelligence, Amélie doesn't so much refute the paradox as prove it. Amélie the character and thus Amélie the show remain alluringly, maddeningly remote.
This was a problem as well with the source material: Jean-Pierre Jeunet's 2001 movie, whose French title — Le Fabuleux Destin d'Amélie Poulain — at least introduced a helpful note of irony. The movie's tone is indeed fablelike: An imaginative young girl, raised by a standoffish father and an anxious mother, retreats into a world of whimsy in which her only friend is a goldfish named Blubber. Later, having moved to Paris as an adult, she becomes entranced by the goodness of Princess Diana, whose death in that city prompts Amélie to devote herself to a life of secret kindnesses. The pleasure most people get from falling in love or finding lost keepsakes or traveling the world or making paintings and poetry she finds only in arranging those pleasures for others. She doesn't indulge in any herself, and when love comes after her in the form of a dreamy guy who's an equally high-proof oddball (he collects photo-booth portraits) she very nearly lets him go.
Audrey Tautou's stylized performance helped crystallize the movie's sap, and the poppy, high-contrast production design gave it a kind of enameled chic. The musical's masterminds — Pam MacKinnon directed and Craig Lucas wrote the book — have gone another way. Musicals cannot, after all, fill gaps in the emotional lives of characters with close-ups or tiny gestures; they must pry open those gaps until they are wide enough to fit songs in. One result is that the whimsy level, already high in the movie, is off the charts and almost cartoonish onstage. The show curtain features animated bunnies and butterflies flitting about; characters pop out of armoires and picture frames. Even Blubber, whom you may have thought was fey enough, has been made feyer: He's played by a big guy in a goldfish headpiece and has been renamed Fluffy.
It's not Zeno's paradox but still a good one that film, a thoroughly artificial medium, can make anything seem real, whereas live theater, which is actually happening, exaggerates unreality. Lucas, the author of Prelude to a Kiss and Reckless, is the only writer I can think of who could come as close as Amélie does to making that paradox work in its favor. While faithful to the movie's basic plot, his loose-limbed dramaturgy manages to backfill a lot of missing character information without deflating the magic, and he has helped the songwriters — Daniel Messé of the roots-music group Hem and Nathan Tysen — find apt if eccentric locations and hooks for the songs. The peculiarity of those songs is evident from their titles: "Three Figs," "When the Booth Goes Bright," and "Sister's Pickle," to name just three of the two dozen listed in the program. (That's a ton for a 100-minute, no-intermission show.) Musically, they are nothing like the movie's famous soundtrack, by Yann Tiersen; there are no accordions and nothing French about them except a mesmerizing (if sometimes leggy) modal restlessness that suits the theme. The dreamy lyrics extend that looseness with rhymes that are, for the most part, deftly uninsistent.
That's all smart, and God knows I'm eager to welcome musicals that forgo the workshop formulas and the hard commercial sheen of traditional Broadway fare. I can imagine really getting to love the cast recording. But in the theater itself there are downsides to so much uninsistence. One is that when a narrative is held together by tone instead of the working out of interpersonal conflict — interpersonal conflict hardly exists in this material — there's no bright line between what's pertinent and what isn't. A punning number for a garden gnome? (Yes, it's called "There's No Place Like Gnome.") A "Candle in the Wind"–type anthem for Elton John? Sure, why not? As a result, MacKinnon's staging, which has little choice but to underline the aesthetic, develops a bad case of nonspecific where-the-heck-is-this?, often leaving the audience more amused than informed. When you can't even locate the key characters amid all the gorgeous French blue of David Zinn's set design, you can easily lose track of the connection between cause and effect that is so central to Amélie's story.
Zinn's witty, busy costumes don't help; when everyone's eccentric, everyone's the same. (Zinn's paradox?) The supporting cast of 12 versatile actors, including the underused Adam Chanler-Berat as Amélie's love interest, mostly play so many characters while also serving as occasional narrators that their individual effects are mitigated. Only Tony Sheldon, as Amélie's neighbor — the one who paints a copy of Renoir's Luncheon of the Boating Party every year but can never complete the "girl with the glass" at the center of the composition — has the right touch to make such an unlikely confection satisfy. That touch is complete seriousness, if at a very large scale.
Which brings us to Soo. No surprise to those who know her from Hamilton or the pre-Broadway versions of Natasha, Pierre and the Great Comet of 1812, she's effortlessly lovely and a superior singer. But traits that have helped her bring Eliza and Natasha to life — simplicity, transparency — can't do much for Amélie, who remains, like the girl in her neighbor's forever-unfinished Renoir, an outline of a figure at the heart of the story. All of Soo's skill, and all the craft of the authors, have produced this final paradox: The more Amélie is revealed, the less we see. Like its title character, Amélie is a show that has very nearly willed itself into obscurity.
Amélie is at the Walter Kerr Theatre.