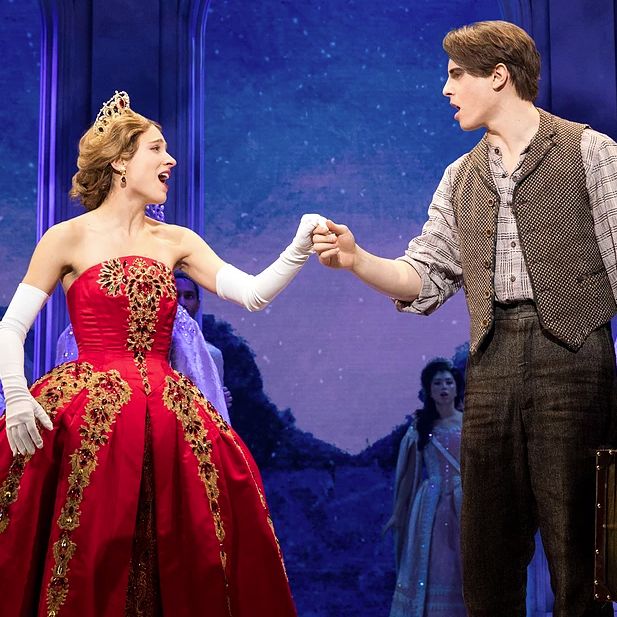 Christy Altomare and Derek Klena in Anastasia.
Photo: Matthew Murphy
Many a Broadway musical adaptation seems like an Ikea product you're supposed to admire just because someone was able to assemble it. Anastasia, opening tonight at the Broadhurst, is that kind of show. As with Charlie and the Chocolate Factory, which opened last night, top theatrical talents have busied themselves with the project of staging a beloved story that ought to have been left alone. But at least the creators of Anastasia — the book writer Terrence McNally, the songwriters Stephen Flaherty and Lynn Ahrens, and the director Darko Tresnjak — have emerged with a product that will not actually collapse on first use. This even though their task was, in a way, harder: Anastasia is based not only on the hit 1997 animated movie starring the voice of Meg Ryan, and a 1956 melodrama starring Ingrid Bergman, but on the most recalcitrant source of all: history.
History is the ghost of Hamlet's father here, urging revenge. The 1956 movie was already an absurd rewrite of the facts of the case, which are simply that in 1918 the Romanov royal family of Russia was exterminated en masse by members of the new Bolshevik secret police. The legend of the survival of Anastasia, the czar's youngest daughter, though conclusively disproved after the fall of the U.S.S.R., led over the intervening decades to a slew of gold-digging imposters, all bogus, and a slew of entertainments, all "beloved." The Bergman movie leaves no doubt as to why, suggesting that any suicidal amnesiac may turn out to be a grand duchess and elope with Yul Brynner. The 1997 animated version makes a demented further leap in its attempt to avoid the muddy problem of politics; its Romanovs are brought down not by their three centuries of autocratic rule, nor even by the Reds, but by Rasputin. Though in real life Rasputin was a mystical éminence grise who died before the revolution, in the film, he's a kind of cackling warlock. Pursuing Anastasia, he is accompanied by his amusing sidekick Bartok, an albino bat.
Can we just pause for a second to consider the intrusion of an albino bat into the story of the Russian revolution?
Anyway, McNally has swept away that bizarrerie and attempted to reestablish the story in some vague simulacrum of reality. In his version, Anastasia's pursuer is not a demented ghost or a flying mammal but a Javert-like apparatchik called Gleb. This at first seems like an improvement, allowing for the development of a de rigueur love triangle. At one end, as Gleb, is Ramin Karimloo, who has made something of a specialty of obsessive, handsome pursuers; at the other is Derek Klena as Dimitri, who with the assistance of a deposed fake count named Vladimir Popov teaches the amnesia victim to impersonate the duchess she really is. In this way McNally has twisted the story sufficiently to allow Flaherty and Ahrens to insert some 16 new songs, in addition to reprising a handful left over from the movie. One of those, "Journey to the Past," which became a hit when Aaliyah recorded it, is the current show's main calling card, eliciting shrieks from the audience of former tweens — they call themselves Fanastasias — at the preview I attended.
I would describe that song as serviceable, like the rest of the score. There's something soothing (in the wrong way) about the team's ability to follow all the templates of normal musical-making even while writing about something so abnormal. Ballads and patter songs show up where expected. A second-act opener called "Paris Holds the Key (to Your Heart)" comes right from the Ikea instruction sheet, as does a comic sequence in which Caroline O'Connor really shticks up the place as a good-time lady-in-waiting to the dowager empress who will adjudicate Anastasia's authenticity. To that end there is also a section devoted to making you think you are already attending next season's revival of My Fair Lady, complete with a "Rain in Spain"–type number and an "Embassy Waltz"–like musical scene in which the girl is introduced in her Audrey Hepburn gown to her possible grandmother — Mary Beth Peil, the best thing in the show.
I recently took the Groundhog Day songwriter Tim Minchin to task for his score full of assonances and off rhymes, which I maintain dull the impact of ideas that ought to matter more. I don't yet retract that, but I'm tempted to, because here's an example in which faultless adherence to all the rules of accurate lyrics, and every other theatrical songwriting standard, has produced a score of singular characterlessness. McNally's book, its structural improvements notwithstanding, is similarly bland, with only the feeblest of jokes to offer ("Le sacre du merde") and dialogue that elicits no sense of character or era. It's all bare bones; when Anastasia and her crew escape Russia, an announcer actually intones, "Paris via Budapest on track four, all aboard!" You don't have to look very far to see why: Here comes the minatory ghost of history again. At least in the ridiculous movie, Bartok the Bat & Co. signaled the limited intentions of the story and also its unseriousness, thus freeing audiences to enjoy it for what it was. The stage show retracts that free pass, with its Cheka firing squad and cutely starving post-revolutionary peasants. Tresnjak's tonally schizophrenic staging, depending heavily on projections rendered on LCD panels that are part of the set, only makes things worse, calling to mind the material's cartoonish DNA just when you need to forget it.
It bewilders me that in making stage musicals from animated or otherwise fantastical movies, adapters seem to think they can remain outside history. Perhaps the creative team of Anastasia held meetings whose agenda items included such items as Finessing the Romanovs. (There is exactly one reference to their possible contribution to Russia's problems.) You see why this must have seemed necessary; otherwise, Anastasia's self-discovery could not be the climax of her hero's journey, and her beautiful tiara might seem a tad undeserved, even to the Fanastasias. All her sorrowful warbling about the past — well sung, if little else, by Christy Altomare — would be sickening instead of heart-catching. Yet this does not excuse Anastasia, on the lightweight end of the scale, any more than it did Evita on the heavy. You can't have your revolution and eat it too.
Anastasia is at the Broadhurst Theatre.