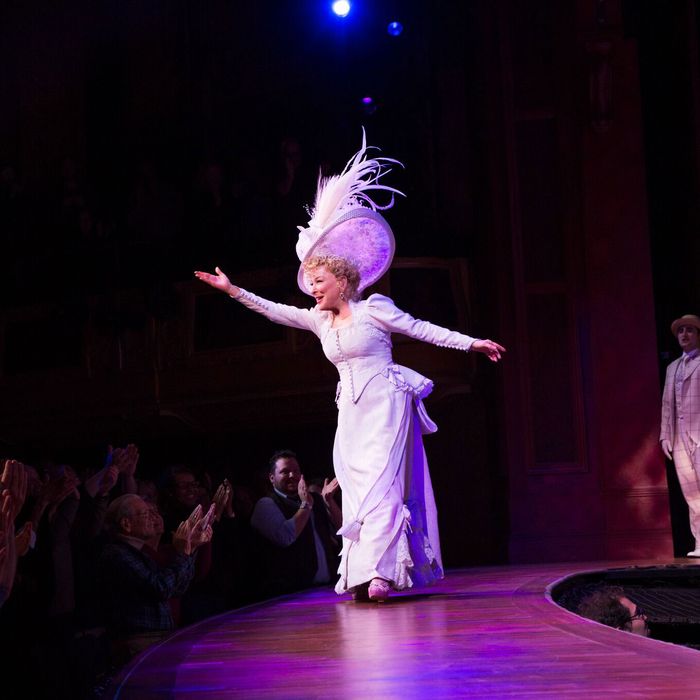 Midler in Hello, Dolly.
Photo: Julieta Cervantes
The show curtain now in use at the Shubert Theatre, where the ecstatic revival of Hello, Dolly! starring Bette Midler opens tonight, may be the reddest red-red I've ever seen. The beaded gown and ostrich-feather headdress Midler wears descending the Harmonia Gardens stairs for the title number radiate the same insanely warm glow. True, the saturated colors of the production are technically the work of Santo Loquasto, who designed the sets and costumes, and Natasha Katz, who designed the lighting. Paying tribute to the look of the 1964 original, then turning the dial all the way to the right, they create moments, as in the show-stopping "Put on Your Sunday Clothes," that make the stage look like what might happen if a rainbow and a silkworm had a simultaneous orgasm.
But the real source of the warmth and color is Midler herself, and the crowd's feelings for her, which together create a feedback loop so tight that the distinction between star and audience is all but obliterated. Whether this has anything to do with Midler's actual personality I'm in no position to say; in her nonperforming utterances and sly tweets she comes across as a sophisticated woman of dry wit with a strong sense of boundaries. Not onstage. As has been her hallmark since she first made a splash at the Continental Baths in 1970 — even before that she was a replacement Rivka and Tzeitel in Fiddler on the Roof — she performs in a style so broad and unironic despite its myriad references that it seems nearly naked. It's not even a style, really: just a here-I-am, as-I-am honesty (however contrived) that in disguising its own achievement not only breaks down the fourth wall but makes you forget why there ever was one. In Dolly she never looks as right as when she's out on the famous passerelle, promenading among her people, reaching out to them with delight if never quite pressing flesh.
The brilliant alignment of performer and role is all that really needs to have happened here. Dolly is back where she belongs and so, for her fans, is Midler. Both are intensely nostalgic projects. The production, directed by Jerry Zaks and choreographed by Warren Carlyle, is as close to homage as a modern show dares get to a work that even in 1964 was something of a throwback. Carlyle's dances in particular recall the originals by Gower Champion, each with a distinctive, almost peculiar, physical profile. The ensemble spends the entire length of "Put on Your Sunday Clothes" in demi-pointe as if trying on their Sunday heels as well; in "Before the Parade Passes By," everyone marches around slightly swaybacked, as if carrying an imaginary tuba. It's so old-fashioned it seems almost avant-garde, as do Loquasto's olio curtains with rotogravure-style engravings of Olde New York — let alone his "horse"-drawn streetcar and stage-spanning train. The script, too, is left unmodernized, unchanged but for one tweak, and when the chorus is needed for backup vocals, it merely shows up, otherwise unmotivated, in the no-excuses '60s style. Even the new orchestrations, by Larry Hochman, retain the pre-electrified feel of the originals.
The material itself was already pre-electrified — ancient, in fact. As eagerly pointed out by Thornton Wilder, whose plays The Merchant of Yonkers and The Matchmaker were the immediate sources for Michael Stewart's book, the various strands of the story draw on comedy as old as Menander, Plautus, Terence, and Molière. For him, Dolly Gallagher Levi, the widowed Irish wife of a New York Jew, was a version of the Greek "parasite" character, forced by circumstances to meddle in other people's lives in order to survive in her own. Wilder stuck her in the middle of a classic farce plot, itself drawn from older European sources, that finds Dolly arranging her own marriage to a Yonkers hay-and-feed baron named Horace Vandergelder in the guise of settling the fates of two of his clerks, his whiny niece, her longhair lover, a widowed milliner, and her excitable assistant during one chaotic day in 1885.
Well, you know the rest. Suffice it to say that in the long line of memorable Dollys I've seen or heard — from the alienoid Carol Channing to the louche Pearl Bailey to the enameled Barbra Streisand — Midler is by far the most natural and inviting. I don't mean that she is playing Dolly as a natural and inviting person, but that she is playing herself that way. All her familiar colors are on display: the light-hearted Sophie Tucker innuendo, the blow-'em-down Eddie Cantor belting, the Mae West self-pleasure, the overall hoydenish charm. Whatever work is going on behind the mask to make it all happen, whatever careful hoardings of energy and high notes, it is enough that she appear to be having fun for us to have fun, too. This she does, most notably in the comic set pieces that are almost vaudevilles in themselves, such as her outrageous gourmandizing at the Harmonia Gardens; I hope the production has a good marketing deal with a dumpling company. But even when the staging is a bit sloppy and the comedy not so forthcoming — the flat-out farce scenes involving hats and armoires and table skirts and switched purses weren't working so well the night I attended — Midler sails right through as if tickled.
Which reminds me, yes, there are other people in the show. One of them, though he was a friend in college, I could hardly recognize: David Hyde Pierce as Vandergelder, in a period wig and muttonchops that make him look like Martin Van Buren. Completely wiping out any last traces of la-di-da Niles Crane, he makes a strong, harumphing foil to Midler's gladsome chatterbox. The reinstatement of the song "Penny in My Pocket" at the top of Act Two (it had been cut from the original production after tryouts in Detroit) gives him a terrific front-of-curtain solo to draw out the show's only serious theme, about the value of money, and to help balance and spell Midler. Likewise, the supporting characters are thoughtfully cast, with an especially well-sung Irene Molloy and Cornelius Hackl (the milliner and the older clerk) in Kate Baldwin and Gavin Creel. Jennifer Simard, in the small role of Ernestina Money, does that annoyingly brilliant thing she does with supporting roles whereby you start imagining what she could do with the supported one.
Maybe we'll find out. If the revival runs as long as the original, it won't close until 2024, and eight more Dollys will sashay down the passerelle. Actually, one of them, Donna Murphy, will start sashaying in June, when she begins a stint as the Tuesday-night alternate. I'm eager to see that; no doubt she will do her usual beautiful job of rethinking classic material, discovering odd pockets of humor, or even pathos, while digging into its strengths and plastering over its weaknesses. (There are weaknesses.) But it will be a completely different production, whatever her temperature in the role. Midler doesn't dig in or plaster, she exists and radiates. I don't know whether that would make her a great Anna Leonowens or Madame Armfeldt, but it makes her a perfect, once-in-a-lifetime Dolly. The only question is: How many dumplings is she willing to eat?
Hello, Dolly! is at the Shubert Theatre.