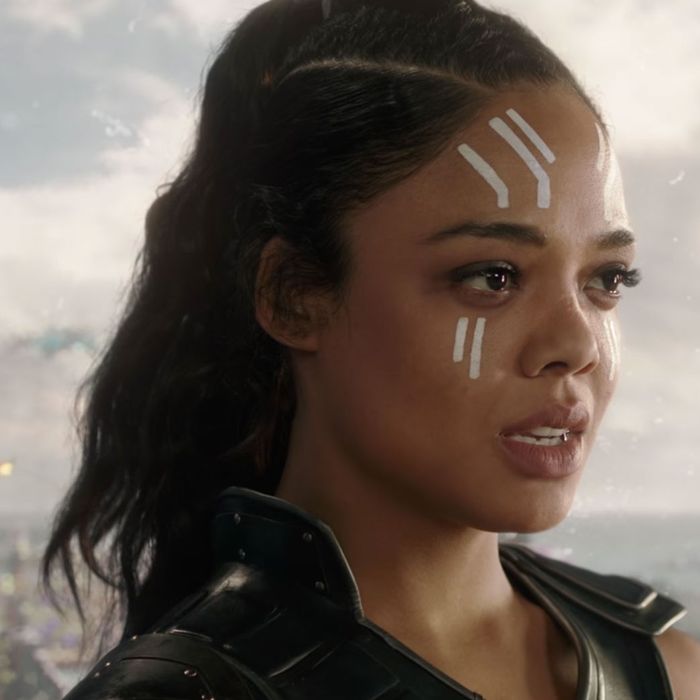 Friends, do not let your enthusiasm for the Thor: Ragnarok trailer (which includes enough electrifying Cate Blanchett scowls to fuel a major Australian metropolis) distract you from a glaring omission: The teaser simply does not have enough Tessa Thompson. Over the course of the video's minute and 52 seconds, there are only three — three! — shots of Thompson. In one, she throws a net over Thor. In another, she watches as he gets locked in a chair (this sequel's big on bondage). In the third, she tells a marvelously painted-up Jeff Goldblum that she has found "a contender."
Of course, there'll be several more trailers to come before Thor: Ragnarok comes out in November, and none of them necessarily have any bearing on what the film will look like. But just to make things clear from the jump: This is not enough Tessa Thompson. She's playing Valkyrie, the film's supposed female lead and love interest, now that Thor and Jane have broken up. So we ask you, where is the flirting? Where are the remarkable feats of strength? Where's the Natalie Portman shade? Ever since her breakthrough year in 2014 with Dear White People and Selma (though true Thompsonheads also remember her stint on Veronica Mars), Hollywood has yet to give us the amount of Tessa Thompson we deserve. She was really good in Creed, but had to play second fiddle to Michael B. Jordan's godlike physique and some guy named Sylvester Stallone. It took her a whole six episodes to show up in Westworld! She's not even going to be in the Dear White People TV show. We must comfort ourselves with the news that, in the future, she's going to the jungle with Gina Rodriguez in Annihilation. But this is not enough. We want more Tessa Thompson in our movies and we want it now.
As recompense for all the times Hollywood hasn't given us enough Tessa Thompson, Marvel, please recut Thor: Ragnarok to be entirely about Tessa Thompson, and only secondarily about Thor — or maybe he can be the third lead, with Cate Blanchett in the No. 2 spot. Give us the Tessa Thompson superhero movie the world deserves. Though, even then, that might not be enough Tessa Thompson, because really, can there ever be?