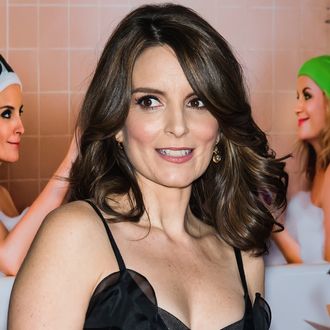 Photo: Gilbert Carrasquillo/Getty Images\
Tina Fey has always been unapologetic about her views on comedy and jokes — her key to sanity is staying away from the internet, natch — and her political opinions toward Donald Trump don't seem to differ from that mindset in the slightest. Partaking in a group conversation at the Stand for Rights: A Benefit for the ACLU on Friday, Fey took aim against white, female voters who supported Trump during the election, explaining that these voters shouldn't turn a blind eye just because some issues don't immediately affect them. (There are a bunch of women's issues that do currently warrant attention, though.) "A lot of this election was turned by white, college-educated women who now would maybe like to forget about this election and go back to watching HGTV," she explained. "I would want to urge them to like, 'You can't look away,' because it doesn't affect you this minute, but it's going to affect you eventually. Again, open two windows. Do watch HGTV. But … to not turn our attention away from what is happening."
Fey has previously spoken out against the Trump administration — "in a world where the president makes fun of handicapped people and fat people, how do we proceed with dignity?" — and has even recommended books and films to watch to survive his presidency. At the end of her ACLU interview, she also made a final plea to those white, female voters:

I personally would like to make my own pledge to college-educated white women to not look away, not pretend that things that are happening now won't eventually affect me if we don't put a stop to it.
And then you can watch HGTV.