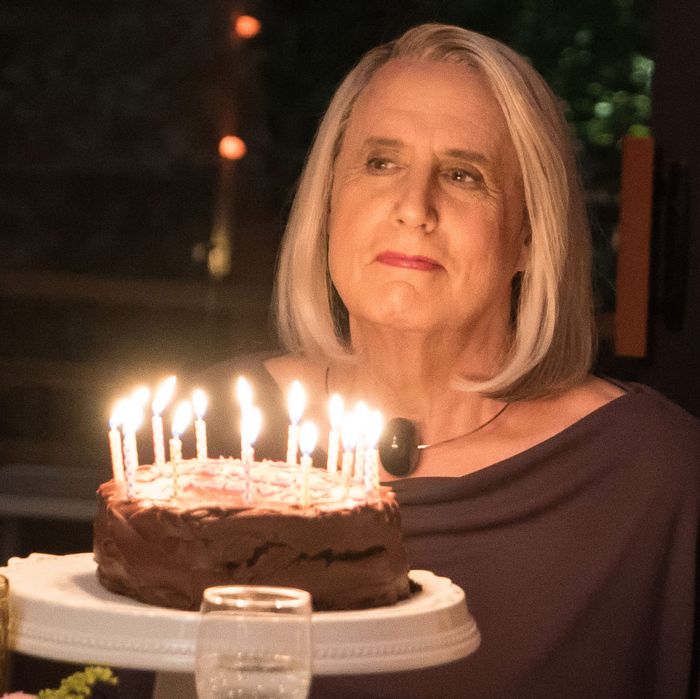 Transparent.
Photo: Merie Wallace/Amazon
Starting this summer, you won't need a subscription to Amazon Prime Video to catch episodes of the streaming service's signature series Transparent. Instead, you'll need a cable subscription: SundanceTV has acquired the first two seasons of Jill Soloway's Emmy-winning comedic drama and will begin airing them in August. The news won't make much difference to viewers who are already Transparent fans: New episodes of the series will continue to premiere on Amazon, while the previously released first three seasons of the show will continue to be available for on-demand streaming on Amazon as they've always been. But the agreement is still noteworthy since it's the rare — and possibly the first — example of a major streaming service selling rerun rights to one of its original shows to a linear network such as Sundance. While Transparent probably won't be the last streaming show to go linear, don't expect a slew of similar platform jumps.
Details about the Sundance-Amazon deal are pretty sparse. AMC/Sundance chief Charlie Collier announced the agreement Thursday night at a presentation to advertisers and journalists meant to spotlight upcoming programming, but neither the network nor Transparent producer Amazon Studios issued a press release touting it. This is probably a signal both parties consider the acquisition more of an experiment than a game changer. SundanceTV gets to air a prestigious, buzzworthy series which fits right in with its upscale, indie-minded brand, likely at a relatively reasonable price tag. Ratings expectations are no doubt modest, but then, they always are at Sundance: Its biggest originals, such as Rectify, draw audiences measured in the hundreds of thousands. In a statement to Vulture, SundanceTV general manager Jan Diedrichsen hinted at the thinking behind the deal. "In addition to offering our own originals, SundanceTV is committed to bringing viewers the best TV from around the world, and Amazon's original series 'Transparent' is unquestionably a groundbreaking and well-crafted series that fits perfectly within the SundanceTV brand," he said. "We look forward to introducing a whole new audience to this iconic series and creating a true television event this August."
As for Amazon, meanwhile, it picks up a little extra money to help defray the cost of producing Transparent (a cost which has surely gone up since the show was first green-lit), while also exposing its biggest series to new audiences. Sundance's demographic profile is likely older than the typical Amazon Prime Video subscriber, and perhaps hasn't made the leap to subscribing to a streaming service. Airing Transparent on a linear network essentially serves as an extended advertisement for Amazon Prime: "Like what you're seeing here? For $99 per year, you can see this show and hundreds more, whenever you want." It's perhaps notable that Sundance currently is only running the first two seasons of Transparent, even though three have been produced. Amazon's aim here seems less to make a ton of money by selling off the rights to the show than encouraging audiences to sample it on Sundance, then move to Prime to see the whole story. (It's likely no coincidence Sundance is airing the show in August, just before the likely fall debut of season four of Transparent.)
So will we see more such deals in the near future? Probably — though it's doubtful streaming-to-linear jumps will become as common as linear shows like Friends or Breaking Bad landing on streaming outlets. For the most part, outlets such as Netflix, Hulu, and Amazon don't need (or even want) to sell off reruns of their original shows because part of their sales pitch to consumers is that they offer a sort of self-contained TV utopia. Instead of tuning in Wednesdays at 9:30 (8:30 Central) to catch that cool new comedy, said half-hour is available to stream days, months, or years after it premieres, on-demand and (usually) commercial-free. Broadcast networks are starting to set up similar ecosystems via their own apps and streaming services (see CBS All Access), but it's still a small part of their business models. Amazon, et. al, on the other hand, generally want to train audiences to think the only place to see their buzzy original shows is on their respective networks. The Sundance-Amazon deal goes against that line of thought, but not in a big way: Sundance is a smaller cable network, and its deal is for a limited number of episodes.
But there could still be some blurring of the lines between linear and streaming networks in the years ahead. For one thing, while streamers try to produce most of their programming in-house, some of the biggest streaming shows are made by outside studios with competing interests. That's why Netflix's House of Cards and Orange Is the New Black can be bought on DVD or via digital download for people who don't want to subscribe to Netflix. It wouldn't be shocking at all if at some point reruns of one or both of those shows pop up on a linear network, particularly once the shows end their runs. The Sopranos was central to HBO's identity in the early 2000s (and in many ways still is), but that didn't stop HBO from accepting a massive check from A&E in exchange for rerun rights to the show in 2006, the year before Sopranos wrapped its run. Hollywood loves nothing more than squeezing new profits out of old TV shows: I Love Lucy still makes money for CBS a half-century after it first aired. As streaming shows become just as popular, or at least well-known, as linear series, they'll eventually end up serving the same function as hit TV shows from other eras: long-term annuities just waiting to be monetized. Or, to quote a line from a linear series later rebooted as a streaming show, "There's always money in the banana stand."