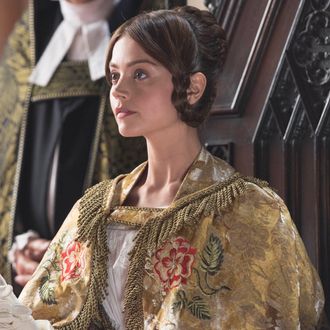 Jenna Coleman.
Photo: ITV
While Anglophiles prepare to say good-bye to Claire Foy's two-season portrayal of Queen Elizabeth in Netflix's The Crown, there's one royal period-drama recasting we don't have to worry about just yet. Jenna Coleman, who portrays Queen Victoria in PBS's popular series Victoria — which originally aired on ITV overseas — seemingly won't be packing up her royal jewels and spaniel at the completion of the upcoming second season. "I think we've got quite a long way to go before we need to recast Jenna; we're moving quite slowly through the 1840s," Daisy Goodwin, the series showrunner, explained at a recent television festival. "We haven't even caught up with her real age, so I think Jenna will be on our screens for some time to come." (Coleman is 30.) When Vulture spoke with Coleman earlier this year, she also expressed optimism that her tenure wouldn't end too soon, even if that meant utilizing some prosthetics to help her age:
We're discussing how and what to do. If the appetite is there, if the story is there in abundance, you could tell her entire life story. I mean, there's so much historically speaking that happens in the Victorian era, with the invention of photography and the railway coming, and it's a really interesting time politically and historically and socially. So, it's there to be told. Potentially somebody would come given a certain time, but in terms of how we pace that and when that would happen, it ought to be worked out.
When Victoria returns, the bulk of the sophomore season will reportedly be focusing on the Queen's rapidly growing royal family.