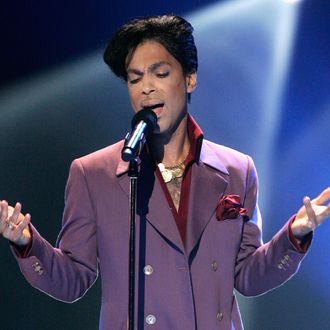 Prince.
Photo: Vince Bucci/Getty Images
To mark the first anniversary of Prince's death, a batch of the prolific pop star's unreleased music will become available for digital purchase on Friday, April 21. Record company Rogue Music Alliance is independently releasing the six-song EP Deliverance, which features tracks recorded between 2006 and 2008. The EP is currently available for preorder on iTunes, Google Play, and Amazon, but fans can get a taste of what they're buying with the title track, which is currently up on Apple Music (hear a preview below). According to a press release, "The majority of all sales of Deliverance will benefit Prince's estate." A disc version will hit stores nationwide on June 2.

Update, April 19, 2017, at 9:45 a.m.: As is typically the case with all things Prince, this Deliverance EP is reportedly already caught up in legal controversy. According to St. Louis, Minnesota's KSTP, both Prince's estate and Paisley Park preemptively filed a federal lawsuit against Rogue Music Alliance engineer George Ian Boxill, even before the EP was announced and "Deliverance" went up on Apple, claiming his release of these unpublished tracks would be unauthorized under a confidentiality agreement they say Boxill signed. The lawsuit also accuses Boxill of "exploiting" Prince's music for his own "personal gain" by allegedly refusing to return the master tracks, which Prince's estate estimates to be worth more than $75,000. Whether or not the EP will still be released on Friday, as planned, remains to be seen.