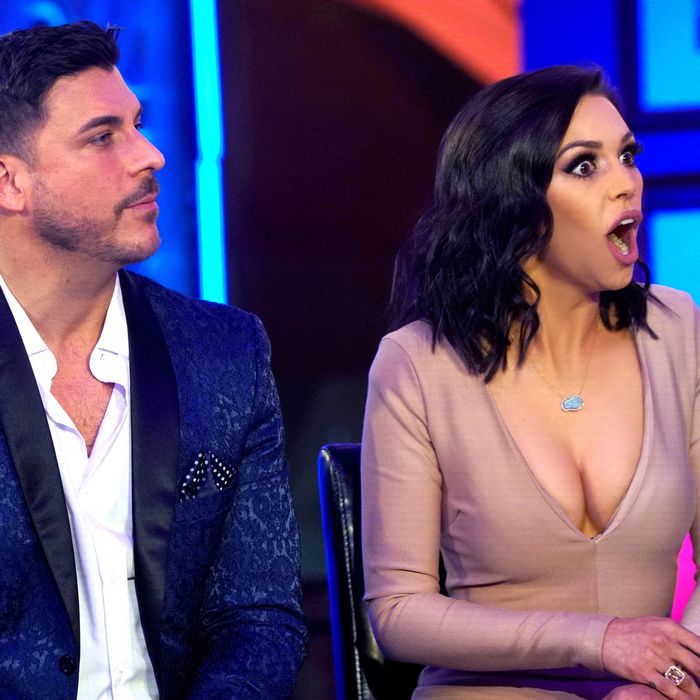 Jax Taylor, Scheana Marie.
Photo: Nicole Weingart/Bravo
I am not a big fan of reality television reunions in general, usually because it's just people screaming across an expanse in an intractable argument that is never going to reach a satisfying conclusion. The third part of the Vanderpump Rules reunion was one of the worst I've ever seen. It didn't even have that. It had nothing at all. And the one thing that was supposed to bring some sort of revelation or emotional stakes just fizzled like a bunch of fireworks that got soaked in Red Bull and left out in the rain.
The only amusing part of the first half of the entire reunion was when Tom Schwartz said that he drank so much during his bachelor party that he was constantly on the verge of a blackout. "It was a brown-out, not a blackout," he said. Oh, that's why I love Schwartz.
Other than that, the conversation was like a reunion with a college classmate where you each just keep saying, "Oh, remember when this happened?" and she replies, "That was hilarious. Remember when this happened?" But they're doing that about things that only happened six months ago. The events are so recent that there has been no time for reflection, synthesis, or edification. Also, I don't think these people are necessarily capable of the soul searching and self-reflection it would take for any of these discussions to matter. It's sort of like asking your Tamagotchi to learn from the last time it died because you didn't clean out its poop for two weeks. It's just not programmed that way.
The reunion was a litany of things that happened. Remember when Tom and Tom dressed in drag in New Orleans? Remember when Jax apologized to Stassi? Remember when Lisa told Tom and Katie she wouldn't officiate their wedding? Remember when she changed her mind about it? Remember when Lisa ask Tom and Tom to open a club and Schwartz said no? Remember when the triplets showed up for the wedding? Remember when everyone showed up to torture DJ James Kennedy at his new gig? Remember? Remember? Remember? Yeah, we do, and most of these things we don't really need to be reminded of.
There were a few sprinklings of revelations during this walk down memory lane, like little pebbles of truth that you can kick along the path. My favorite was that Katie dosed herself with weed edibles to keep herself calm when they had their Taco Tuesday rehearsal dinner. Is that why none of these people have real jobs or aspirations? Are they just stoned all the time? Is that the problem? I also finally felt bad for Katie during the discussion of Tom cheating on her with Vegas Girl. Before I was like, "Please get over it," but when she said that she still held that hurt deep down inside, I finally got it. It wasn't speaking so much to her relationship to Tom, but her relationship to herself. So much of her self-worth was damaged (and, like she said, whether or not they had sex with a capital S is irrelevant) that it will never completely go away.
The weird thing, though, was when Tom said, almost under his breath, "I've fucked up so many times." Does that mean, like, he's just done stupid things to Katie over the course of their relationship and he's sorry about all of them? Or does that mean that he's made-out with all sorts of other girls on multiple occasions? I think the Vanderpump editors would like us to believe that it's the latter. If it is, and Tom is regularly making out with other people, how do I get myself added to that list?
Speaking of Tom, the other nugget of news is that Lisa's Tom Tom Club still isn't up and running because Schwartz won't commit to the project. Of course everyone with a brain thinks he is dumb. However, I feel like this is being drawn out so that it can play on camera during season six and we can see Tom come to his senses and then both Toms and Lisa start working on the new bar. What a great arc for a season … or maybe a spinoff? I'd watch that before Jax and Brittany Tip Cows or whatever the hell it is they're doing in Tennessee (which, of course, I'll also be watching).
The big event of the reunion, meanwhile, was supposed to be Scheana No-Shay and Shay Shay finally seeing each other after she initiated divorce proceedings and they were estranged for four months. I sort of felt bad that they had to air all of this torrid aftermath on television, but then I realized that this is the price you pay for being on a reality show. Having everything about her life laid bare and dissected is the coin that Scheana gave Charon before he carted her across the River Styx and into one of those ridiculous SUR uniforms.
I get why Scheana was doing this, but why Shay? Was he getting paid for this? Does he have a contract with Bravo too? I mean, maybe. I don't know the details of their life, but if he doesn't, it seems ridiculous that he would show up and nationally televise his divorce when he complained about being on the show in the first place.
The biggest problem with inviting the two of them on to talk about it, especially so soon after what happened, is that they are two incredibly inarticulate and unexamined people. They can't even figure out exactly how they feel, so how do we expect them to express those feelings to a mass audience in a way that will be interesting?
It boils down to the facts: Three months after the wedding, Scheana found out he was sexting another girl and possibly doing drugs again and she never recovered from that. She started to pull away and then he probably started to pull away even more. Then he didn't want to go to events with her whose sole purpose was getting everyone as drunk as possible so they had nothing to do together. Their relationship got sidelined and all of it got made worse by the fact that it was so incredibly public. Scheana was dealing with Brandi Glanville stans who were happy that her husband was cheating on her and Shay was resentful that everyone knows he struggled with pills and booze. And it ends with Scheana talking about both of them being on Snapchat and in their "happy place" like she's Freaky Friday–ed her body with that of a 13-year-old. Then Shay comes over and they wish each other the best and it's a little too long to be comfortable and a little too private to be appropriate and a little too final to be enjoyable. It's the only good moment of the whole episode and, appropriately, it was the only one without words.