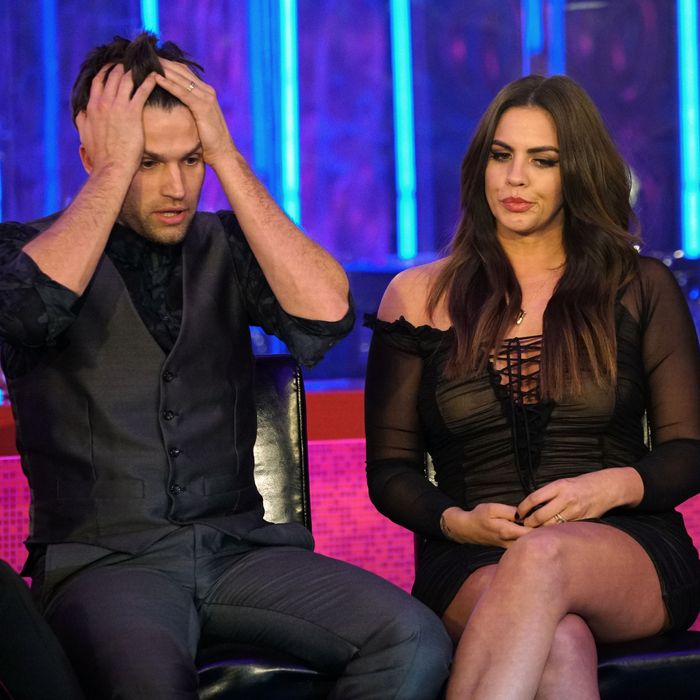 Tom Schwartz, Katie Maloney, Stassi Schroeder.
Photo: Nicole Weingart/Bravo
This is my annual reminder that I do not like writing about reunion specials. Nothing happens, arguments are raised and not resolved, and I end up hating the people I hate even more and loving the people I love even more. However, that is not exactly what happened at the Vanderpump Rules reunion. It got off to a really snoozy start, but by the end it seemed like we had made a little something resembling progress.
I think we should start, as usual, by going around the horn and talking about what everyone is wearing, because that is, essentially, what we show up to see. It's clear that these guys don't pay nearly as much attention to their reunion outfits as the Real Housewives do, and I sort of appreciate that. Lisa Vanderpump, always fully kitted out for the RHOBH reunion, wasn't nearly as formal. However, she was wearing the most Lisa Vanderpump outfit in all of creation. It was a black satin coat with a hot-pink Cruella de Vil collar and a giant diamond brooch. This is so "on brand" that it's almost as if Lisa has become a cartoon version of herself instead of a real human being.
Next to her is Tom Schwartz, wearing a black tie-dyed shirt with a vest over it, looking very eighth-grade graduation. I still love him and choose to forever believe Lala's assertions that he has a D as big as an Arby's Big Boy sculpture sitting out in front of the franchise. His wife Katie is wearing the sort of black, sheer, lace-up dress that you would design if you were told to design a dress for a slutty person. However, even though the left side of her dress was fully falling off her body, it still didn't look slutty for some reason. Stassi is wearing a very tasteful, if low-cut, maroon thing. Blah. Brittany is wearing what appeared to be a prom dress that her mother made out of cast-off polyester choir robes. There were bows around her wrists. Kristen is wearing blue? It hardly registered.
Across the aisle, DJ James Kenney has on a skinny periwinkle blazer and a scoop neck T-shirt like he had just signed an endorsement deal with TopMan. Jax Taylor looks somewhat tasteful and understated in a navy tuxedo jacket. Scheanna NoShay is wearing what a nude platform heel would look like if it were promoted to a dress. Ariana fashioned a light-blue macramé wall hanging from the '70s into a dress, and I love it as much as I hate it, but I think I love it. Tom Sandoval looks incredibly restrained with a cute short haircut and an all-black ensemble that is totally different from his usual peacockery, and it just made him even more handsome. Lala shows up later and seems to be wearing a series of white, paper hospital gowns origami-ed into some sort of top and pants combination. I didn't hate it.
Everything started off boring while we rehashed the tired old story about Kristen going down on Brittany and Schwartz making "butt steaks" for his groomsmen. Andy Cohen described them as "disgusting," but please, that queen would eat the hell out of Tom Schwartz's buttsteak, don't let him fool you for even one second. Andy would later make up for this slight by interviewing SUR's chefs Christian and Guillermo in pidgin Spanish that Mark Consuelos surely taught him while they were both wearing Speedos. (For the record, the chefs think all of the girls are beautiful except Kristen, because she's too crazy.)
Then we move on to DJ James Kennedy who is the quintessential reality-TV person I love to hate. He is so incredibly awful that I'm almost in love with him, and he acquits himself nicely at the reunion. It is great when he pokes fun at himself for bringing up his Pump Sessions CD. Last season he got angry when Andy wouldn't let him talk about it, which is the most DJ James Kennedy thing of all time. Later, when he says he slept with Kristen to get on the show and then makes fun of Stassi by crawling across the set mocking her groveling back to be on the show, I kind of fell in love with him all over again. Yes, he is awful, but when he's not being cruel to everyone, his complete lack of self-awareness is amusing.
The saddest thing about the reunion though is that it comes out that GG slept with James so that she could be on the show. For the better part of a century, people have moved to L.A. and done all sorts of crummy things to get famous. However, getting employed at SUR to be on a reality program and then trying to get on that reality program by sleeping with the weaseliest member of the cast is the grossest, desperatest, disgustingest thing I have ever even imagined.
Then it is time to drag out Lala, who disappeared halfway through the season in a cloud of infidelity accusation and the fumes of whatever strange adhesive she uses to keep those talon-like nails of hers affixed to her hands. At first we get the usual rehash of her fight with Katie, where she couldn't explain quite why she said that Tom Schwartz has a big D (because it must be true!!) or that Katie and Tom will get divorced. On that second claim, I will say that for all marriages, it is a bit of a coin flip, so she might not eventually be that wrong.
What it boils down to is that both of these sensitive but vicious women were hurt by the other and reacted by lashing out at each other. Katie called Lala a whore, so Lala called Katie fat, so Katie told everyone Lala was sleeping with a married man, so Lala told everyone she was going to sleep with Schwartz, and around and around it goes, like the world's most sickening carousel ride. It doesn't help that Katie got Kristen, Stassi, and Scheana on her side to make things even worse for Lala. Well, that is until Scheana decided to hop off the Puke-o-Whirl and think for herself.
There was a side argument about how everyone thinks that Stassi is the ringleader of the three, and if anyone says anything that even vaguely upsets her, she gets her minions and all three of them attack her. This is incorrect. These three operate like a hive mind, and that is how they wield their power over the group. If one of them gets upset, the others band behind her and they operate lock step as a voting bloc, dismantling anything that gets in their way and opposes them. It's not just Stassi — both Katie and Kristen can call on the power of the Bitch Borg as well, and it is deadly.
However, Katie does apologize to Lala and, shockingly, it seems like they reached a bit of a détente. Katie cops to being in a bad place and lashing out at Lala, finally taking a bit of the blame for creating this whole mess in the first place. It was the first grown-up thing that Katie has ever done, and it makes Lala cry almost real tears and do that creepy thing where she blots them away by sticking a whole Kleenex into her eye socket. So finally we have some movement here and possibly the healing can begin. But not quite yet. After all, there are still two more parts to go.