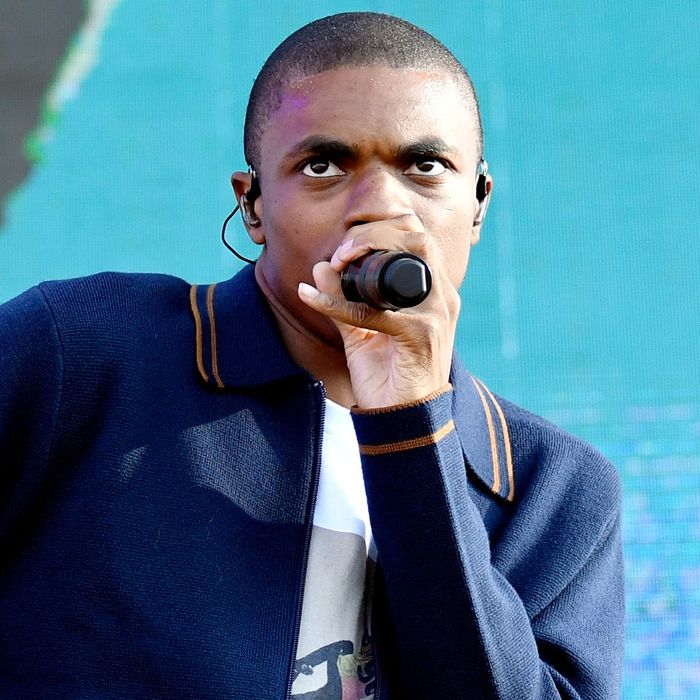 Vince Staples's Life Aquatic.
Photo: Frazer Harrison/Getty Images for FYF
Listen to his songs for any length of time and you'll learn Vince Staples comes from a world where colors make the difference between life and death. Raised in Southern California by a family of Crips, Staples's art examines the ravages and bonds of gang life with a clear eye and inventive tongue. It's no surprise that his imagery is spotted with color: "Bandana brown like the dope daddy shooting in the kitchen"; "Cocaine color of a Creole"; "New shoes with the blue suede, blue suede, the blue suede, the blue suede." He's a visual artist, full stop: Profiling him last year, we learned that he selected the beats for Summertime '06, his 2015 debut album, by asking producers to craft tracks that sounded like certain movies; though he doesn't direct, he's come up with the concept for all of his music videos.
The profile was occasioned by the release of Prima Donna, an EP exploring the troubled mind of a rap artist sharing much of Staples's life story and angst. The strangeness of the transition between old streets and new fame is hardly a new topic in rap, but Staples had managed to find an original angle on the subject, joining a reversible narrative with dissonant, digitized instrumentals and his usual deft, quick-hitting cadences. The color of the Prima Donna cover consisted of Vince's head, disproportionately large compared to his torso (clad in dark-blue), set against an off-white background. His facial expression was weary and sad; it was an apt sign of the collection's suicidal tendencies.
Unlike the protagonist of Prima Donna, though, Vince is still alive; in fact, if his performance at Terminal 5 last Thursday night was any indicator, he's positively thriving. Entirely alone on the stage before a sold-out crowd, he prowled back and forth; though never breaking from his usual sober and precise bearing, his delivery was confident and his gestures were vigorous. Some artists flail their way through a set list; others plow through. Staples, on the other hand, seemed to slice with surgical strength and precision. His tracks already tend toward the short end, but with the aid of exacting cuts and sutures (all the verses were preserved) he delivered a 22-song set within the space of an hour.
Staples's personal discipline didn't necessarily set an example, at least for parts of the audience. Occasional outbreaks of slam-dancing on the ground floor made for an unnerving counterpoint to music whose lyrics, at heart, are about the grim consequences of losing self-control.
Mostly, though, our eyes were focused on the lighting and screens beaming from the stage, where Vince's flair for the visual had found a new field to express itself. In keeping with the liquid title of his Life Aquatic tour, the screens frequently displayed digital animations of submerged objects (you could tell because of the bubbles) linked to the themes of each song: a hangman's noose for "Smile," a shiver of hammerhead sharks on "War Ready." The lighting was arranged with similar care. Tracks from Summertime '06 tended to receive a blue and orange treatment in keeping with that collection's Long Beach setting; Prima Donna centerpiece "Loco" was cast in shades of morbid pale purple; the anti-police anthem "Hands Up," a cut from his 2014 EP Hell Can Wait, was framed by alternating red and blue lights; it's hard to explain exactly how "Bagbak," the lead single for his upcoming Big Fish Theory album, is a lime-green-colored song, but the show left us duly convinced. In their thoughtfulness and geometric exactitude, the visuals reminded us more of an EDM set than a rap concert, an observation strengthened by the fact that Staples had included his features on Flume and Major Lazer tracks in the set. It was nothing short of full-spectrum dominance: Whether in terms of meaning, sight, or sound, the audience was awed by Vince as visionary.
Never one to waste time, Staples, following the closer "Blue Suede," returned after a 15-second intermission to deliver an encore: his signature track, the wiry, airily ominous "Norf Norf," followed by its fellow Clams Casino production and Summertime standout "Summertime," a mournful ballad which left all in attendance tamed and rapt. Halfway between an order and a wish, his final line "Pick up the phone: don't leave me alone in this cruel, cruel world" made for a striking contrast with the crowd before him. Everyone could hear him, everyone wanted to hear him, and though he remained as isolated as ever — himself aside, the stage had been bare of everything except for smoke throughout the show — malice, for once, was the furthest thing from anyone's mind.