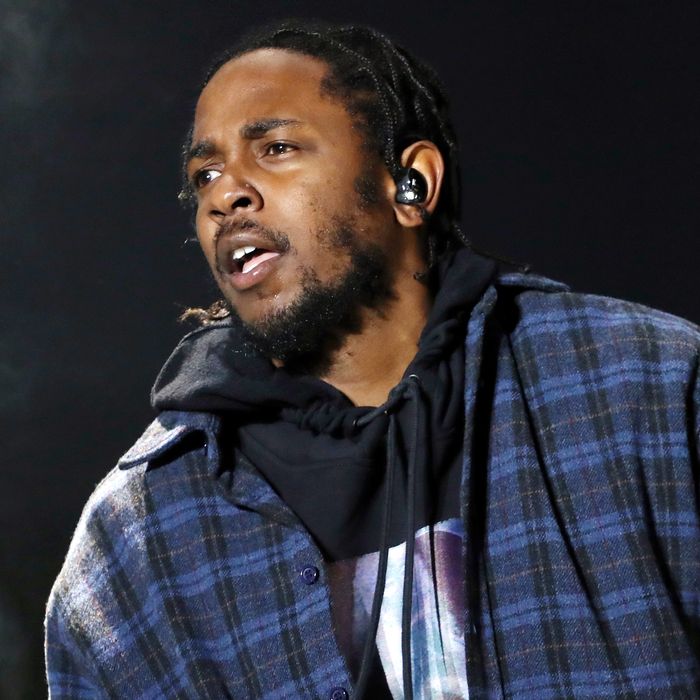 Kendrick Lamar
Photo: Rick Kern/Getty Images for Samsung
Kendrick Lamar's new record, DAMN., due out late tonight on Interscope, comes with the weight of massive expectations, but its lead single, "Humble," follows in the mold of his earlier work, marrying focused verbal trickery with broader mythmaking.
The blueprint was there all along. "Average Joe," the 11th song on Overly Dedicated, Lamar's remarkable breakthrough mixtape, opens "Who is K. Dot? / A young nigga from Compton on the curb, writing raps next to a gunshot." This is the song where Kendrick says he's "trying to duck the influence" of his city, the same song where he leaves his high school (Centennial, up on El Segundo), gets banged on by a car full of Crips, then uneasily watches his friends grab guns to retaliate. They tell Kendrick not to come along — it'll be too brutal for his eyes — but the damage is done: He fails his finals. It's an arresting, formally developed rap song that would be the thematic backbone of his early career, a proto-good kid, m.A.A.d. city distilled into one Remy-soaked afternoon on Rosecrans and Central. And that's before he steals his mom's minivan on "P&P 1.5."
Rappers as heady — and, if we're honest, hit-averse — as Kendrick don't blow up overnight. But Overly Dedicated, released in September of 2010, was the only record the Compton native put out after he'd become a known quantity on the national underground circuit but before he was an unstoppable industry force. It grapples with a preposterously wide range of issues, and synthesizes a few different writing styles and ideologies. But where much of Kendrick's later work is plainly or implicitly about his stature as a transformative rap star, Overly Dedicated draws its stakes from outside forces. This gives it a different feel from his later music, a perspective that necessarily evaporates once you get hassled on the sidewalk for autographs instead of gang allegiances.
There's another tension at play on Overly Dedicated, one less mythic than the good kid versus the mad city. It's right there in "The Heart, Pt. 2," the record's breathless opener. "My uncle doing life inside prison," Kendrick raps, "he wasn't wrapped too tight / He told me rap about life, not rap niggas." (Later: "We used to beefing over turf, fuck beefing over a verse / Niggas dying, motherfuck a double entendre.") He takes his uncle's advice to heart, and Overly Dedicated often feels like it's overflowing with a lifetime's worth of observations and half-remembered skirmishes at Louis Burgers.
And yet Kendrick loves double entendres. His music is riddled with wordplay and tightly wound verbal tricks. He's a rapper's rapper, a kid who absorbed Lil Wayne and Eminem and teased out what made Kurupt tick on a technical level. Overly Dedicated is the sound of both halves of his brain clicking into place at the same time. Take this passage in "P&P 1.5":
"I used to have a 9-to-5 / Fresh out of school—that was '05 / That bitch was racist, got me fired / Ever since then, I had no job / Pushing in my mama van, stop for gas on Rosecrans / Trust me, these niggas rushed me for something my cousin probably did / Guilty by association — story of my life, nigga / You gon' make me flip and split your shit, just give me life, nigga."
The cadences there (and later, when he pushes his lines to the back of each measure) are a high-wire act, but they work in service of the songwriting. The same could be said for "Ignorance Is Bliss," OD's marquee song, which is a furious mission statement for Kendrick, but might as well be a clinic on floating over an instrumental; how do you slip in between drums that hard?
And speaking of production: In hindsight, Kendrick's deeper foray into jazz on To Pimp a Butterfly was anything but a departure. Section.80 spends plenty of time in those waters; good kid, which often takes cues from Los Angeles beat-scene artists like Nosaj Thing, actually feels like the outlier in his catalog. OD opens with "Heart 2," its beat cribbed from the Roots' How I Got Over, and "P&P" flips Game Theory's "Clock With No Hands." A bulk of OD ("Growing Apart (to Get Closer)," "Night of the Living Junkies," "Alien Girl," and "Opposites Attract" on the A-side alone, for example) sound as if they could have been culled from late-period Roots sessions as well.
The Digi+Phonics crew, namely Sounwave, Tae Beast, and Willie B, handle eight of the tape proper's 13 original tracks, lacing them with warm tones and drums that sound as if they're being played right in front of you. It's a high-risk, high-reward approach for a rapper, especially one fighting for market share, but Kendrick clearly owned a copy of Phrenology in his youth, and has no trouble finding the pockets inside the rolling jazz breaks.
OD's biggest aesthetic departure is "Michael Jordan," the Sounwave-produced, Schoolboy Q-assisted cut that could have been tacked on to the end of Wayne's No Ceilings. The hook references Wayne's "Swag Surfing" freestyle, and could only have been made by someone who sat in parked cars after high school, listening to the Drought and Sqad Up tapes on loop. (Unlike on his earlier mixtape C4, Kendrick breaks out of outright imitation and injects his own personality into the song.)
There are some ways in which Kendrick's vocal style still seems like a work in progress; "H.O.C." and the hook on "Average Joe" show some range, but it's hard to imagine him making "Money Trees" in 2010. And yet Overly Dedicated reveals him as a virtuosic rapper, one who was very nearly ready to record a historic LP. The consistent themes, the recurring imagery, and the real-time self-mythologizing show Kendrick was already laying the groundwork. OD is more than a formative work, but not quite a definitive one — it's a genius on the cusp, his fully formed self peeking out around every corner.