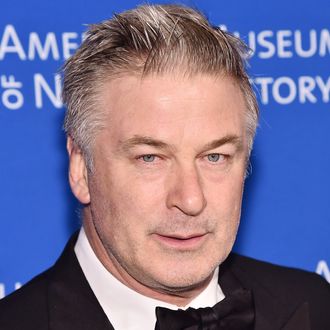 Photo: Michael Loccisano/Getty Images
Not surprising given that it's written by our country's most famous Donald Trump impersonator, much of Alec Baldwin's new memoir Nevertheless is dedicated to politics. Vanity Fair already excerpted many of Baldwin's key thoughts on the president, as well has his first introduction to Tina Fey, so those looking for more dishy insights into Baldwin's high-profile SNL gig aren't going to get a lot of new material. Nevertheless, Nevertheless offers a collection of other anecdotes from Baldwin's career, and ends up being a comprehensive collection of his grudges, crushes, and confessions. Here are some of the best stories.
Baldwin overdosed in 1984, prompting him to get sober. Baldwin discusses moving to Los Angeles and getting hooked on cocaine and alcohol in the early 1980s. While shooting Knots Landing in Oregon, he recalls overdosing in a hotel room, after doing cocaine from "around four in the previous afternoon" to eight in the morning. After passing out and then being hospitalized, Baldwin started to go to Cocaine Anonymous and got sober in 1985. "As frequently as I have gotten in my own way throughout my sobriety," Baldwin writes, "I shudder to think of how much more painful and destructive my behavior might have been had I not been sober."
He has it in for Harrison Ford over the recasting of Jack Ryan. Alec Baldwin played CIA analyst Jack Ryan in 1990's The Hunt for Red October. Harrison Ford replaced him in 1992's Patriot Games. In Nevertheless, Baldwin makes it very clear that this wasn't his plan. He describes feeling that Paramount executives were forcing him out of the role, ignoring his suggestions to change the story. The studio, according to Baldwin, was planning to replace him with Harrison Ford anyway, and boy, Baldwin is not a fan of Harrison Ford. "Ford is one of the most successful stars in movie history. He has abundant fame, wealth, and the adulation of an adoring public and everyone in the town," Baldwin writes. "One thing he does not have is an Oscar, which must frustrate, if not burden him, after his long career." Later, Baldwin writes that, in person, Ford is "a little man, short, scrawny, and wiry, whose soft voice sounds as if it's coming from behind a door." Tell us how you really feel.
The damage done by the infamous voice-mail he left his daughter hasn't healed. In 2007, during a custody battle between himself and Kim Basinger, Alec Baldwin left a threatening voice-mail message for his daughter Ireland, which was leaked by TMZ's Harvey Levin (Baldwin really hates Harvey Levin). "My relationship with Ireland has healed," he said. "But just as something that has been broken is never quite the same, the fragile years of childhood that are battered by high-conflict divorce are irreversibly affected … I think the worst thing one can do is put a child in the middle of those battles. That is what I did. And I am reminded of it and am sorry for it every day."
"Ben Affleck is a prince." Baldwin peppers his memoir with praise for people he loves (Cate Blanchett, Mary-Louise Parker, Jack Lemmon) and complaints about those he does not (Kim Basinger's lawyers, Harvey Levin, New York Times theater critic Ben Brantley). In the best anecdote, Baldwin lays out his frustrations during the shooting of Pearl Harbor — "severely bloated, in my opinion" — and then adds, "but Ben Affleck is a prince." He doesn't elaborate, but what more do you need to know?
He didn't really mean that he was done with public life. In a 2014 essay for New York, Baldwin said, "It's good-bye to public life." "What I should have written was that I was finished with expecting to find any fun or joy out of public life again," Baldwin corrects himself. "And by 'public life,' I mean cooperating with the media in any attempt to communicate with an audience." Does it sound like Baldwin's re-positioning himself as a more public figure? Well, he does bring up the fact that he considered running for state office in the '90s, that he ran for class president as a freshman at George Washington, and that he just loves the Kennedys so much. So yes, there just might be some political posturing going on here.