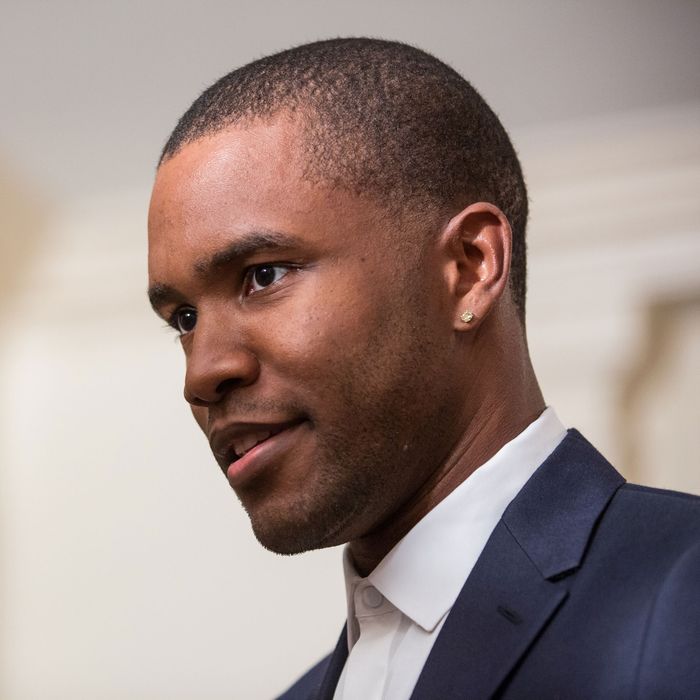 Frank Ocean.
Photo: Cheriss May/NurPhoto via Getty Images
Everything that made Frank Ocean's Blonde and Endless exciting last year also seemed to frame the two releases as an orchestrated act of conscientious objection to music's major-label machine. Endless is a genius fake out that freed Frank from his Def Jam contract and still exists only as an Apple Music video nearly a year later (unless you tracked down ripped audio), while Blonde, from its proggy song structures and stripped instrumentation, to the guerrilla one-day sale of hard copies, landed as precariously and perfectly as a BMX trick. Promotion was faint; the shock of the music existing at all was its main selling point. Frank was finally present, but not in the overbearing way we get when pop stars crop dust media to push new product. There were no late-night television performances or in-depth radio and podcast interviews. He was more like Princess Leia piping out of R2-D2 in ghostly blue at the beginning of A New Hope: translucent, projected, miles away.
All of this makes Ocean's Beats 1 show, "Blonded Radio," a novel concept for his fans. The bimonthly scheduling of Beats 1's artist-run shows forces Frank into appointment listening, meaning his fandom, whose superhuman faith in his return throughout a lengthy sabbatical was once a defining characteristic, gets to enjoy something resembling regular communion with him. Frank seems to be enjoying the gig. After rolling out one episode apiece in February and March, he has released three in April alone, sneaking episode five out first thing in the morning the day after the fourth. "Blonded" flexes the keen eye for curation hinted at in the singer's limited-edition Boys Don't Cry magazine. It's the kind of place where cutting-edge rap and R&B rub elbows with music from well outside the sphere, where a hip-hop fan might accidentally get introduced to the seminal New York electropunk band Suicide. The show's value exceeds great playlisting. Like Drake's "OVO Sound Radio," Ocean uses "Blonded" to float new music directly into the ears of his audience, and the new material is where the cool, aloof Frank Ocean of the last few years has begun to warm. Frank's distribution plan quietly changed, and so has the music.
Blonde might be the most abstract event record of its time. Across gems like "Ivy" and "Self Control," it picked at memories like a miner might dig for ore: Details like names, times, and places were shucked to get to the pure, crystalline emotion underneath. It was sometimes hard to discern a plot; for months we thought "Self Control" ("I'll be the boyfriend in your wet dreams tonight") was about playing second fiddle to a crush who's seeing someone else, only to find out in a rare New York Times interview that the song was actually about a disconnect in a monogamous relationship. Endless showcased looser writing: "Comme De Garcons" and "Slide on Me" seemed flighty by design. "Mine" and "Sideways" felt less written than blurted out, like Lil B's zen, free-associative-based style. The trickle of new songs premiered on the last few episodes of "Blonded" present yet another new direction.
New cuts "Chanel," "Biking," and "Lens" have been characterized as Frank Ocean's return to making pop for radio, which is true insofar as each one plays around with upbeat melodies, limber flows, and actual drum tracks, where Blonde seemed too heavy and languid to bother. On the surface, "Chanel"'s balance of braggadocio and sex-positivity wouldn't look out of place on a Jeremih or Ty Dolla $ign record. But the storytelling is art-damaged and different. "Chanel" is a song almost exclusively about anal sex and extravagant spending that lays out its conquests like a series of snapshots, with the lone chorus line "I see both sides like Chanel" tying them together. (Anxious listeners immediately read this lyric as Frank proudly declaring his bisexuality, since the Chanel logo is literally two C's facing opposite directions. But the verses are only concerned with men, specifically non-straight men who flout societal standards for both masculinity and homosexuality, the guy who's "pretty like a girl and he's got fight stories to tell" and the "one who's straight-acting." Perhaps that is what he sees both sides of?)
"Biking"'s scope is even tighter. Here we're just whizzing around the L.A. coast enjoying the clear-headed rush of forward motion and wondering how long Frank can outrun outside expectations for him to settle down as he nears 30. "Lens" leans a little more abstract in production as well as lyrics, opening as a quiet piano ballad describing a party scene before blowing up into a moody, dubby tearjerker about how our connections to friends and family linger even after they're gone. Both are streams of poignant images that don't bother explaining how to feel about what we're seeing. Frank Ocean has always been something of a cinematic writer, from the whirlwind festival romance of "Novacane" across the Less Than Zero homage of "Super Rich Kids" and the Cleopatran epic "Pyramids." But those songs drew the conclusions for us. The ancient queens and modern-day go-go dancers of "Pyramids" are doomed because our world wasn't built to protect them. We knew the Coachella girl of "Novacane" was out once the drugs wore off. The super-rich kids' money can't make anyone love them.
Frank's old songs were neat stage plays about the emptiness of depravity, but the "Blonded" songs are more like cinéma vérité. The highs and lows of real life provide the drama. Shit happens and then it stops. Maybe you find some meaning. Maybe you don't and just hang around to enjoy the scenery. Pop doesn't take these chances. You know what a song is about by the third verse. You don't listen on loop for an hour trying to piece together what the fuck just happened. Is "Lens" just about getting god high and wolfing down Rally's while you wonder what the dead homies would think of the scene? Is it about anything at all? Does it have to be?