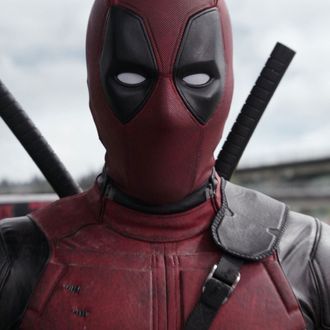 Photo: Joe Lederer/2015 Marvel & Subs/Twentieth Century Fox Film
Each month, several films and TV shows leave HBO's catalogue. We provide a list of departing titles so you can watch them before they're gone forever (or are just available on a different site). For more comprehensive coverage of the best titles available on HBO and elsewhere, check out Vulture's What to Stream Now hub, which is updated throughout the month.
For those who love Fargo: A Serious Man
The Coen Brothers were never more idiosyncratic than in their 2009 existential comedy about a Jewish husband and father trying to dig his way out of hardship after hardship. Drawing jointly from the Book of Job and the Heisenberg uncertainty principle, Larry Gopnik's battle for his own dignity amid a torrent of setbacks (his wife leaves him, he gets thrown out of his own house, he has nightmares about being hunted for sport) carries a spiritual heft that's not easily shaken. And the final shot is … well, just look at that parking lot. Leaving May 31.
For those who think superhero movies should lighten up: Deadpool
This adults-only Marvel smash, in which Ryan Reynolds smirks his way through every superhero movie trope, is in reality just as focus-group driven as the costumed do-gooder franchises it mocks. But if we're going to continue to lease so many of our multiplexes to this cinematic universe year-round, it's best to view Deadpool as a necessary pinprick to all the hero-worship pretension. You want your world-ending cataclysms? Fine. Just give us the occasional gag about actor contract obligations, too. Leaving May 31.
For a humanist approach to the death penalty: The Green Mile
Frank Darabont's adaptation of the Stephen King novel, in which Tom Hanks plays a death row warden who becomes sympathetic to an outwardly gentle inmate played by Michael Clarke Duncan, was certainly a giant critical and commercial hit in 1999. But the explicit way this film confronts the moral quagmire of our nation's addiction to the death penalty feels even more prescient today, at a moment when Arkansas is fighting in court for the right to execute seven men in a matter of days. If you can make peace with The Green Mile's three-hour length, morbid subject matter, and detours into spirituality, you'll find a film that has remained, and will likely continue to remain, the right story for our time. Leaving May 31.
Noteworthy selections in bold.
Leaving May 6
Shanghai Noon
Leaving May 31
Being There
The Brothers Grimm
Castaway
Deadpool
Dr. Dolittle 2
Excalibur
Gods of Egypt
Gotcha!
The Green Mile
Insidious: Chapter 3
Joy
License to Wed
Matchstick Men
Miracle on 34th Street
Mr. Right
Racing Stripes
Ride Along 2
Poltergeist (2015)
P.S. I Love You
The Sand Pebbles
A Serious Man
The Sisterhood of the Traveling Pants 2
The Sixth Sense