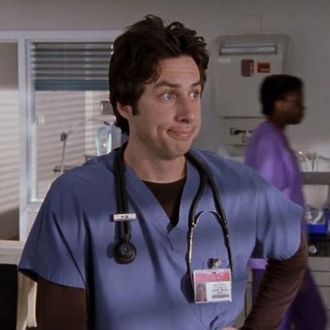 Each month, several films and TV shows leave Netflix's catalogue. We provide a list of departing titles so you can watch them before they're gone forever (or are just available on a different site). For more comprehensive coverage of the best titles available on Netflix and elsewhere, check out Vulture's What to Stream Now hub, which is updated throughout the month.
For those who like silly comedy with a dose of angst: Scrubs
Zach Braff gets a bad rap these days, so it's easy to forget how good he was in this long-running NBC sitcom about a group of medical-intern kooks just beginning their hospital careers. Braff's oft-derided blend of serious introspection and oddball fantasy works perfectly on Scrubs, a show about budding doctors struggling to keep cool when harm or death is always peeking around the corner — and let's not forget the presence of Sarah Chalke (as bundle-of-neuroses Elliot), John C. McGinley (as the always-ranting Dr. Cox), and the other cast members who made this ensemble click like nothing else in comedy. Seasons one through five are the golden era, when the characters put their best, goofiest faces on intractable medical dilemmas; everything that follows is a steady decline into gimmickry. Leaving May 2.
For the blockbuster purists: Jurassic Park
The more the gargantuan smash Jurassic World fades into the rearview mirror like a velociraptor trying to keep up with a motorcycle, the emptier and more embarrassing it becomes in retrospect. A sequel that takes as its starting premise the very abomination to nature its predecessor warned against (that it's a good idea to resurrect extinct species for human amusement) is a sequel with nowhere to go. Better to reacquaint ourselves with Steven Spielberg's original 1993 adaptation, which used state-of-the-art special effects and sequences staged like true horror movies to do a pretty insidious thing: convince us that despite the horrific consequences of letting dinosaurs roam among humans, the idea of actually being so close to teeth-gnashing death was extremely cool. Leaving May 1.
For those who crave timeless entertainment: To Catch a Thief
Let Alfred Hitchcock transport you to the French Riviera for his delightful featherweight caper, in which a reformed cat burglar (a heavily bronzed Cary Grant) must clear his name when he's suspected of committing a new rash of jewelry thefts. He's paired with Grace Kelly, at the height of her luminosity as a gorgeous, wealthy oil heiress who wants in on the criminal action. Shot in wide-screen VistaVision, the film is so rich with Mediterranean visual splendor that you'll frequently catch your eyes drifting across the landscapes — particularly the villa where Grant's character lives, which an accomplice describes as "a kind of travel-folder heaven where a man dreams he'll go before he retires." Oh, yeah, the movie's witty as hell. Leaving May 1.
Noteworthy selections in bold.
TELEVISION
Leaving May 2
Good Luck Charlie: Seasons 1 – 4
Kickin' It: Seasons 1 – 3
Scrubs: Seasons 1 – 9
Leaving May 7
American Dad!: Season 7
Bob's Burgers: Season 2
Leaving May 11
American Dad!: Season 8
Leaving May 15
Anthony Bourdain: Parts Unknown: Seasons 1 – 5
Leaving May 17
American Dad!: Seasons 9 & 10
Leaving May 26
Graceland: Seasons 1 – 3
MOVIES
Leaving May 1
11 Blocks
Alfie
Bang Bang!
Black Mamba: Kiss of Death
Cujo
Doomsdays
The Doors
Fantastic Four
FernGully 2: The Magical Rescue
Flicka: Country Pride
Garfield's Fun Fest
Invincible
Jetsons: The Movie
Jurassic Park
The Lost World: Jurassic Park
Jurassic Park III
Paulie
The Real Beauty and the Beast
Samurai Headhunters
The Seven Dwarfs of Auschwitz
The Sons of Katie Elder
Stephen King's Thinner
Tales from the Darkside: The Movie
Things We Lost in the Fire
To Catch a Thief
Treblinka: Hitler's Killing Machine
Truly Strange
Turf War: Lions and Hippos
Van Wilder: Freshman Year
Venom Islands
The Wedding Planner
World War II Spy School
Leaving May 5
Amapola
Flubber
Grosse Pointe Blank
The Recruit
What About Bob?
Leaving May 19
Step Up