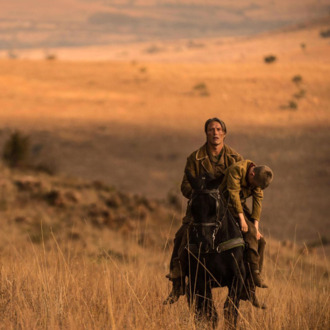 Each month, several films and TV shows leave Showtime's catalogue. We provide a list of departing titles so you can watch them before they're gone forever (or are just available on a different site). For more comprehensive coverage of the best titles available on Showtime and elsewhere, check out Vulture's What to Stream Now hub, which is updated throughout the month.
If you want to see Hannibal Lecter in a Western: The Salvation
Who's that crusty sourpuss glowering under the cowboy hat? Why, it's Mads Mikkelsen, channeling the grittiest expressions of Clint Eastwood's Man With No Name. In The Salvation, Mikkelsen plays a Danish immigrant whose efforts to reinvent himself in the American West will quickly make the mountains flow red with blood. Like other recent neo-Western epics, Kristian Levring's hard-boiled revenge tale kicks sand around our conventional wisdom of the genre. These are dark times, with few clean hands, and no amount of sweeping vistas can take the pain away. Leaving May 1.
If you want a David Lynch movie that isn't weird: The Straight Story
You may only know Lynch as the guy who takes images of small-town America and stuffs them in a blender to watch them splatter. But he once played his love of innocent, down-home life absolutely straight, and it was in his aptly titled 1999 feature about 73-year-old WWII veteran Alvin Straight (a sublime Richard Farnsworth), who drove more than 200 miles on a John Deere tractor from Iowa to Wisconsin to visit his dying brother. Today the film may stand as the anti–Twin Peaks for its refusal to get too weird, but its sparse dialogue, precisely applied sentimentality, and true evocation of place carries it a great distance on the back of that tractor. Leaving May 31.
If you spend your nights pondering the end of the universe: Sunshine
The sun is dying, and a team of astronauts on a suicide mission have to plunge a giant battery into its center to save humanity. Their spaceship is called the Icarus, and that's just the tip of the dark humor among all the blinding light that director Danny Boyle and screenwriter Alex Garland (Ex Machina) employ in their voyage to the center of metaphysical horror. The sci-fi particulars of the plot are riddled with inaccuracies, but there are scenes that will chill you to the bone, where characters know death is imminent and yet muster the bravery to stare it head-on. Leaving May 31.
Noteworthy selections in bold.
Leaving May 1
The Salvation
Leaving May 4
Whiskers
Leaving May 8
The Ladykillers (2004)
Match
Welcome to New York
Leaving May 12
Lost Highway
Miami Vice
Leaving May 14
Chicago
Leaving May 15
5 to 7
Paddington
The Riot Club
Leaving May 19
Wolves
Leaving May 24
Love Actually
Spy Game
Leaving May 25
Nightlight
Leaving May 29
Backcountry
Leaving May 30
Black Christmas
The Hurricane
Leaving May 31
Alec Mapa: Baby Daddy
American Heart
Double Whammy
The Dramatics (a Comedy)
Dressed to Kill
Hidalgo
Jay Pharoah: Can I Be Me?
The Lucky Ones
Red Corner
Saw
The Straight Story
Sunshine
Tears of the Sun
What Women Want