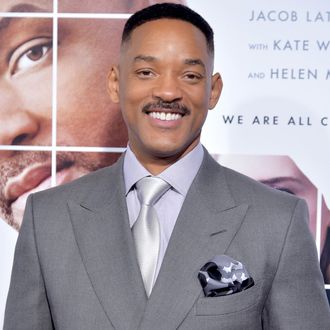 Will Smith.
Photo: Theo Wargo/Getty Images
Will Smith might grant your three wishes as the genie in Disney's forthcoming live-action Aladdin. Deadline reports that Smith is in early talks to join Guy Ritchie's "nonlinear" Aladdin.* Earlier this year, Smith was courted for a role in Tim Burton's live-action Dumbo, but ultimately passed (Colin Farrell is now rumored for the role that ostensibly would have been Smith's). While Aladdin is in the early stages of casting, think of the possibilities if Smith moves into the lamp once occupied by Robin Williams! Disney's remake kingdom requires "Friend Like Me" in they key of Big Willie style as soon as possible.
*An earlier version of this story misidentified Guy Pearce as Aladdin's director. Guy Ritchie is directing the live-action adaptation.