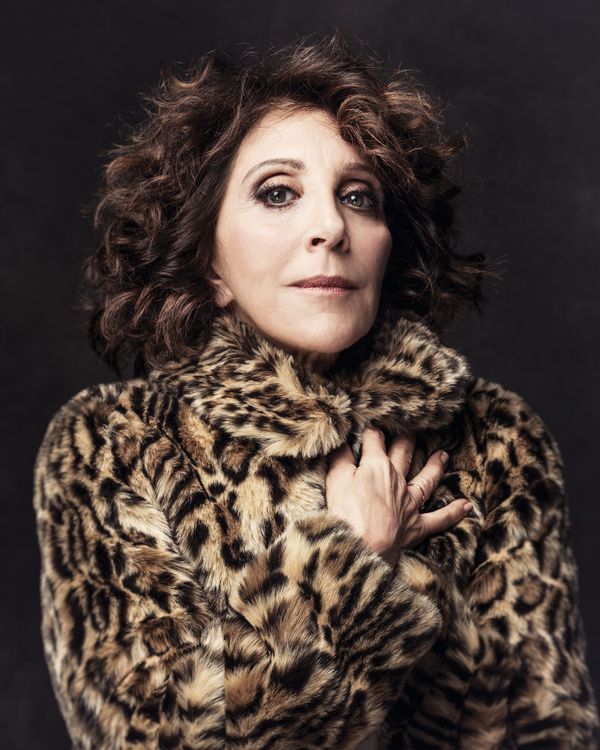 Very few people stay funny for 50 years. Fewer still stick around long enough to land the perfect sitcom role at age 70.
Photo: Marco Grob
Andrea Martin is the funniest woman alive. Before you offer a counterargument, let's establish a few ground rules. First, we'll award extra points for longevity — and, at age 70, Martin has been professionally funny for almost 50 years. Second, there's versatility. Many comedians are funny, but they are always funny in more or less the same way. If you revisit some of Martin's classic characters on the TV show SCTV, you'll be hard-pressed to believe these are all played by the same woman.
Plus, Martin stood out even in that rarefied crowd. The initial cast of SCTV is, I'd argue, the single greatest collection of comedic talent ever assembled. That cast, formed in 1976, came to feature (in various configurations over its first several seasons) Martin, Catherine O'Hara, Eugene Levy, John Candy, Rick Moranis, Harold Ramis, Dave Thomas, Joe Flaherty, and Martin Short. The show grew out of the Second City improv theater in Toronto, and while it was produced in Canada, it also aired in the U.S. Because of this cross-border distribution, SCTV avoided political and topical sketches (unlike, say, its groovier U.S. counterpart, Saturday Night Live, which premiered around the same time) and focused on character-driven comedy. And nobody's characters are more memorable or iconic than Martin's — whether it's Edith Prickley, the honking-voiced, leopard-clad manager of the SCTV station (the show was organized around a fictional TV channel), or Libby Wolfson, the feminist talk-show host, or Edna Boil, one-half of the organ-emporium-owning couple Tex and Edna Boil, whose commercials are absurdist masterpieces. If you watch these sketches on YouTube now, I think you'll find they hold up. If Martin were starting out today, she'd be celebrated as Kristen Wiig, Kate McKinnon, and Carrie Brownstein rolled into one.
On top of that, she has more Tony and Drama Desk nominations for Featured Actress in a Musical than any performer in Broadway history. Yet there's also a good chance that if you are familiar with Martin, you know her as the aunt in My Big Fat Greek Wedding. Or as the voice of a million characters on shows you watch with your kids. But now, at the unlikely age of 70, Martin is going to finally get the network-sitcom showcase she's long deserved. She's about to star in Great News, on NBC, a series created by Tracey Wigfield, who's in her 30s and a former writer on 30 Rock and The Mindy Project. She is also what you might call a recent Martin acolyte. "I had seen her in My Big Fat Greek Wedding and I've watched SCTV clips on YouTube, but I didn't know her work all that well," Wigfield says. Then she asks: "Have you met her? Because she's the funniest person. I don't mean the funniest 70-year-old woman. I mean, just the funniest person."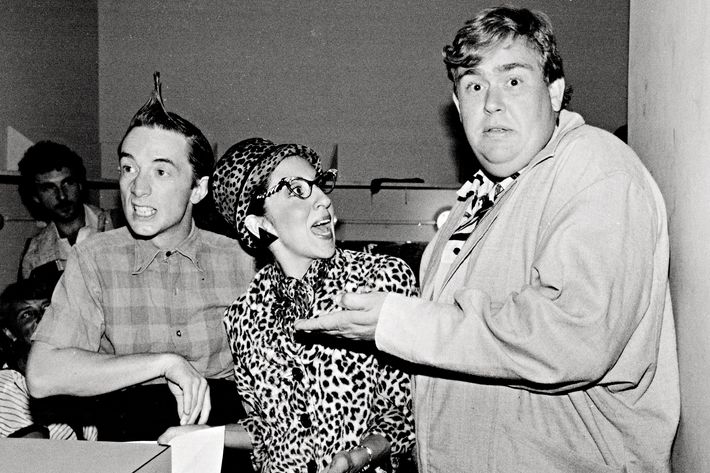 "I'm lonely, I'm single, my kids are in L.A. Why do I feel I have any information to share with you?" Martin says. She's kidding, or at least she's laughing. She's wearing red, because it's International Women's Day, and we're eating at Lido, a restaurant in Harlem that I assumed was a pet favorite of hers but to which, it turns out, she's never been, and which she picked solely because the owner is a woman and the chef is also a woman. We're sitting together, the two of us, at a semicircular booth large enough to seat 12. She's responding to a question I've posed to her about career longevity. "I don't know how to have a long career," she says. "But I know how to have an interesting life. Which maybe equals a long career."
"How do you have an interesting life?" I ask.
"I will tell you. I want you to write this down," she says. "Expand your mind. Read about history. Go to a museum. Go to the opera. Go to the ballet. Go to therapy. Understand why you tick."
The TV critic Tom Shales once wrote, "Andrea Martin is least interesting when she is being herself," and he meant this as a compliment. But it's true that, if comedians can be roughly sorted into two categories — those who as performers are radically themselves and those who are radically not — Martin, with her wigs and glasses and funny accents and nasal voices, belongs in the latter category. The former category includes people like Louis C.K. and Amy Schumer: comedians whose personae, writ large and laid bare, are essentially them. Comedians like Martin, Christopher Guest, or Kate McKinnon disappear completely into elaborately constructed caricatures. Edith Prickley is very funny, and Edith Prickley is a sharp portrait of a particular kind of personality, but Edith Prickley is not Andrea Martin. Not even close. Yet for years she was so closely associated with the character that she resisted even wearing leopard-print.
"It took me many years, maybe until I was well past my 40s, where I even wanted to venture onstage as myself," Martin says. She did a one-woman show Off Broadway in 1996 titled Nude, Nude, Totally Nude — the title in part a reference to the vulnerability she felt in undertaking a one-woman show. (She was never nude in the play, for the record.) "I wanted to be onstage by myself, being myself," she says. "Could I feel that I was entertaining as myself? Or did I have to be in a scarf and glasses and wool coat in order to fill up a stage?" In the middle of writing the show, she traveled to Armenia, where she had never been, to learn about her heritage. "That was a transformational time to be really connected to my past in a very visceral way."
The character that Martin is currently tackling is not a woman in a scarf and glasses, nor herself, but your mom. Maybe not your mom, specifically, but there's a good chance that if you watch Great News, which is about Katie Wendelson, an ambitious news producer (Briga Heelan), and her meddlesome mother, Carol, you'll see some element of your mom in Martin's performance. Carol Wendelson is not a toxic matriarch-witch like, say, Jessica Walter's Lucille Bluth on Arrested Development. She's a mom who'll fix your collar without asking, who'll fret about your getting killed by a bear in Central Park, who'll sit quietly in a meeting at a new job until she blurts out, to herself, "Oh, I haven't talked for so long!"
Great News is produced by Tina Fey and Robert Carlock and is very funny, in a way familiar to fans of 30 Rock and The Unbreakable Kimmy Schmidt. Martin's Carol decides she needs a late-life change and is hired at her daughter's station as an intern. The part of Carol would seem to be a tricky one to cast — for the show to work, you have to believe that Katie both loves her mother and is driven crazy by her. (This familial dynamic may sound familiar.) So you need to find a comedian of a certain age who can play a mother who's both comically exasperating yet consistently endearing. As you'd imagine, the short-list of actresses who could take this on is, well, short. Plus, says Fey, "we wanted someone who was willing to look and dress like a real suburban mom, not a sexy Hollywood version of a mom."
The part, onscreen, seems written with Martin in mind, but Carol was actually inspired by Wigfield's own mother, who apparently spent quite a lot of time haunting the set of 30 Rock. (She lived nearby, in New Jersey.)
"Tina wrote to me and said, 'Would you have lunch with Tracey and Robert and I?' " says Martin. " 'Tracey wants to talk to you about an idea.' " Fey and Martin had worked together before on 30 Rock, and the four of them met at Cafe Luxembourg. "I understood instantly when I read the script how to play it because I'm a mom myself," says Martin. "I'm a bossy mom. An overly intrusive mom. I really took to it."
Martin seems grateful and slightly amazed at this particularly plum late-career role. After all, if Hollywood is notoriously cruel to women over 50, it is doubly so to women over 50 who are trying to make you laugh.
"I think TV has always been a better home for comediennes than movies," says Fey. "I grew up watching so many funny women on TV, like Carol Burnett, Betty White, Gilda Radner, and later, Jan Hooks, Andrea, and Catherine O'Hara."
Martin has filled the years between SCTV and today with a few less heralded TV projects, such as a sitcom that aired on NBC called Working the Engels and, of course, those Broadway shows — she won two Tonys 20 years apart, including one in 2013 for Pippin for what was basically a ten-minute cameo, a song, and a daring bit of stage gymnastics. When she took the stage, the theater would typically react with a Pavlovian ovation of such reverence that the show had to halt for several minutes. "I've been so fortunate," she says, "to have different areas, with film and television and theater. But a few years ago, nobody was calling me for anything." Now, in addition to Great News, she's also been appearing on the Hulu series Difficult People, on which she plays a pricklier, slightly more Lucille Bluth–esque brand of mom. As to a secret to her longevity, the best way she can sum it up is to say, "When I get into a rehearsal room, there's nothing I like more in my life. It's like a mathematician: How do you solve this problem?"
Later, before we wrap up, the subject of therapy arises again. She asks me, "Do you see a therapist?"
"I don't. Do you think I should?"
"Do you have problems you want to discuss?"
"Who doesn't have problems they want to discuss?" I say.
"Wouldn't you like to have a real intimate conversation with someone and tell them how you feel?"
"Sure. Yes. Of course," I say.
She looks me over. "I'm going to make you cry," she says. "That's what I'm going to do." She laughs instead.
Great News premieres April 25 on NBC.
*This article appears in the April 17, 2017, issue of New York Magazine.