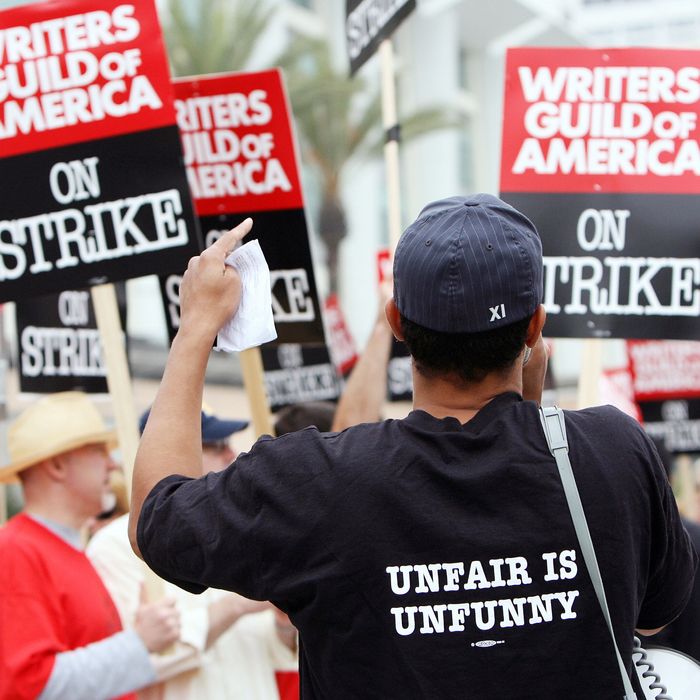 Writers participates at a demonstration in front of the Fox studio in Los Angeles, California, on November 5, 2007.
Photo: GABRIEL BOUYS/AFP/Getty Images
While it's still a ways away, another Hollywood writers' strike could be on the horizon. Today, the Writers Guild of America voted to authorize a potential strike in the midst of negotiations with the Alliance of Motion Pictures and Television Producers over a new three-year contract. Negotiations began on March 13; the contract expires on May 1. After briefly resuming talks last week, the WGA and AMPTP have suspended them until April 25, which means the WGA will return to the table with the power to call a strike (or not) if necessary.
Regardless of whether WGA membership does vote in favor of a strike, the possibility of one has loomed large over these conversations. The industry well remembers the 2007–2008 strike, a standoff that stalled TV production for months as writers sought a share of digital revenues in a changing TV ecosystem. A decade later, as the rise of streaming TV has rearranged the state of the industry, the WGA and AMPTP are at odds once again. Still, while the 2007 strike ended up centering on one key issue, these negotiations haven't yet found a single point of contention, though debates about the guild's health-care and pension policies, and the effects of "Peak TV" on writers' pay, have started to take center stage. Both sides, per negotiating policy, have kept mum about the details of the talks, but we still have a general sense of where things stand, and where they might be heading. We'll continue updating this piece with relevant information as we learn more.
The strike-authorization vote doesn't necessarily mean a strike will happen.
WGA's negotiation committee called for the WGA's boards to seek a strike-authorization vote against the AMPTP on March 24 for the first time since 2007; on April 24, the WGA announced that 96.3 percent of voters voted in favor of strike authorization. While a vote in favor doesn't necessarily guarantee a strike, it does allow the WGA to call one if necessary. The guild says it intends to keep bargaining with the AMPTP after the vote, which gives them more leverage. The current Minimum Basic Agreement, which covers film and TV work, was negotiated in 2014, and expires on May 1.
The WGA spent more than a year preparing for the 2007 strike, while the possibility of a 2017 strike has arisen far more quickly. Therefore, any work stoppage at this point would have a far faster effect on TV production as studios haven't had the time to build up a reserve of scripts, according to Variety. The Hollywood Reporter estimates that a strike might start in May, with pressure to come to a deal by August, allowing time for everyone to get to work on a new season of TV. Faced with less scripted content, networks would likely rely on reruns, specials, sports, and reality TV, as they did during the last major strike, while viewers might resort to watching the news, digital content, or the collections of older shows and movies available on Netflix, Hulu, or Amazon.
Despite "Peak TV," TV writers' salaries have trended downhill …
The recent boom of scripted TV production known as "Peak TV" hasn't yielded rewards for writers, as studios tend to green-light much shorter seasons — more often with 10 to 13 episodes, rather than 22. Per-episode pay hasn't risen significantly, nor have the total number of episodes in production, while the number of writers working in TV has gone up (The Hollywood Reporter has a good graphical analysis of this). Now, writers often need to work more to make as much, an issue that's complicated by options and exclusivity deals that keep them from pursuing other jobs. Per their letter, WGA negotiators have sought to address these issues in a variety of ways and allegedly received little support from the AMPTP.
Among other pay issues, WGA negotiators also highlighted "chronically low pay for Comedy Variety writers," and "script fee issues" for staff writers.
… as has pay for screenwriters.
On the film side, inflation-adjusted wages for screenwriters fell 21 percent from 2010 to 2015. While the majority of WGA members work in TV, the guild has also asked for "modest gains for screenwriters, most particularly a guaranteed second-step for writers earning below a certain compensation level."
The union is looking for funding for health care, pensions, and family leave.
In the face of a potential budget shortfall, the AMPTP has proposed cuts to WGA's health plan, administered by both the guild and management, which offers a variety of coverage with little out-of-pocket expense. The guild, in return, has asked that the AMPTP increase its funding for writers' health coverage.
Per its letter, the WGA also asked for changes to "protect" the current pension plan and for "a rational policy on family leave," saying that the AMPTP provided "nothing on Pension" and they rejected the proposal, as yet unspecified, on family leave. Writers have been vocal on social media about health care, pension, and family leave as central issues in a possible strike.
The WGA negotiators said they also got "nothing on diversity" from the AMPTP in discussions, though the details of that issue were not specified.
The Screen Actors Guild is also prepping for upcoming negotiations, while the Directors Guild recently finalized a major contract.
Playing into the WGA's negotiations is the fact that the DGA approved a new contract with the AMPTP in January, which included increases to streaming residuals and other improvements to wages and pensions. With an awareness of those wins, the WGA has sought similar increases in minimums and residuals — the guild's pay for TV residuals, in fact, are currently inferior those for actors and directors. SAG-AFTRA, meanwhile, has a contract that expires on June 30, which, as The Hollywood Reporter points out, might force the AMPTP to work through two sets of negotiations at once. Compounding matters, TV upfronts take place in May, which gives networks an incentive to tie up everything quickly in order to please advertisers.
This post has been updated throughout.