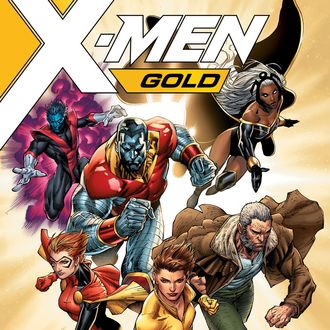 Cover of X-Men Gold No. 1
Photo: Marvel Entertainment
Marvel made headlines last weekend when a hidden Koranic message was discovered by sharp-eyed readers within the artwork in X-Men Gold No. 1. The illustrations were done by an Indonesian artist, Ardian Syaf, who included letters and numbers corresponding to a verse from the Muslim holy book (QS 5:51) that are often interpreted to have an anti-Christian and anti-Jewish meaning. He also included numbers connected to a rallying cry for Indonesians who oppose the Christian governor in the republic's capital, Jakarta (read a full explanation of the artwork and its ties to the political and religious controversy here). With many people upset by the message, including Ms. Marvel writer G. Willow Wilson, who is also Muslim, Syaf responded to the backlash on social media.
"My career is over now," Syaf wrote on Facebook. "It's the consequence what I did, and I take it." He continued, "In this last chance, I want to tell you the true meaning of the numbers, 212 and QS 5:51. It is number of JUSTICE. It is number of LOVE. My love to Holy Qur'an … my love to the last prophet, the Messenger … my love to ALLAH, The One God." He ended his statement, "My apologize for all the noise. Good bye, May God bless you all. I love all of you."
Update April 12: Marvel has fired Syaf. The publisher said the next two issues of X-Men Gold will run with the art he already drew, due to the fact that they had already been sent off for printing, but that the remainder of his contracted work on the series has been canceled. Syaf took to Facebook again to apologize and lament his situation.