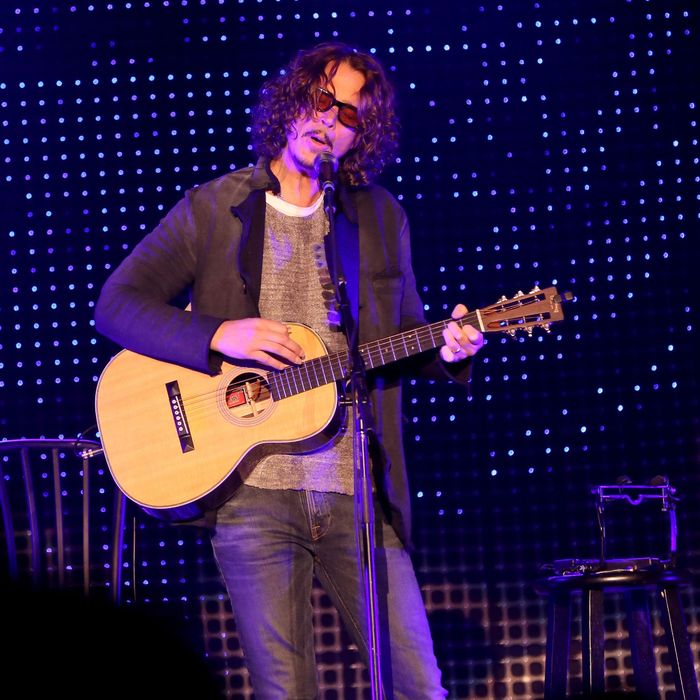 Chris Cornell.
Photo: Jonathan Leibson/Getty Images for CBS Radio
In the rock music timeline, the grunge era is typically written about as a reaction to the excesses of hair metal — and that's mostly true. A crop of bands from the Northwest became figureheads for the sound, characterized by downcast lyrics and a sense of gloom that drew from the area's wet surroundings. Soundgarden, a band formed by Kim Thayil, Hiro Yamamoto, and front man Chris Cornell, who died Wednesday night at the age of 52, helped define the grunge sound that would reverberate through music for decades.
Cornell was an astonishing vocalist, and a crucial bridge between the theatrics of hair metal and the brooding sonics that characterized grunge. He was able to move effortlessly between a sustained, ragged yowl and quieter, thick vocals that ascended and sparred with Thayil's impressive guitar work. It was a voice that demanded attention, and while it seemed like singing at that level couldn't be sustainable, Cornell never stopped.
After Soundgarden broke up in 1997, Cornell continued to record solo albums, became the front man for rock supergroup Audioslave, and recorded under numerous aliases and side projects. In the early '90s, he was a crucial part of Temple of the Dog, a grunge group that would later become Pearl Jam.
Soundgarden reunited in 2010, releasing their sixth LP, King Animal, in 2012. According to Thayil, a seventh record was in progress as well.
Like many bands of the era, there are copious B-sides, covers, alternate versions, and demos from Soundgarden's long career. There are, frankly, too many defining songs to write about here. Below is a mix of some of Cornell's impressive vocal performances. It is by no means comprehensive.
Soundgarden, "Fell on Black Days"
Soundgarden will always be known for "Spoonman," a massive novelty hit that never quite captured what the band was all about. For my money, "Fell on Black Days" is the quintessential Soundgarden song, and the one that would provide the blueprint for everything else they would go on to do. Cornell wrote it about his fear of crushing depression, and you can tell. Still, Cornell's voice soars over a sludgy riff, and his hypnotic repetition of "Cause I fell on black days / I fell on black days," which he delivers in a vocal register somewhere between a moan and a croon, is the defining moment of the entire song.
Soundgarden, "Pretty Noose"
Down on the Upside was the album that broke up Soundgarden, and that fact overshadows much of the music contained in its run time. Coming two years after the band's defining Superunknown, it was a more mature, loose, and quiet record, but you wouldn't know that from "Pretty Noose," which sounds like classic Soundgarden. The key here is that Cornell is the center that everyone else orbits, with guitars winding up and then unraveling, switching time signatures to match his vocals.
Temple of the Dog, "Hunger Strike"
Soundgarden, "Badmotorfinger"
Chris Cornell, "Nothing Compares 2 U" (Prince cover)
Later in Cornell's career, he became more comfortable singing covers of songs thought by purists to be untouchable. The last song he ever performed was, tragically, a cover of Led Zeppelin's "In My Time of Dying." Two years ago, Cornell visited Sirius XM where he sang an unexpected acoustic version of Prince's "Nothing Compares 2 U," known to most as Sinéad O'Connor's biggest hit. It's a delicate ballad, and Cornell used his raw, gritty wail to channel every ache in Prince's words as they were meant to be sung — sans theatrics. Cornell officially recorded his cover after Prince's own death, but it's nothing compared to what he first did with the song live.

Chris Cornell, "Billie Jean" (Michael Jackson cover)

Soundgarden, "Black Hole Sun"
There's no talking about the range of Cornell's voice without pointing out the song that thrust it into the spotlight: Soundgarden's breakthrough hit "Black Hole Sun." It exemplifies that subtle soul in his upper register that set him apart from all the other singers of the grunge era, and to hear him sing the song a cappella (which you must), it's no surprise that his career outlasted so many of his peers.

Chris Cornell, "Redemption Song" (Bob Marley cover)

Chris Cornell, "Stay With Me Baby" (Lorraine Ellison cover)

Soundgarden, "The Day I Tried to Live"