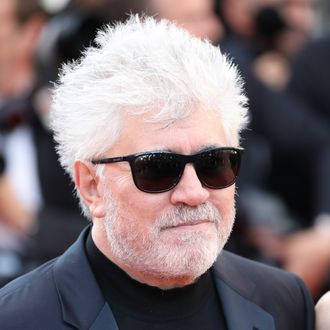 Photo: Chris Jackson/Getty Images
It's a Cannes tradition that as soon as the jury announces its winners, the press will start criticizing their decisions. Last year there was an uproar when Maren Ade's Toni Erdmann went home empty-handed, in a massive split from critical consensus. This year, the outcry has been fast and furious about Robin Campillo's 120 Beats Per Minute, the French AIDS-crisis movie that left even journalists soaked in tears, not winning the Palme d'Or.
Instead, 120 Beats — which follows activists for ACT UP Paris as they fight pharmaceutical companies and the government to stop withholding the meds that could stop them from dying — won the Grand Prix, or second place, to a massive standing ovation from both the audience and the entire nine-member jury, led by Pedro Almodóvar and including Will Smith, Jessica Chastain, and Maren Ade (in a let's-make-up-for-last-year gesture from the festival), who'd been seated onstage. The Palme went to the deliciously uncomfortable, very funny art-world farce The Square, from Swedish director Ruben Östlund, which is no slouch of a movie, but which had way less visible support on the ground and received considerably less of an ovation — and even got a smattering of boos in the theater where I was watching the live-stream of the ceremony with fellow reporters.
It should be noted that 120 Beats is French and very, very good, which made a lot of people believe it was a shoo-in. Plus, it had won three prizes the day before, including the FIPRESCI Critics' prize. At the press conference that followed, a Deadline Hollywood reporter, operating off the (it seems, correct) assumption that the jury's decision had not been unanimous, got up and point-blank asked Almodóvar how, as a longtime LGBTQ activist, he felt about not having given 120 Beats the Palme.
"I loved the movie. I cannot love more," he said in broken English. "I was touched since the very beginning till absolutely the end and after the end, but I don't know. Tomorrow, perhaps, we will read in the papers what the rest of the audience and journalists think. This is a very democratic jury. I am the ninth part of this jury. So this is the only thing I can tell you. The huge majority of us loved the movie of Campillo. I'm sure it's going to be very successful everywhere. And I'm sure it's going to remind this country of something that happened here not so many years ago that, whether you belong to the LGBT, which I am, it was an injustice." This is where he started losing his ability to speak and wiping away tears. "Campillo tells the story of real heroes, that we saved many lives. We all agree with that."
By this point, Jessica Chastain, sitting next to Almodóvar and rubbing his back in commiseration, was crying, too. "It was a really emotional night," she said later at the closing-night party. "I am so, so, so tired." Between her reaction and Almodóvar's, plus that mid-awards-ceremony standing ovation the two of them had also led, if this were a divided jury, one might safely guess who'd been in the 120 Beats camp.
Regardless, my sympathies go to the jury, who just dedicated ten days of their busy lives to serving the festival, only to immediately get criticized for getting it all wrong. The film they chose, The Square, is a wry, unnerving critique of trust and morality, set in the bizarre landscape of the Stockholm contemporary-art world, from a director, Östlund, whom many would agree is one of the new world greats. I didn't love it as much as Östlund's previous film, 2014's Force Majeure, about a family ski vacation gone deliciously, horribly wrong, but it says a lot of interesting things about whether liberalism is actually altruistic; features your new favorite actor, Claes Bang (at the jury press conference after the awards, both French filmmaker Agnès Jaoui and Will Smith admitted to having fallen in love with him); and gives Elisabeth Moss a chance to live with a monkey and have a condom-tug-of-war with Bang. There's a lot to like there.
"It's about the dictatorship of being politically correct. That is terrible and awful and more horrifying than any other dictatorship," Almodóvar said, right around the time he and his jury were getting attacked on all sides for not making the decision everyone seemingly wanted them to make. Next year, expect a wry, unnerving satire about The Square winning the Palme d'Or, from the director of The Square.