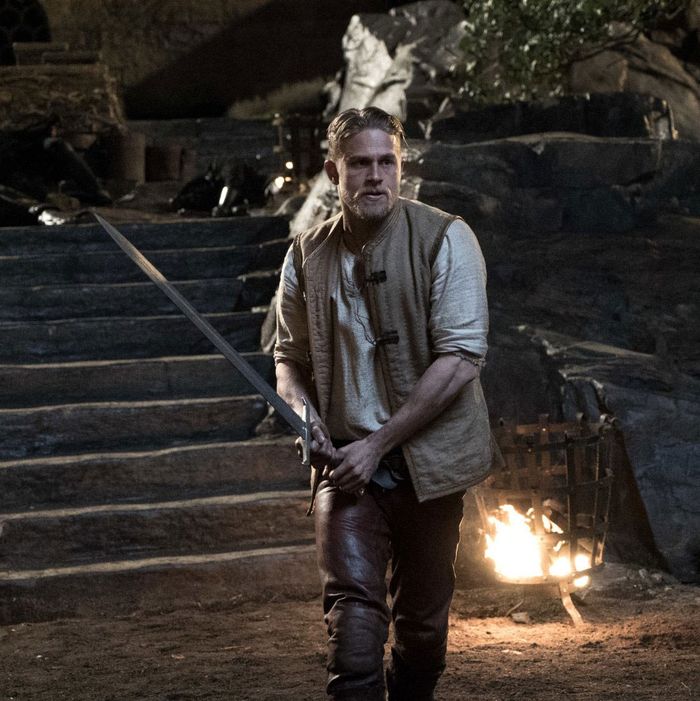 Charlie Hunnam in King Arthur: Legend of the Sword.
Photo: Daniel Smith/Warner Bros. Entertainment Inc
This weekend, Guy Ritchie's King Arthur: Legend of the Sword, a big-budget retelling of the British legend, starring Charlie Hunnam and Jude Law and updated with Ritchie's signature zoom shots and rat-a-tat dialogue, premiered in 3,700 theaters, where it was met with a collective shrug. Made for $175 million, a number that doesn't include money spent on publicity and advertising, King Arthur earned just $14.7 million at the domestic box office, good for No. 3 on the weekend — just behind Snatched, which cost a quarter of what King Arthur did to make.
While King Arthur fared slightly better overseas, adding another $29.1 million, the film is almost certainly a flop for Warner Bros., and yet another addition to the growing list of cautionary tales that litter the floor of the tentpole factory that is the modern studio system.
So why, in particular, couldn't King Arthur land with audiences? Three reasons seem to stand out.
The IP
Look: If anything's been made clear by the preponderance of movies based on preexisting intellectual property, it's that all IP is not good IP. King Arthur: Legend of the Sword follows, by just 13 years, another attempt to bring Arthurian legend to the screen, courtesy of Antoine Fuqua and Clive Owen, and — surprise, surprise — that movie also flopped domestically. (Although, and this won't go down easy, it actually opened to more money — in 2004, mind you — than Ritchie's version did.)
There seems to be a certain category of IP that seems particularly ill-suited to a contemporary remake. Audiences may be colloquially aware of the story, may have even seen another version of it at one point, but they have no opinions or strong feelings about the concept, the characters, and the world. You're basically paying for the title, and nothing else.

Last year's Ben-Hur comes to mind, as does The Legend of Tarzan. The latter offers an interesting comparison to King Arthur: Tarzan cost the same enormous amount of money, but opened to a considerably larger $46.6 million four-day debut, eventually swinging its way toward a $126.6 million domestic total. And yet, according to Deadline, it still lost $40 million, even with another $230 million coming in from overseas. (WB claims it broke even.)
These are not projects whose source material resonates across the four quadrants that Hollywood strives to reach. According to comScore/Screen Engine's PostTrak, King Arthur's opening-weekend audience composition was only 42 percent female and 32 percent below the age of 25. Compare that to Beauty and the Beast, which actually skewed in the other direction, playing to an underserved female audience. There are plenty of action films targeted at men, and it's a crowded field. No wonder so many recent disappointments fall within that category.
The Star
The struggles of King Arthur shouldn't be laid at the feet of Charlie Hunnam, who would've been hard-pressed to elevate the material (we'll get back to this). But the movie's rough opening reinforces the idea that the list of actors who can straight-up open a film, any film, is very, very short. It doesn't appear as if we'll be adding many names to the ranks anytime soon, now that the titles topping the box office tend to exist within sprawling, multipartite franchises like the Marvel Cinematic Universe, Fast and Furious, and greater Disney umbrellas.
Still, Hunnam couldn't move the dial. While it seems tempting to lump him into the same category as someone like Jack Huston, who starred in Ben-Hur and has yet to really make his mark as a leading man, it's important to remember that most of our top actors are not immune to flops. Consider Michael Fassbender (Assassin's Creed), Mark Wahlberg (Deepwater Horizon), and Matthew McConaughey (Free State of Jones), not to mention Chris Pratt and Denzel Washington, who couldn't make The Magnificent Seven anything more than mild. Consider, too, The Hunstman: Winter's War, a movie top-lined by Thor himself, Chris Hemsworth, who couldn't change the fate of a confusingly marketed and conceived sequel.
Another Hunnam movie in theaters right now, The Lost City of Z, might not be making hundreds of millions of dollars, but it has garnered critical reverence and the best notices of the actor's career. Compared to the fate that's befallen King Arthur — including but not limited to articles like these — the release of Z must feel like a dream.
The Movie
Last but not least, there's the movie itself. King Arthur got savaged by critics, including Vulture's own Emily Yoshida, who called the film "derivative and dumb, with neither CGI grandeur nor a sense of fun on its side." And it's Ritchie's second-straight miss with Stateside audiences, after the cult-favorite The Man From U.N.C.L.E., which, despite its good reputation, only managed $45 million domestically.
Those details are a testament to the fact that, in the crowded blockbuster marketplace of modern moviegoing, a wide release that doesn't fall within the tent of some larger megafranchise needs to generate a frisson of excitement, whether it's with critics, the public, or, ideally, both. People don't go to see whichever new film is in theaters anymore; they need to be convinced to see the movie, and King Arthur, in a very literal way, failed to convince many people that it was worth buying a ticket. In fact, it increasingly feels like this kind of production — an expensive, widely targeted attempted franchise-starter — is a bad bet, even with the IP. If you look at the list of this year's best performers, the exceptions to the franchise rule tend to be movies like Get Out and Split, made for small budgets and dependent on strong word of mouth. King Arthur's biggest problem might be that it's a movie from a different era — and even in that era, it didn't really work.