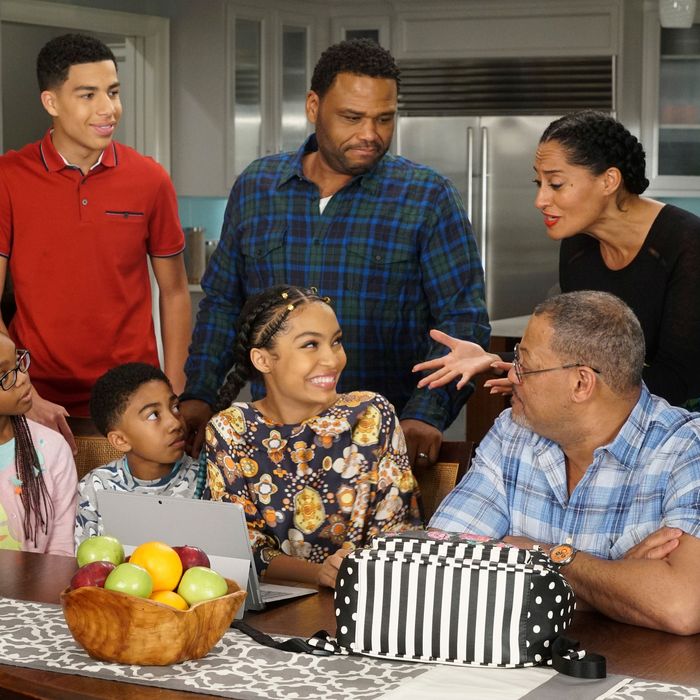 Black-ish moves to Tuesdays.
Photo: Ron Tom/ABC
ABC, currently a distant fourth in the ratings race, is planning a major overhaul next fall: It's adding four dramas and a new comedy to its schedule, and making significant changes on five of the six nights it airs original entertainment programming. The shake-up includes new nights for several veteran series, with Black-ish headed to Tuesdays, Once Upon a Time banished to Fridays (switching nights with Shark Tank), and Marvel's Agents of S.H.I.E.L.D. benched until mid-season. ABC is also giving a major vote of confidence to freshman hit American Housewife, which next season will air behind the network's biggest comedy hit, Modern Family.
Overall, ABC's lineup remodel is drastic, but not particularly risky. Save for changes on Sunday and Friday, the basic structure remains the same. Shonda Rhimes still rules Thursday, with the complete TGIT lineup returning intact in the fall (including the final season of Scandal). Reality remains on Mondays, with this year's post–Dancing with the Stars slot going to a Freddie Highmore–led medical hour called The Good Doctor. Tuesdays and Wednesdays are still four comedies and a drama, but with one big twist: After living its entire life behind Modern Family, Black-ish will now anchor Tuesdays at 9 p.m., with Fresh Off the Boat jumping to Tuesdays at 8:30 p.m. behind The Middle. ABC will pair Black-ish with a half-hour about a young rapper (played by Brandon Micheal Hall) who ends up becoming mayor of his California hometown. That will lead into The Gospel of Kevin, an ABC-style update of Touched by an Angel.
With Wednesdays and Thursdays mostly the same, ABC is reserving its biggest changes for Friday and Sunday. Having canceled its Friday comedies, ABC is replacing them with Once at 8 p.m., followed by Inhumans, a new Marvel series, at 9 p.m. Disney/ABC is planning a major promotional push for Inhumans, so the network clearly thinks it can bring its own audience to the night — or that younger viewers will simply DVR or stream it over the weekends. The network goes mostly unscripted on Sundays, with To Tell the Truth retiring at 8 p.m. and Shark Tank moving to 9 p.m. (a move many thought the network ought to have made five years ago). ABC is once again trying prestige drama at 10 p.m. Sunday with newcomer 10 Days in the Valley.
Here's ABC's complete fourth-quarter schedule:
MONDAY
8 p.m. Dancing With the Stars
10 p.m. The Good Doctor
TUESDAY
8 p.m. The Middle
8:30 p.m. Fresh Off the Boat (new time period)
9 p.m. Black-ish (new day and time period)
9:30 p.m. The Mayor
10 p.m. The Gospel of Kevin
WEDNESDAY
8 p.m. The Goldbergs
8:30 p.m. Speechless
9 p.m. Modern Family
9:30 p.m. American Housewife (new day and time period)
10 p.m. Designated Survivor
THURSDAY
8 p.m. Grey's Anatomy
9 p.m. Scandal
10 p.m. How to Get Away With Murder
FRIDAY
8 p.m. Once Upon a Time (new day and time period)
9 p.m. Marvel's Inhumans
10 p.m. 20/20
SATURDAY
8 p.m. Saturday Night Football
SUNDAY
7 p.m. America's Funniest Home Videos
8 p.m. To Tell the Truth (new day and time period)
9 p.m. Shark Tank (new day and time period)
10 p.m. Ten Days in the Valley