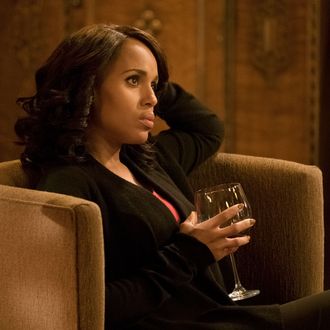 Kerry Washington as Olivia Pope.
Photo: Scott Everett White/ABC
As sad as it might be to hear that Scandal is ending, just think of how bananas the show might get with nothing to lose. According to reports from The Hollywood Reporter and TVLine, ABC and Shonda Rhimes plan to wrap up the endlessly twisty political drama after its seventh season (the series is currently airing its sixth). The network is expected to announce the news at its upfront presentation next week. Now, as much as we all want to know whom Olivia will choose at the end of all this, we also really need a bottle episode that's just a trip to Vermont where everybody makes jam. So please get on that, Shonda.