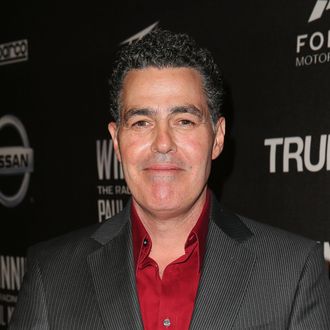 Adam Carolla.
Photo: Imeh Akpanudosen/Getty Images
The widely documented protests against conservative and right-leaning guest speakers at universities and the escalating violence revolving around the free speech debate on campus is getting rehashed in yet another hot take by podcast personality and comedian Adam Carolla. According to The Hollywood Reporter, Carolla and radio personality Dennis Prager are currently looking to raise $500,000 on Indiegogo for their documentary No Safe Spaces. The project, which gets its name from designated campus "safe spaces" where students who feel marginalized can find comfort and community, has already been in the works for the past few months, with Carolla and Prager even claiming to be victims of the activist student protests.
Though University of California, Berkeley's decision to cancel a speech by alt-right troll Milo Yiannopoulos made headlines, fewer in the media picked up on Carolla and Prager's claims that they were not allowed to hold an event at California State University, Northridge, because of their political beliefs. These claims, it should be noted, were rebutted by the university, which said that the on-campus event request was refused for logistical reasons and that the rental request was at no time approved. So, in case the name of the documentary or the Indiegogo campaign video mocking elite universities wasn't proof enough, these guys aren't exactly coming to the phenomena from a place without bias.