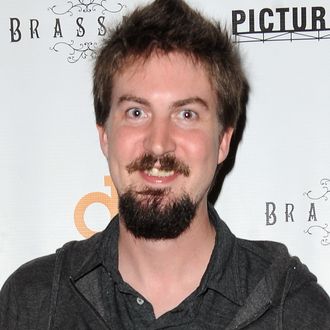 Adam Wingard.
Photo: Ernesto Distefano/Getty Images for The Mint Agency
Fede Alvarez is reviving the Millennium franchise for Sony. Jordan Peele has signed a development deal with Blumhouse and Universal to develop a broad array of projects. J.D. Dillard, working right now on a survival horror film called Sweetheart, has been a rumored choice to direct a reboot of The Fly. And now another horror director is getting swooped up to helm a massive studio picture. According to The Hollywood Reporter, Adam Wingard will direct the Legendary Entertainment/Warner Bros. joint venture Godzilla vs. Kong. Much like Universal is trying to do with The Mummy and planned endeavors like Frankenstein and The Invisible Man, Legendary and WB are trying to make monsters the new superheroes by creating an interconnected monster-verse pitting kaiju against giant ape. The lead writer on the movie is Terry Rossio, who has worked on the Pirates of the Caribbean movies, and his team has quite the collective résumé, with credits that include The Maze Runner, Transcendence, and Star Trek: Beyond. There's even the creator of Babylon 5, J. Michael Straczynski.
Wingard rose to fame directing movies like The Guest, You're Next, Blair Witch, and segments for horror anthologies like V/H/S and The ABCs of Death. His forthcoming project is an adaptation of the manga Death Note for Netflix. No story specifics have been disclosed yet, and THR says, "Plot details are being kept hidden on a South Pacific atoll," which sure makes it sound like any plans are being kept in some sort of secure offshore location in the Oceania region. That's certainly one way to fight the leakers! Godzilla: King of the Monsters is scheduled to arrive in 2019, and considering Godzilla vs. Kong is being pegged for 2020, it seems safe to assume that the savior of San Francisco and all mankind from the dreaded Mutos is going to survive his next movie.