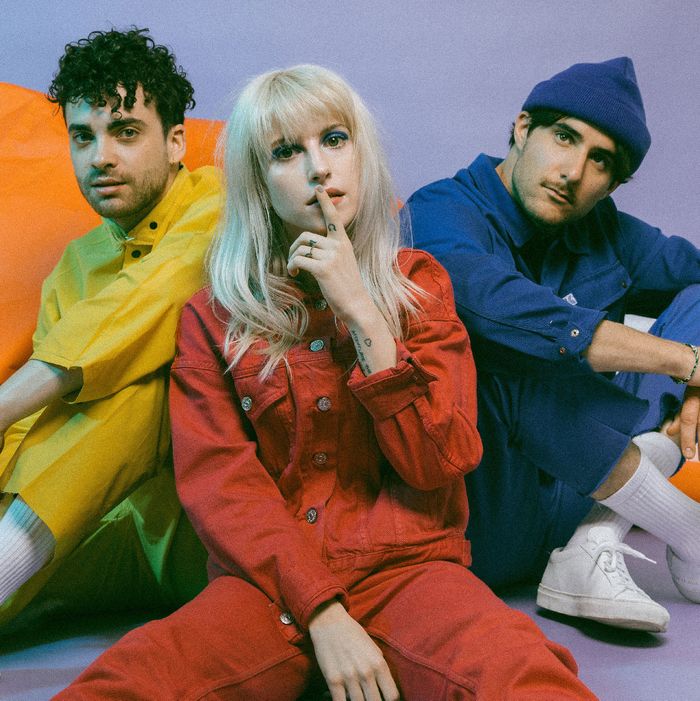 Taylor York, Hayley Williams, and Zac Farro of Paramore.
Photo: Paramore/Facebook
Every week, Vulture gathers new albums you can listen to right now. We don't have a problem admitting it: keeping track of everything that's released can be overwhelming, but finding out about interesting music doesn't have to be work. Read our picks below, and share your thoughts in the comments.
Paramore, After Laughter (Atlantic)
One of the main comparisons you're bound to hear is that After Laughter sounds like Talking Heads, and there's some truth to that. The music is at times slightly off-kilter, full of wonky guitar stabs, and like David Byrne, singer Hayley Williams is preoccupied, paranoid, and neurotic about the American experience, and is able to turn the repetition of mundane moments into existential crises that sound lighthearted and fun. But to leave this record at "Talking Heads-esque" or "just another '80s pastiche" doesn't really do it justice. It is a shimmering, intricate album-length statement of insecurity with just the right amount of explosive hooks. This one's worth multiple listens. —Sam Hockley-Smith (@shockleysmith)

Harry Styles, Harry Styles (Columbia)
Harry Styles was packaged as the beautiful, boyish semi-lead of One Direction, and had little substance beyond that role for so many years, that it now seems inconceivable that his tastes would ever align with anyone who'd graduated from high school. All along, Styles sang and wrote classic-rock songs that were dumbed down for One Direction's tween-girl audience, because that's what they were expected to want. Now that he's a solo artist, Styles has thankfully refused to insult the fan base he always knew was right about him. His self-titled album is still about the basics — the subtle cues of rock's past, like the gentle fingerpicking on "From the Dining Table," a carefully placed "la la la la," or the fixation on sex and drugs — but it had to be, in order to shed the image that never really represented Harry in full. He's not a rock star. The dude just wants to play rock. Let yourself love it. —Dee Lockett (@Dee_Lockett)

Everything Is Recorded, Close But Not Quite (XL)
You're probably more familiar with Richard Russell for his work running the XL record label, which is home to Adele, Radiohead, The xx, Sampha, and many more. Over the years, Russell's become known for an uncompromising vision that has afforded its artist boundless creative freedom, and also made for a very financially successful operation. Russell is also a musician in his own right: He produced I'm New Here for Gil Scott-Heron, and co-produced the overlooked Bobby Womack album The Bravest Man in the Universe with Damon Albarn — but this EP, which he made under the alias Everything Is Recorded, is the first time we've heard artists working in service of his vision, instead of the other way around. Sampha gets a track, and so does Giggs, a British rapper who initially gained notoriety because of his aesthetic, if not sonic, similarity to American rap. It's a brief listen, and it's appealingly loose: a quick snapshot into the creative mind of one of the more important figures we've got in the music industry right now. —SH-S

Girlpool, Powerplant (ANTI-)
Girlpool adding a drummer on their sophomore record is sort of like your childhood friend radically changing their hair in middle school — they might look different, but they're still the same underneath. The duo has retained their themes of youthful innocence, singing about "getting lost at the corner store" or labeling a jar with white tape to make it into a piggy bank, but these scenes often give way to open, poetic lines like "Your dad saw you crying when you looked at the wall / Stood and stared at your hands 'cause there's so much to lose." Ultimately, what makes Powerplant a successful follow-up to 2015's Before the World Was Big is also what makes it more mature and more primal than its predecessor: Girlpool are now more concerned with evoking a feeling than describing one. —Gabe Cohn (@gabescohn)

PWR BTTM, Pageant (Polyvinyl)
We need to talk about PWR BTTM. The duo of Ben Hopkins and Liv Bruce once represented a beacon of hope to queer kids and adults alike. Their music, personas, and attitude screamed nonbinary in its loudest form. They accepted genderless pronouns; wore outrageous prints, colorful dresses, and pounds of glittery makeup; and did all this while proudly playing vulnerable punk in historically macho territory. The release of their sophomore album, Pageant, should've been a big, beautiful day. But now we've got to talk about PWR BTTM for a painfully different reason: Several people have accused Hopkins of sexual assault, and associates of the band have corroborated the allegations. PWR BTTM released a peculiar statement that offered emotional support to the accusers, but not much accountability. Reconciling these horrific accusations with the vitality of Pageant will be a murky road to navigate. We now have no choice but to view Pageant through the lens of abuse. All those invaluable messages of self-love, owning your truth, and queer camaraderie on songs like "Sissy" will have a bitter aftertaste. But if there's a way to somehow restore meaning in these songs — and I desperately want to believe they meant something to Ben and Liv — I think, for queer kids especially, this is it: Be your own hero. —DL

Todd Rundgren, White Knight (Cleopatra Records)
It's possible that you will not hear a more schizophrenic album this year than Todd Rundgren's White Knight, which moves from cosmic summer anthems to robust disco to sultry AM gold soul, with detours into electro and hair metal. Some of that makes sense together — disco into soul? Sure, that works. But what about album closer "This Is Not a Drill," featuring Joe Satriani, Kasim Sulton, and Prairie Prince? It sounds like a parody of a commercial for a licensed Terminator Nintendo game — in other words, it's pretty funny, unless you think it's serious, in which case it's just weird and out of place (though not entirely unexpected). Whatever you might think of that track, there's still a whole album of poolside disco and sunstroked funk to be explored here as well. —SH-S