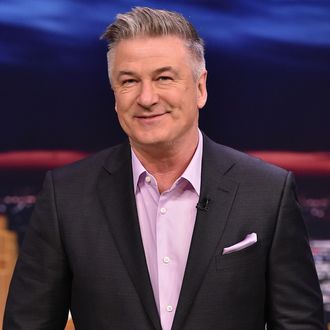 Will Trump tweet about this?
Photo: Theo Wargo/Getty Images for NBC
Surprise: There's a project about Donald Trump in the works in which Alec Baldwin won't be playing Trump. Baldwin has joined a staged reading of the confirmation hearings for Trump's cabinet, where he'll play the dual roles of Secretary of State Rex Tillerson and Wyoming Republican Senator John Barrasso. The reading, which is titled All the President's Men? Scenes From the Senate Confirmation Hearings of President Trump's Cabinet, is being put on by New York's Public Theater and London's National Theatre. The rest of the star-studded cast includes Ellen Burstyn (Senator Elizabeth Warren), Raúl Esparza (Senator Marco Rubio, Senator Edward J. Markey), Aasif Mandvi (Scott Pruitt, Senator Todd Young), Joe Morton (Senator Benjamin L. Cardin, Senator James M. Inhofe, Senator Patrick J. Leahy), Denis O'Hare (Senator Orrin Hatch, Senator Lindsey Graham), and New Yorker editor David Remnick (Al Franken). Edited and directed by Nicolas Kent, the reading will take place at New York's Town Hall on May 11.