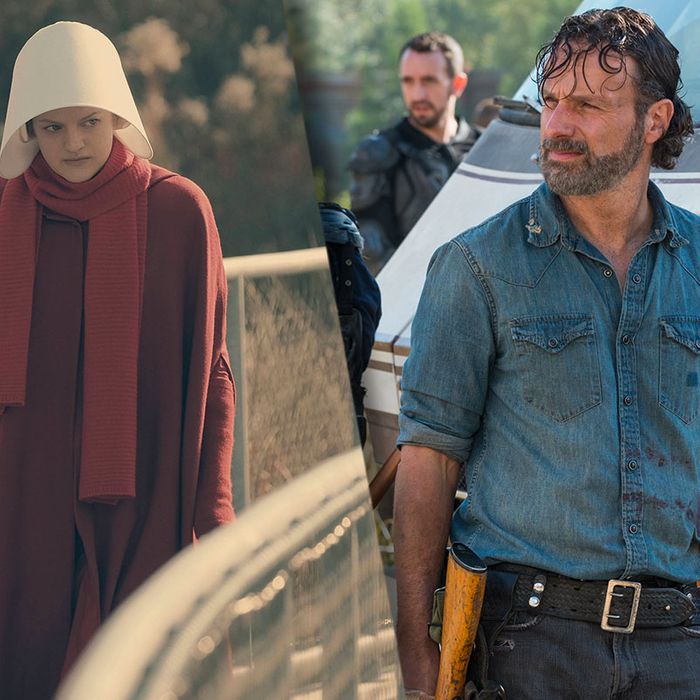 From the The Handmaid's Tale and The Walking Dead.
Photo: Hulu/AMC
The network exec who oversaw the development of The Walking Dead — the biggest TV hit of the past decade — is headed to Hulu. Joel Stillerman, currently president of original programming and development for AMC and sister network SundanceTV, has been named the first-ever chief content officer for the veteran streaming service. When he hops to Hulu this summer, Stillerman will take charge of the service's overall programming strategy as it applies to both original series and content acquired from other companies. With the new Elisabeth Moss–led dystopian drama The Handmaid's Tale emerging as Hulu's most buzzed-about original ever, Stillerman's task seems simple: capitalize on that momentum and establish Hulu as a stronger streaming competitor to rivals Netflix and Amazon Prime.
If history is any guide, Stillerman should be well-suited to the task. When he arrived at AMC in 2008, the network had already begun breaking through as a legit player in the original-programming space with both Breaking Bad and Mad Men (the latter series, ironically, also starring Moss.) Working with boss Charlie Collier, Stillerman helped turn Bad and Men into bigger hits, while also taking what at the time seemed like a major left turn for the network with The Walking Dead. Betting on the latter series, of course, turned out to be a very smart move: Dead transformed AMC from a sleepy movie channel with a couple of critically acclaimed dramas into a programming powerhouse and top-tier cable network. The mass of viewers who came to AMC for Dead no doubt helped lift ratings for Bad, and set the stage for subsequent spinoffs Fear the Walking Dead and Better Call Saul. Stillerman's past success, of course, is no guarantee he'll be able to work similar magic at Hulu. But his hiring, along with Hulu's decision to devote more financial resources to high-end original programming, sends a signal to Hollywood's creative community that the service is eager to compete for big talent and big ideas.
While Stillerman's hiring is news, Hulu's decision to add a chief content officer had been announced weeks ago. The network telegraphed its intentions long before it landed Stillerman, in part because it didn't want the decision to seem like a vote of no confidence in current Hulu programming chief Craig Erwich. Erwich, who with Hulu CEO Mike Hopkins aggressively moved to win the rights to The Handmaid's Tale and was instrumental in bringing The Mindy Project to the streamer, is staying on. He'll now report to Stillerman and give up oversight of acquiring existing series in order to focus on series development.
It's a structure which has worked well before in TV. During the 1990s, NBC brought in sports executive Don Ohlmeyer to oversee programming chief Warren Littlefield. While the two men sometimes clashed, the combination of talent ultimately set the stage for the network's must-see-TV era of ratings dominance. In a statement announcing Stillerman's hiring, Hopkins seemed to express hope for a similar surge at the streams. "This year is a transformative year for Hulu — not just in our products, but also our investment in acquired and original content," he said. "Over the past several years, we've grown our audience and our content offering exponentially, and now is the right time to add Joel's creative and strategic leadership to the team and drive the next phase of Hulu's content business." Meanwhile, AMC/Sundance is expected to begin a search for Stillerman's replacement almost immediately, with Collier assuming day-to-day oversight of the networks.