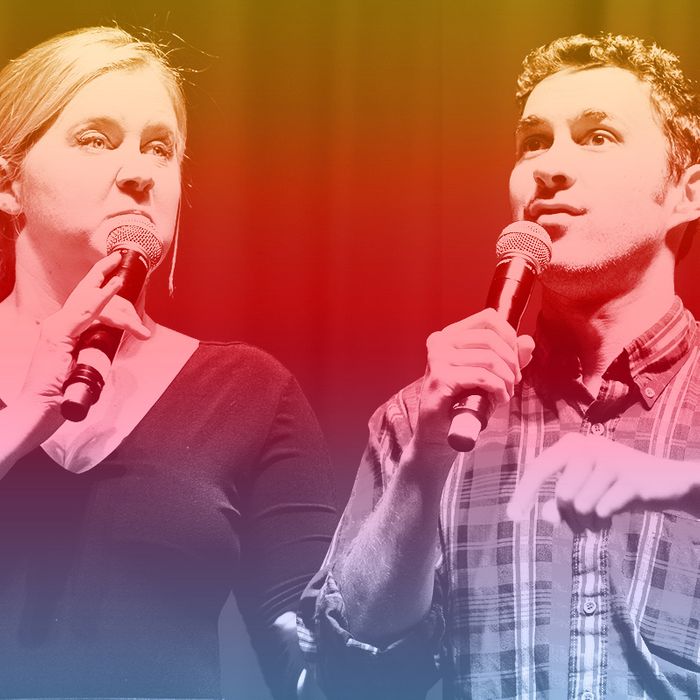 Amy Schumer and Mark Normand
Photo-Illustration: Steve Snowden/Getty Images
Eight years ago, Amy Schumer invited Mark Normand to open for her on one road gig, unaware that it would be the start of a long, mutually beneficial work relationship that would also blossom into deep friendship. As Schumer stars in Snatched, a new movie with Goldie Hawn, even your mother can tell you what she's up to, but Normand is no slouch: He's appeared on Conan, The Tonight Show With Jimmy Fallon, and The Late Show With Stephen Colbert; has his own Comedy Central Half Hour; and co-hosts the popular Tuesdays With Stories podcast with fellow New York stand-up Joe List. Now, with the help of Schumer's name and offstage direction, Normand is releasing his first hour special, Don't Be Yourself, on Comedy Central on May 12. With their projects coming out, Schumer and Normand walked us through how a comedy friendship is born.
Amy Schumer: We met when I was trying to generate a lot of material, so I was out a lot. We did some of the same open mics. Do you remember what year it was?
Mark Normand: 2009.
I remember one joke that really got me, about your friend eating Wheat Thins. You saying, "Oh, Wheat Thins," him saying, "Yeah, I don't fuck around," and you're like, "What? You're not bringing a gun to a knife fight." I had a show coming up at Hofstra University and asked if he would open for me.
I was like, "Yes, please!" And we took the train out there, we had dinner with your mom. I think I bombed at the show.
Did we both bomb? I feel like it was in an auditorium. It was not well-attended. People were eating lunch and all the lights were on.
Exactly.
I'm sure it was fine. We got along really well. You had this healthy respect and healthy fear for comedy. I feel like you were like me when I first got passed at the Comedy Cellar — you knew to be quiet and take it all in and earn your spot. There was no, "Why don't I have an hour special yet?" This was eight years ago.
Oh, yeah.
Most of the comedians I'm friends with, including Mark, it takes between two and six years to get close to them. No great comics are like, "Yeah, it's been pretty much smooth sailing right out of the gate." It'd be six years working together and he'd say, "I went to film school." And I was like, "You've been to film school?" Real basic things we don't know about one another.
We worked together, and really cared about each other, but if Mark called and said, "Hey, want to see a movie?" I'd be like, "What the fuck are you talking about?" Meanwhile, we've probably spent more time together than anyone.
We're kinda both introverts and quiet. And we hate small talk. That cuts out 80 percent of people's talking, right there.
On Saturday, he came over with his girlfriend and a bunch of comics. Sam Morril, Phil Hanley, and Joe Machi. It's a weird family. Phil, one of his best friends [and] a comic, is going through a breakup and staying with me right now. It's literally Crashing. There's always some comic living with me. Which is cool, it's an excuse for Mark and I to get to hang out more.
It was quite a who's who over there. You show up to her house and there's like, crazy celebs walking around like it's normal. And you've got to not cheese out on them.
Yeah, but you know, I think people's imaginations might run wild on that but I think it was, like, Victor Garber and Molly Shannon. They're amazing artists, but it's not like one of the one-name pop stars.
Hell of an apartment, though. It's like the comedy condo. She lets everyone crash there. Though, I was too scared to ask.
The first time we were on the road together, he told me he had somewhere to stay in Chicago, and I found out he didn't. He was sleeping outside or something. I could have so easily gotten you a hotel room, why would you even worry about that? It's been a real uphill battle trying to get Mark to realize that I'm here for him and he deserves to sleep in a bed.
It's a real self-worth problem. Also, she does a lot already for me, and I don't want to push it. Keep it chummy!
You just inevitably bond with each other because conditions are just so bad on the road.
We did this room in Atlanta, and it was in a — what do you call it — gaming center?
An Andretti [Indoor Karting and Games].
With go-karts, a video-game arcade, and a comedy club squished into the side of this building. And we were just bombing all weekend.
The door was right next to the stage, and when somebody would walk in, everybody would look. You would hear the go-karts going. You didn't even get free food, they just gave you tickets for go-karting. There was no separate green room, so you just had to be in the showroom while the audience came in. Just these awful things that are set up for comics to fail. We did so many shitty rooms on the road together.
Oh, yeah.
We're a good match because it's like, we're in Connecticut and Mark Twain's house is around here. "Do you want to go look at it?" I remember in Orlando, our hotel had a waterslide. We're like siblings. I was comfortable enough with Mark to be in a bathing suit with him all day, and have it not be an issue.
First time seeing the tramp stamp.
It's cool to get to grow together and have the gigs get better, and watch Mark grow and get so strong. There are nights it's hard to follow him.
Starting out at the Funny Farm, then it'd be a thousand-seat theater. All the time I was pretending it was normal, but I was blown away after doing so many bar shows.
So was I! We've had a lot of milestones together. I'd say Carnegie and Madison Square are the biggest deals to us, but there are other cool places like the Grand Ole Opry in Nashville …
I remember sitting hungover in your hotel room and you saying, "I have to show you something," and it was a pilot pitch for Inside Amy Schumer, and you were like, "I think they might buy it." I was like, "Holy shit!"
Mark has seen me, on the road, writing Trainwreck, writing [the Inside Amy Schumer parody of] Twelve Angry Men. I'd read things to him and ask his opinion. He's been a major support system for me. I've never gotten mad at him, but there's this fear on his side that I will one day.
I don't want to mess it up. It's a good time. And my parents were very angry when I was younger. Should we talk about the acorn?
It sounds stupid if we say it, but we have this tradition. Where did we find that acorn, Austin?
Florida, something like that.
We found a huge acorn, and we got in this habit of giving each other that acorn over the years, when a milestone happens. I recently gave it back to Mark. It sounds weird, but it's meaningful to us. It's this weird symbol that we're important to each other.
I think I first gave it to you at your special taping. That's another thing, I opened for Amy's hour special for Comedy Central years ago, and I remember thinking, like, This could never happen to me. This is so far beyond. So it's cool that she is producing my hour special years later. It would come up every now and again in passing. It was kind of like the Cellar. You were like, "One day you'll be at the Cellar." And I was like, "Yeah, who knows?" And then one day, you were like, "All right, you're on tonight at 8:30."
We've been talking about it for two years. I was like, "I want to produce an hour special for you." It's a self-conscious thing for me to ask because I didn't want him to feel that he had to say yes. He could get an hour on his own, but I feel really proud and I want to be the one presenting it.
I remember we were on a jet and you said, "I don't want to be Grandma Schumer here, if you don't want me to produce this, don't worry about it." I remember thinking in my head, What, are you crazy? Produce it!
I learned a lot from Chris Rock producing my special at the Apollo, in terms of editing and what he did for me. I wanted to pass that on to Mark, make sure he's protected and has everything he wants. Things like, "What kind of mic are you going to use?" The venue. The performance. Your agents and managers come backstage before, and you're like, I'm about to do this thing that's a really big deal for me. It's good to give us a couple minutes to think, and not have to interact at all, even if it's people close to us. I kept people away from him in those last moments.
Yeah, she was good with that. Everybody comes backstage and says, "How do you feel? How do you feel? Are you ready?" It's the worst thing you can ask anybody. Just let me focus, you freak! I'm trying to work here. She was great with that, and it was a big help. I'm too scared to tell anybody to go away.
He's worried about being liked and I'm worried about the finished product.
It's a good mix. I got to see all the ins and outs of her specials. It was a huge help to have someone who's done a few, and someone who's a real comic helping me, instead of just some director guy or girl.
What's fun about watching Amy, she knows what she wants, so she would make a lot of her own calls. She'd be like, "Look, I know you're the producer or the director, but I got to do it like this, this is what I want." I didn't know we could do that. I thought you just did whatever everybody told you to do. But I learned that from her, "No, no, if it doesn't make you comfortable, don't do it, change it." That was a big, big step for me.
I felt well-equipped to protect him the way I've been protected by producers and directors before.
I got to watch Chris Rock direct her, which was quite a thrill. Because she's a friend, and I've been working with her for years, and he was my favorite comic growing up. I have a photo on my wall of you two on the jet and him giving you notes.
Oh, I know that picture.
That Chris is a tough nut. He'll really tell you what's what. He's a brilliant guy but he's very stern. And that was terrifying. I'm glad Schumer is a little nicer. Not nicer, but you know what I mean …
Sensitive?
Sensitive.
A little more sensitive. I do appreciate that. Chris is so much better at the big picture than me. Like he'll ask, "Someone watching in Tulsa, how will they experience it?" You've got to be honest about your experience but not lose sight of the fact that not everyone is from New York.
He's such a genius. When he gave you notes, he would say, "Be bigger on this joke." He was so specific. He'd say, "This joke should be a little bigger, more act-outs," and you'd do it and it would work.
And then I did that for you. People like great jokes, but it's really about whether they like that person, whether they relate to that person. A note we were working on, on the road leading up to the taping, was him connecting a little more to the audience, and reacting. When you get the laugh or the applause break, not being afraid to say, "Thank you," or acknowledge it in a facial expression.
The major note was, "Smile, you serial killer."