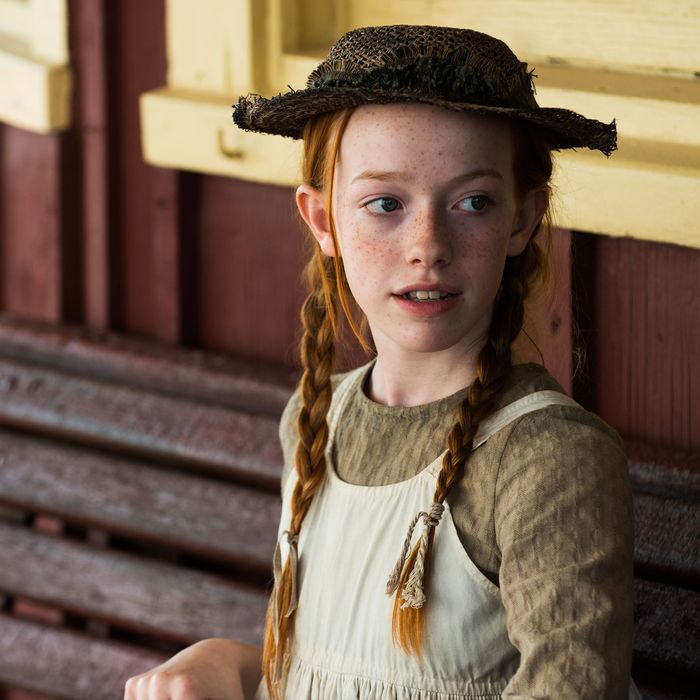 Amybeth McNulty as Anne.
Photo: Caitlin Cronenberg/Netflix
Anne With an E, the new CBC-Netflix adaptation of the beloved 1908 novel Anne of Green Gables, takes the familiar, revered story of the red-haired Canadian orphan and infuses it with sunshine as well as shadow. The shadowy element is not surprising given that Anne's showrunner and lead writer is Moira Walley-Beckett, who previously worked on Breaking Bad and won an Emmy for writing what is, perhaps, the best and most tense episode of that series, "Ozymandias."
That said, Anne of Green Gables purists should not worry that at some point, our plucky, unbreakable girl with the braids will turn to her guardians, Matthew and Marilla Cuthbert, and urge them to "tread lightly." Those who love L.M. Montgomery's books and any of their many adaptations, including the particularly beloved 1985 miniseries starring Megan Follows, will recognize the same overall story lines and generosity of spirit in the initial episodes of this eight-part series, which begins with Matthew (R.H. Thomson) and his sister Marilla (Geraldine James) taking in the 13-year-old, parentless Anne Shirley (Amybeth McNulty), despite the fact that they were hoping to adopt a boy to help them do the heavy lifting on their farm. What distinguishes it from other previous Anne iterations is its willingness to harden some of the story's softness, just enough, to create an element of realism that period pieces, Gables-related or not, can be inclined to avoid.
There is plenty of unabashed beauty in Anne With an E, starting with its picturesque Prince Edward Island setting, captured in all its gorgeousness in the first 90-minute episode directed by Whale Rider's Niki Caro. And then there's the idiosyncratic nerve and verve of the main character, inhabited fully and admirably by newcomer McNulty. As always, Anne is outspoken, precocious, wildly imaginative, and as sensitive as an open wound that hasn't been suitably bandaged. She's the prototypical strong young female whose intelligence and sophisticated means of expression — the kid rattles out roughly ten SAT words per sentence — are too much for the times she's living in (the late 1890s) to handle.
The series depends on McNulty's ability to bring all those qualities to the surface in a way that both explains why some may initially find Anne irritating, but also illuminates just how endearing and special she is. McNulty is such a natural that she's able to accomplish this in a way that feels effortless. Just watch her when she's forced to say sorry to Marilla's gossipy friend and neighbor Rachel (Corrine Koslo) after yelling at her — for good reason, by the way, since Rachel told Anne to her face that she was ugly. As Anne, McNulty dutifully delivers her apology with a perfectly frosted sweetness that masks the acidity underneath: "Thank you for your kind consideration. I look forward to never minding what you say ever again." Yeah, that Green Gables girl can throw some real low-key shade when she wants to.
Most of the time, though, Anne is overjoyed to have found the Cuthberts, largely because her life prior to this point has been so dismal. This is where the more distressing elements of the series kick in, as flashbacks to her previous experiences at an orphanage or working as a hired hand for other families reveal the degree to which she has been treated like slave labor and taunted by her peers. Even in some of the more visually sumptuous moments — a shot of Anne's hands grazing flowers while bathed in shafts of sunlight — the camera is careful to capture a close-up of the dirt under her fingernails. Anne With an E is a little bit Masterpiece Theatre, but it's Masterpiece Theatre coated in some grit, with a touch of the Tragically Hip. (The Canadian rock band provides the show's lyrically apropos theme song, "Ahead by a Century.")
Lifelong fans of the Anne of Green Gables series should find much to admire here, but the newly initiated will be just as easily drawn into the town of Avonlea, where Anne and the Cuthberts live, and enchanted by the open-hearted wonder with which Anne greets the world and spins her creative yarns. For parents looking to steer their perpetually bingeing preteens and teens toward something other than 13 Reasons Why, Anne With an E is a great choice. Its mix of escapism and confrontation of life's hardships make it a pleasure that comes with no guilt. Like the strong-as-hell female at its center, even when it exaggerates, it never stops aiming for honesty.