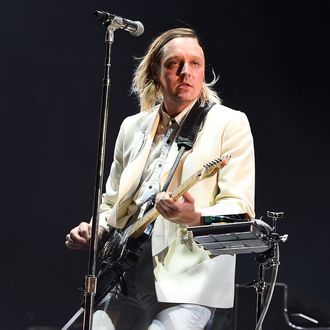 Well, that's one way to release a song.
Photo: Theo Wargo/Getty Images
Nowadays, there are no laws to releasing new music. When an artist feels like unleashing their latest work onto the world, they will do so however and whenever they please. Release dates? Thing of the past. Simple announcement of said release? Nah. A convenient way to hear it? Hah. Before playing Barcelona's Primavera Sound Festival on Saturday, Arcade Fire have started sharing their new single, "Everything Now," by selling copies of the single on goddamn vinyl before an official wide release. Which means the only way to hear it right now is if you show up in person, buy it, and find the nearest record player. One good person did just that, playing it at Barcelona's Discsos Paradiso music store and uploading video of the single playing in the middle of the busy record shop (there are some very chatty people in the background!). While his clip disappeared for some time, it has since returned, like all things on the internet do. The song is part "Dancing Queen," part "We Exist," and full disco party. To quote the dude in the shop's reaction to the song: "Wow."

More info about an upcoming album is scarce, though the band did post a photo of themselves in jackets with the letters "EN" — likely for "Everything Now" — to Instagram, and teased that fans should "Stay tuned for Infinite Content," which is either an album name or some major trolling.