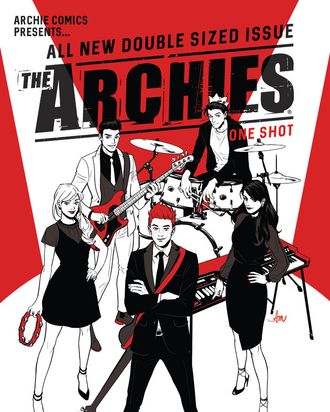 Variant cover of The Archies One Shot. Art by Audrey Mok.
Photo: Archie Comics
In 1969, an improbable event in the history of popular culture occurred: A made-up band had a No. 1 hit song. It was "Sugar, Sugar," and it was performed by the Archies, a fictional rock outfit comprised of Archie Comics icon Archie Andrews and his pals Betty, Veronica, Jughead, and Reggie — the actual players on the track were kept out of the spotlight. The song was a true banger, and its legacy lives on this week with the Wednesday release of Archie Comics' The Archies One Shot, written by Alex Segura and Matt Rosenberg, and illustrated by Joe Eisma, Matt Herms, and Jack Morelli.
"The two most important things in my life have always been music and comics," Rosenberg tells Vulture. "The Archies offered us a chance to bring those two things together. And, it turns out, they work really well together." In this self-contained issue, we learn the secret origins of the hottest power-pop group in Riverdale — but will Archie's obsession with finding songwriting success get in the way of his dearest friendships? "The book is a fun, musical romp, but it's also a heartfelt look at how we interact with the people we care about," Segura says. Check out a bevy of exclusive pages from the one-shot, as well as some of the variant covers, below: