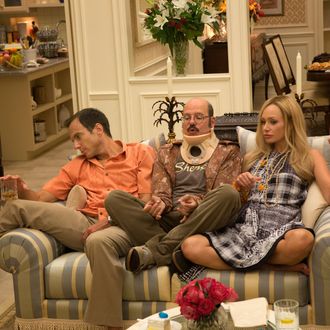 The Bluths are back.
Photo: Sam Urdank/Netflix
Arrested Development's fifth season has gotten the green-light, Netflix announced Wednesday. "In talks with Netflix we all felt that that stories about a narcissistic, erratically behaving family in the building business — and their desperate abuses of power — are really underrepresented on TV these days," series creator Mitchell Hurwitz said in a statement on Wednesday. Hurwitz will be back, along with the entire regular cast, which includes Jason Bateman, Michael Cera, Jeffrey Tambor, Jessica Walter, Will Arnett, Tony Hale, Portia de Rossi, David Cross, and Alia Shawkat. Hurwitz, Brian Grazer, Ron Howard, Jim Vallely, and Richie Rosenstock will executive produce. Netflix picked up Arrested Development for a fourth season in 2013, and recently star Jason Bateman had been hinting that a fifth season was in the works. Netflix didn't address the show's rumored scheduling workaround of using flashbacks, however. Buckle your seat belts — we're going for another ride in the stair car.