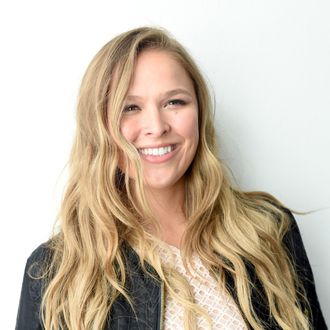 Ronda Rousey
Photo: Emma McIntyre/Getty Images
ABC is turning to a pair of ESPN veterans to fill Howard Cosell's legendary yellow blazer, hiring Mike Greenberg and Joe Tessitore as co-hosts of the its upcoming Battle of the Network Stars reboot. In addition, Vulture has learned former UFC champ Ronda Rousey and recently retired Dallas Cowboys superstar DeMarcus Ware are joining the new Battle as permanent captains of the show's rotating roster of as-yet-unannounced celebrity teams, while ESPN regulars Cari Champion and and Cassidy Hubbarth will serve as sideline reporters. The sports-centric crew is no accident: While the original 1976–1988 ABC franchise is now mostly remembered for its cheesier elements and comedic "controversies," at the time, producers and (most of the) celebrity athletes approached the event with surprising seriousness. The reincarnated show intends to do the same.
Cosell, despite his extensive experience covering professional sporting events for ABC — or perhaps because of it — "always regarded [Battle] as a very pure sports competition, the collusion of sports and entertainment," says Andrew Glassman, executive producer of the reimagined series. To honor that, he adds, it was essential to surround the stars with highly regarded sports journalists from ABC sister network ESPN, as well as successful pro athletes such as Ware and Rousey. "We want to treat this like the great groundbreaking sports competition it was in its day," he says. That doesn't mean there won't be room for nostalgia, or at least a sprinkling of cheese. ABC has secured the rights to the Wide World of Sports banner under which the original series originated, including the famous "thrill of victory … agony of defeat" intro. Plus, "If you're expecting to see the yellow jackets and the [old school ABC Sports] mic flags, you'll be delighted," Glassman adds. Iconic events such as the obstacle course, dunk tank, and the ending tug-of-war will also return, and the show will be shot on location at Pepperdine University in Malibu, California, starting this week.
Still, while Gen-X and baby-boomer fans of the original series will see their retro jones satisfied, "it's not a throwback," Glassman cautions. As soon as ABC officially green-lit the new Battle, the producer conducted his own version of a "listening tour," talking to various colleagues and even veterans of the original to figure out what parts of the show's DNA were worth resurrecting. "In other remakes, like Match Game or Pyramid, people remember the structure and format of the shows," Glassman says. "With Battle, people remembered the spirit and energy of the show. It's like the end-of-summer color wars if you went to camp, or the Summer Olympics, but with people you know and love from TV." That means the new show's "format will be a little faster, more up-tempo and a little simpler in many ways," Glassman adds.
The new Battle will also differ from its predecessor in two other significant ways. First, it'll be a weekly series running over ten episodes, with different celebrities each week, rather than a one-night-only special airing once or twice per year. And secondly, thanks to massive changes in the TV universe, episodes won't involve a showdown among three teams representing individual TV networks. "The network versus network format didn't make as much sense as fielding teams based on the characters people love from over the years to the current day: cops vs. TV sitcoms, White House vs. lawyers, TV moms and dads vs. TV kids," Glassman says. "It's like summer camp on steroids with your favorite TV stars." And while the official team rosters, drawn from a pool of 100 celebs representing more than a dozen networks, will be undergoing changes right up until each episode films — a full ten-hour day of production will be required for each one-hour battle — Glassman promises a number of well-known faces from past hits will be showing up. "I'm going to get to work with people from L.A. Law, The West Wing, Melrose Place, Happy Days, CHiPs, JAG, Facts of Life, and The Office," he says. "It's like a TV time machine." The Battle begins again on June 29.