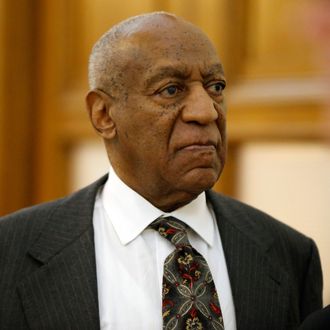 Cosby.
Photo: Matt Rourke/Pool/Getty Images
Next month, Bill Cosby will face accusations of sexual assault made against him for the first time in criminal court. Ahead of the trial, Cosby has broken his media silence in his first public interview in over two years, speaking with SiriusXM's Michael Smerconish. In it, Cosby responded to his daughter Ensa's comments that the dozens of accusations against Cosby may have been racially motivated. "I believe that racism has played a big role in all aspects of this scandal," she recently said in a statement. Bill Cosby now says that might be a possibility, though he's vague on specifics. "Could be, could be," he told Smerconish. "I can't say anything, but there are certain things that I look at and I apply to the situation. And there are so many tentacles. So many different — nefarious is a great word. And I just truly believe that some of it may very well be that."
Asked how racism could be at play when his accusers have different racial backgrounds, Cosby said he believes racism is only one factor, implying that greed or revenge may also be the accusers' motive. "When you look at the power structure, and when you look at individuals, there are some people who can very well be motivated by whether or not they're going to work, or whether or not they might be able to get back at someone," he said. "It's not all, not every, but I do believe there's some." Cosby also argues that the only reason more accusers came forward was to build a stronger legal case against him and have the public turn on him. "I think that the numbers came because the numbers prior to [these] numbers didn't work," Cosby said. "So the piling on, so to speak, is a way — and certainly an impressive, impressive way — to get public opinion to come to the other side." Cosby would not, however, say if he thinks these accusers are lying, a legal strategy his attorneys have said they would enforce at trial. Cosby also told Smerconish that he won't testify at his trial.