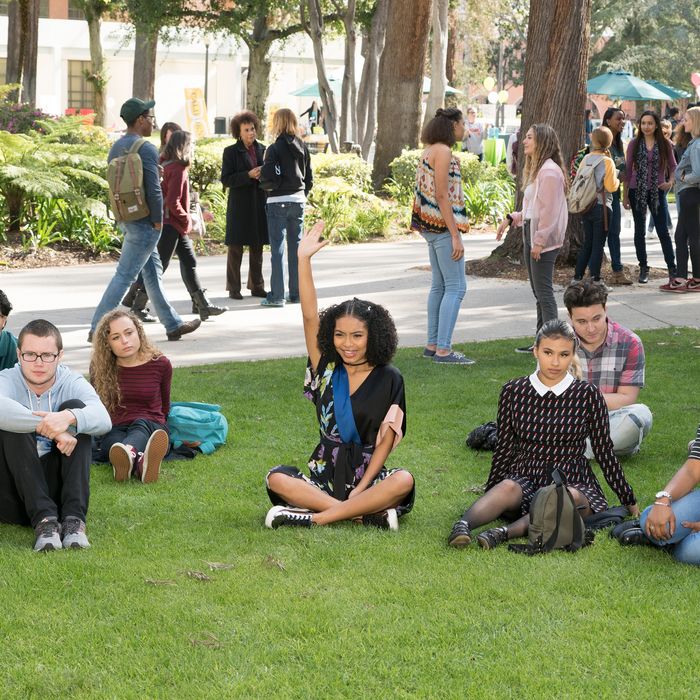 Yara Shahidi as Zoey.
Photo: Ron Tom/ABC
Is there any comedy beast more awkward and ungainly than the backdoor pilot? Comedy pilots are tricky enough, since sitcoms are all about the rhythms, nuances, and optimal character-actor combinations that can only be learned over time. I doubt any fan of Black-ish would count the pilot among the show's best episodes, and even now, the show is figuring out what works and what doesn't as any comedy must. (The optimal utilization of Deon Cole, for example, which is a highly sensitive equilibrium.) Add in the extra responsibilities of expanding a side character to lead size and building a new world around them, and a backdoor pilot sounds like a fool's errand.
But Black-ish creator Kenya Barris is no fool. Yara Shahidi is an incredibly appealing young actress with presence to spare, and when you factor in her razor-sharp social-media game, it's sort of crazy that she doesn't already have her own TV show. Given what we know about Zoey, there's no question she would graduate high school, go off to college, and be entirely unable to relate to the kids who are already homesick in week three. Spinning off Zoey would be a shrewd choice, one that gives this Cosby Show riff its own A Different World.
The result, "Liberal Arts" — also the title for the proposed spinoff — feels much more like an organic extension of the Black-ish universe than a cash grab. Barris wrote "Liberal Arts" alongside the brilliant Larry Wilmore, who has become to black sitcoms what Greg Berlanti is to superhero dramas or Dick Wolf is to metropolitan procedurals. Wilmore is a smart writer with the mind of a producer, good at figuring out what pieces are necessary to build the show. "Liberal Arts" benefits from that structural savvy, and it feels enough like a polished pilot that I never felt like I was missing the rest of the Johnson family.
Dre tearfully drops Zoey off at the University of Southern California for a two-day orientation. Zoey begins to tour the campus, which starts the episode on a tear about identity and youth culture, but luckily doesn't dwell there. It couldn't be a contemporary college-set comedy without some jokes about gender identifications with the length and rhythm of a complicated Starbucks order. But those jokes get old quickly, just based on the old concept of comforting the afflicted and afflicting the comfortable, a responsibility usually attributed to newspapers that applies equally to comedy. Besides, "Liberal Arts" is a victim of terrible timing. Netflix literally just dropped 13 episodes of Dear White People, a comedy chockablock with jokes about a weird, bourgeois university environment, but without the act breaks and broadcast content restrictions of a network sitcom.
Luckily, this episode scrambles onto firmer footing when Zoey meets Miriam (the delightful Mallory Sparks), who shares Zoey's aversion to introducing herself with a list of labels. The boy-crazy Zoey changes her mind about labels approximately nine seconds later upon meeting Aaron (the aggressively cute Trevor Jackson), who asks her to join the BSU. Zoey says yes, despite having no idea the acronym stands for Black Student Union. Though, in fairness, had it been a doomsday cult, one look in Aaron's eyes and Zoey would have been attending class in her ceremonial purple-and-silver robe. Aaron quickly figures out that Zoey didn't figure out the acronym on her own, but she's cute and down for the cause, so he doesn't hold it against her.
That all changes when, due to an identity mix-up straight out of Three's Company, Zoey winds up inadvertently advocating to university administrators (Matt Walsh and Chris Parnell) for the closure of the school's black dorm. Aaron, who was supposed to get the appointment Zoey wound up getting, lives in the dorm and was trying to ensure it stayed open. He accuses her of being a spoiled mixed girl with no grasp of black culture, and she takes offense. Without a place to sleep — it's a long story — and with Aaron's disappointment on her mind, she goes on a walkabout that includes a visit to Charlie's marketing course and a prostitute named Serendipity.
"Liberal Arts" isn't the best Black-ish has to offer, nor is it the best we would see should ABC order it to series. But the episode works as a proof of concept. It's a refreshing take on the same theme that Black-ish has always explored: the anxiety that comes with assimilation and success. In Black-ish, that idea is almost always explored from a man's perspective (or occasionally from Rainbow's), but Zoey has generally steered clear of the family's thorniest race conversations. That's why this episode is so tantalizing, since Zoey's perspective is probably the most interesting one on the show, representing the knotty intersection between race, gender, and youth culture. All in all, I liked "Liberal Arts" enough to watch more, which is about as high as praise gets for a backdoor pilot.