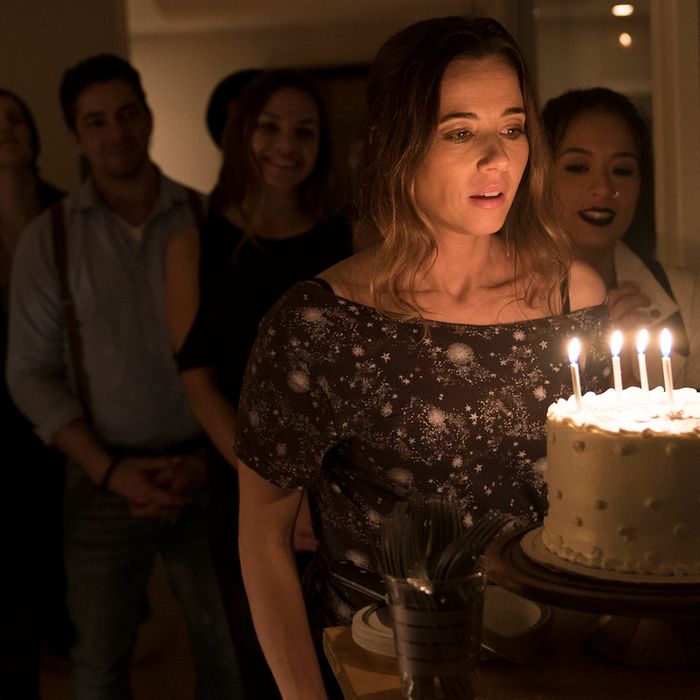 Linda Cardellini as Meg.
Photo: Saeed Adyani/Netflix
"Part 30" ties up a lot of loose ends, finally getting to the testimony of Kevin Rayburn (Norbert Leo Butz) and revealing where Meg Rayburn (Linda Cardellini) has been since the day after Marco Diaz died. Ultimately, the star witness at the trial of Eric O'Bannon (Jamie McShane) turns out to be Sally Rayburn (Sissy Spacek), who blends truthful revelations and new lies on the stand in a way that essentially seals the defendant's fate.
The biggest reveal of this episode is that Meg has gotten about as far away from her family as she possibly can. She hasn't only moved, but changed her name to Amy and rewritten her past, telling a friend that her parents are dead. She even gets a new tattoo to celebrate her 35th birthday. She seems honestly happy, and unconcerned that her family is falling apart under the weight of the biggest trial in the Florida Keys. She's equally unfazed by the fact that she has now become the alternate suspect for Eric O'Bannon's defense team. She just wants to move on and the sight of her brother John's (Kyle Chandler) hangdog face does little to persuade her otherwise, although she can't shake the dreams of an attacker in the middle of the night and a door that won't lock. She's still haunted by the Rayburn legacy of violence.
Before we get to the trial, let's break for a minute here and talk about the writing on Bloodline. The team clearly wanted John Leguizamo to come back, especially after the great work he did last season, but they never figured out what to do with Ozzy in year three. He's just wandering the Keys, occasionally popping up like a ghost to scare Sally Rayburn, but serving almost no narrative purpose whatsoever. Didn't we just presume he would get to Kevin before testifying more completely than the one scene they shared? Or that he'd get in touch with Eric's defense directly? Sure, he isn't a reliable witness, but he's been a wasted character.
Anyway, let's get to the trial. After some buildup, Kevin Rayburn finally takes the stand, brought into the courtroom like a child. ("You need a break, let us know," made me laugh.) Kevin tells his very well-rehearsed version of what happened that night. It's one of Butz's strongest scenes in Bloodline, as you can see Kevin's nerves and the rehearsed aspect of his lines, which isn't easy to capture. There's a deadness to Kevin's delivery, and you can tell it was over-rehearsed.
That's when the defense kicks in on cross-examination. Why was Meg trying to get in touch with Kevin? Did they talk? Why was Kevin trying to get a hold of John so badly? What did they say when they did speak? She doesn't push Kevin enough on the night in question, choosing to cast doubt on the Rayburn family by bringing up the death of Kevin's sister and the lie about Danny getting into a car accident. I do like the idea that the cover-up of what happened to Sarah Rayburn could be what ruins these people. The defense attorney's point is a good one: The Rayburns have a history of covering things up. Marco didn't call Kevin to the house, Meg did. And then Kevin called John. She isn't exactly right, but could she cast doubt? It seems like Kevin's testimony could have gone much worse.
The key element of Kevin's testimony is how he lies about why he called John. He claims on the stand that Belle was having issues with the pregnancy and Kevin wanted advice. Of course, Belle (Katie Finneran) knows that's a lie — and she looks pretty shell-shocked by it. If her husband is lying about that, what else could he be lying about? She's later seen looking at Kevin's preparation sheets, the way he rehearsed for her lies. She also speaks to Diana (Jacinda Barrett) about how she knows something she doesn't want to say out loud. Where was Kevin? Where was John? Will the wives take down their husbands? "I think they're all lying," says Belle.
After a few scenes in which Sally speaks to the ghost of her dead mother, it's decided that the Rayburn matriarch will take the stand and try and clear the air about her children. What will she say? It's a masterful bit of legal gamesmanship, which first produces gasps when she tells the truth about the day that Sarah died. She goes on and on about the decision she had to make — protect her husband or protect her son, and she chose the former. On the same day she lost her daughter, she lost her son. She didn't want her husband taken away the same way her own father was when she was young. Jurors are crying. She totally wins them over, and then she pushes into the lie: Meg was with her all night. She couldn't have killed Marco. Eric is screwed.
It gets worse for Eric after his sister Chelsea (Chloë Sevigny) is fired from her hospital job for stealing Percocet. Even though it was a one-time mistake, she'll be an unreliable witness now. Sally just admitted to a cover-up involving the death of her daughter, but Chelsea would make a worse witness. It's not a fair world. Eric will have to take the plea for 30 years. The trial is over and Kevin cries with relief. Again, are we supposed to be happy about this? Kevin Rayburn killed a good cop and framed a guy for murder. I'm having an increasingly tough time with the moral grayness of this show.
In the closing scenes, Sally and Roy (Beau Bridges) are up to something fishy. We return to the dream of the midnight attacker, although this time it's not Meg having the dream but John. He calls her. She doesn't answer.
Other Notes
• I'd be fine if this was Meg's last episode. Let the other Rayburns burn and allow Meg to start her life over. So many of these characters should have left the Keys and never come back. What if Meg is the only one with the guts to actually get away?
• Speaking of last sightings, is that it for Eric and Chelsea? How disappointing if it is, but I don't see how Bloodline gets them back into the narrative now that the trial is done.
• Again, where is Ozzy during the trial? I really wish they had found a way to integrate him better into that story line, which now appears over.
• This episode was directed by the prolific Michael Apted, a masterful filmmaker who does documentaries, TV, fiction films, and even a Bond movie (The World Is Not Enough). Major films on his résumé include Gorillas in the Mist, Coal Miner's Daughter, and Nell, and as of late, he's been working in TV regularly. He does solid work here, but can't overcome another disappointing Bloodline script.