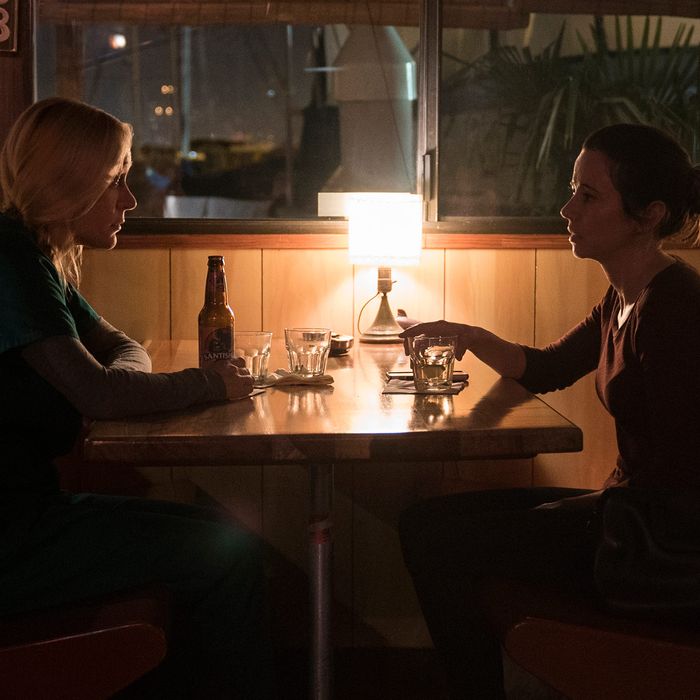 The Rayburns are back for a final season of murder, betrayal, and the family ties that bind and kill. Season two of Bloodline felt somewhat transitional, like its creators were uncertain where to take the show after its hit debut year, but this last ten-episode arc is a promising opportunity. Perhaps it will give Bloodline the focus it lacked last year, and we can send out the Rayburns in style. Most interesting, this show has some seriously murky moral water to tread. At the end of last season, Kevin Rayburn (Norbert Leo Butz) killed Marco Diaz (Enrique Murciano). Should we now root for him to get away with it? It will be interesting to see how the show navigates the truth that Kevin is a murderer and shouldn't be a free man.
The writers of Bloodline are smart to not get into that gray morality right away, sticking with a tight time frame and taut pacing for the season's first hour, which picks up immediately after the finale of season two. Kevin has murdered Marco; John Rayburn (Kyle Chandler) is leaving town; Meg (Linda Cardellini) has unveiled the family secrets to her mother Sally (Sissy Spacek). Danny (Emmy winner Ben Mendelsohn) is absent for now, but it's interesting to hear his voice say, "Hey, where are we going?" in John's mind. He might as well be talking about the show, too.
It turns out John is going nowhere fast, running into a gator in the road and destroying his vehicle. After putting the animal out of its misery and declining a ride home from a fellow officer, he heads out again on his destinationless journey. Meanwhile, his siblings are in full panic mode. Kevin, the true moron that he is, comes back to try and wake up the man he just brained with a ceramic dolphin, hiding when Meg pulls up, and hitting his head in the process. It will be a TV miracle if Kevin survives this season.
John gets a ride to the bus station from a nice woman who offers him weed and keeps a gun nearby at all times. She also offers some advice that the Rayburns would be smart to heed: "We are not the center because there is no center." The Rayburns have long considered themselves the center of the universe. John makes it to a bus station, where he basically asks for a ticket anywhere. While Meg, Sally, and Kevin are desperate to get ahold of him, he's equally willing to leave them all behind.
While this long night of the soul unfolds for the Rayburns, Ozzy (John Leguizamo) is going through some serious trouble himself — he was kidnapped at the end of season two by Luis. He's predictably snarky, and takes a few pistol whips to the face for his attitude, but he eventually turns the table on his kidnappers, kneecapping one with a shovel. We haven't seen the last of Ozzy. And now he's pissed off.
We also haven't seen the last of Roy Gilbert (Beau Bridges), the Rayburn family's benefactor who also happens to be a megapowerful Floridian crime lord, now running a criminal enterprise out of the Rayburn marina. In a moment of pure panic over the murder he just committed, Kevin breaks the curfew rule and gets picked up by Roy, who first tells him that he wants nothing to do with the latest crime on the Rayburn rap sheet, but changes his mind after being convinced to help by Sally.
Before then, Meg gives up on helping anybody, running into Chelsea (Chloë Sevigny) at a bar where she drowns her own demons in booze. She's too drunk to be any help to Kevin or Sally, who keeps trying to call John. What if John had answered? Would Sally and Kevin have never turned to Roy for help? It seems like that will be a theme of this season: How instantly will John Rayburn's family fall apart when he turns his back on them?
When Kevin can't bring himself to confess to anyone with more power than his mother and no one can get John on the phone, Roy Gilbert becomes the man who will save (and likely destroy) the Rayburn family. He tells Sally, "I'm doing whatever I can to help him," and the sense that he's doing this for future capital to use against the Rayburns is palpable. You can see the deal with the devil that Kevin is signing. He offers Kevin two options: turn himself in, or take his help. After encouraging him to submit to assistance, he makes an ominous statement: "Either path you take, there's no turning back."
Meg Rayburn drunk-drives her way home; John gets a bus out of town; Eric O'Bannon (Jamie McShane) stumbles upon Marco's body; Kevin ends up under the thumb of a vicious criminal. There's a lot of ground to cover before Bloodline ends, and the Rayburns just keep digging their holes deeper and deeper.
Other Notes
• Co-creator Todd A. Kessler wrote and directed this episode. He certainly knows the voice of this show and its characters as well as anyone.
• I already miss Andrea Riseborough's Eve. She brought an energy to the last season that will be missed this year.
• When John is being driven to the bus station as the episode ends, the song playing is "Bye Bye Blackbird" by Nicole Atkins.
• The premiere is darkly lit, dangerous, and tense, which could be indicative of higher stakes given this season is the final one. I really hope the show embraces that finality, making characters expendable and tying up loose ends.
• On that note, is there any way that Kevin can survive that would feel realistic?
• I really liked the clever tension breaker that reminded us that the Rayburns run a business when a hotel guest interrupts an emotional moment with her concern over sunstroke. As the center of this family comes apart, the rest of the world goes on.