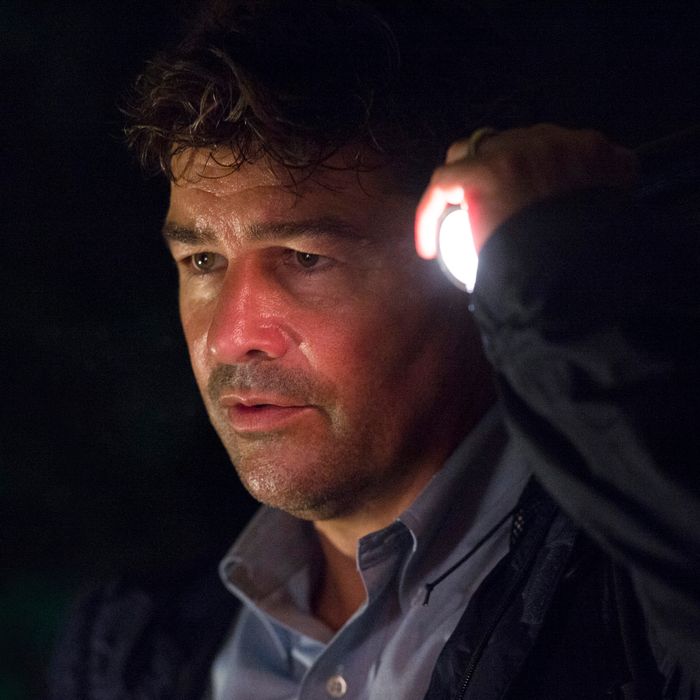 Kyle Chandler as John, who did a bad thing.
Photo: Jeff Daly/Netflix/Jeff Daly/Netflix
The third and final season of Bloodline, like the two that preceded it, is steeped in the show's best qualities: the palpably noirish heat of the Florida Keys and fine acting from an ensemble that is truly as good as it gets on television. But its murders and cover-ups and layers of lies to mask the cover-ups often become extreme and trying to the patience. This is even more true in season three than it was in the first two, a sign that this feels like the right time to say good-bye to the morally corroded Rayburn family.
Season three, which begins streaming Friday on Netflix, picks up right where things left off, with perpetual screwup Kevin Rayburn (Norbert Leo Butz) having killed Marco Diaz (Enrique Murciano), the police detective who planned to expose Kevin and his siblings — Meg (Linda Cardellini), Marco's former fiancée, and John (Kyle Chandler), Marco's partner on the force — for their roles in the murder of their brother Danny (Ben Mendelsohn). In classic Rayburn tradition, the members of the family — including mother and innkeeper Sally (Sissy Spacek) as well as Rayburn frenemy Roy Gilbert (Beau Bridges) — immediately pick up shovels and attempt to start digging Kevin, and the family name, out of this dark hole. In the process, they also inevitably wind up making a ton of cell phone calls to each other, often leaving voice-mails that could be incriminating if they somehow got leaked. Seriously: I didn't sit down and clock the amount of time that's spent watching characters talk on the phone and/or make phone calls versus actually speaking to each other in person. But it feels like the breakdown is at least 50/50.
There are sizable gaps in the narrative that Kevin — who, long story, also winds up getting shot as part of the track-covering effort — and Co. concoct to explain what happened to the bludgeoned Marco. But they have two things working in their favor: the respect long associated with the Rayburn name and the fact that they can credibly pin the crime on someone who seems suspicious: Eric O'Bannon (Jamie McShane), a longtime friend of Danny's with a criminal record and a record of communicating with Marco on the night of the murder.
The gulf between the Rayburns and the O'Bannons — Eric's sister, Chelsea (Chloë Sevigny), isn't involved in anything seriously illegal, but does struggle with money and caring for their ailing mother — provides the opportunity to say something insightful about what a difference privilege makes in this country. Although that theme is touched on lightly, Bloodline is less interested in delving into that than exploring how much dishonesty and corruption a family can withstand before its bonds, internal and to its community, completely break. Before Netflix canceled it, the show's creators, Damages veterans Todd. A. Kessler, Glenn Kessler, and Daniel Zelman, had hoped to extend the drama beyond three seasons. As a result, season three both takes its time, as the slow-simmering series always has, and feels rushed, as if they're trying to get to every plot turn they want to address before the clock runs out.
Yet as maddening as the narrative can be — please don't ask me to explain what purpose John Leguizamo's Ozzy ultimately serves this season, because I haven't a clue — I still felt compelled to keep bingeing so I could find out whether anyone ever has to face actual consequences for what they've done: to Marco, to Danny, and to each other. Also keeping my interest piqued: the strong sense of tropical place and the quality of all the performances.
Chandler, playing against Coach Taylor type with an even deeper sense of muted desperation, is excellent. With Kevin in more of a central role, Butz also gets to show just how wide his character's spectrum can run, from upstanding husband and father to broken man with an easily manipulated moral code. If one actor stands the best chance of earning an Emmy nod for this season, though, it might be Spacek, who digs deep in some emotionally shattering scenes in the final couple of episodes.
Cardellini, unfortunately, isn't quite as central this season. As for Mendelsohn, who died in season one but played a supporting role via flashbacks last season, he's also sidelined until the last couple of episodes, when he reappears to communicate with John. (Episode nine, the surreal, nonlinear hour in which Danny first returns, is the most deliberately ambiguous and frustrating one of the season.) Because of Mendelsohn's casually threatening breakout performance in season one, Danny emerged immediately as the most interesting character on Bloodline. His more significant absence, though understandable and unavoidable, is felt in the curtain call.
"We're not bad people," John Rayburn insists from the beginning of Bloodline, "but we did a bad thing." By the end, it's clear that's not true. The Rayburns have done many bad things and, more often than not, feel like they've somehow earned the right to get away with them. At first, you may empathize with them because of the personal tragedies they've suffered. Then you may get tired of and annoyed by their deceptions. In the end, the family at the center of this crime drama commits the worst sin of all, at least when it comes to television: Their repetitive, irredeemable behavior makes you wonder why you cared about them in the first place.